Now seems like a good time of year to curl up with a book. If you're in the mood to do some reading, check out this deal at Amazon.
The Amazon Kindle (2022) is $74 at Amazon right now. This recently-released Kindle has hit its lowest price ever, and we reckon it's the best Kindle for shoppers on a budget. There are plenty more sales happening right now, so stay tuned to our Presidents Day deals coverage.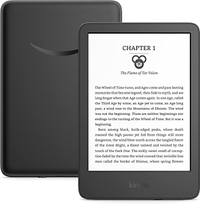 Amazon Kindle (2022): was $99 now $74 @ Amazon
The Amazon Kindle 2022 is one of the smallest and most lightweight e-readers around. With a crisp display and 6-week battery life, this is the Kindle to buy for shoppers on a budget. Amazon is even throwing in three months of Kindle Unlimited. We wish the Kindle (2022) was waterproof, though.
On our list of the best Kindles, the Kindle (2022) is very close to the top. Unless you really want the waterproofing or the adjustable warm light display that the Kindle Paperwhite offers, the basic Kindle (2022) is the one to buy.
The Kindle (2022) shares the beautiful 300 ppi display we loved on the Kindle Paperwhite. The display is sharp and crisp, making for an excellent reading experience. We liked it best in dark mode — it helps make up for the omission of the adjustable warm light.
Amazon promises 6 weeks of battery life for the Kindle 2022 (assuming 30 minutes of reading time per day,) which is great. If you're going on a long trip, you may not even need to bring a charger with you for your Kindle. And if you do, it's great that it uses USB-C.
The Kindle interface is streamlined and easy to use. Previous Kindle models like the Kindle (2019) tended to bombard users with distractions, whether it was Goodreads reviews, adverts for new books or social media stats. They're not completely gone, but they are much less prominent. If you just want to focus on reading, this is a huge plus.
We highly recommend the Kindle (2022), especially at this price. If you're hungry for more sales, check out our Presidents Day deals coverage.