The Sony WH-CH720N headphones are the company's latest entry-level set of noise-canceling cans and we love them here at Tom's Guide.
Pitched at a price point of $149 they already offered exceptional value for money. However, Amazon is now offering the chance to score a pair at a discount, which is very good news for anybody in need of affordable wireless headphones.
Right now, the Sony WH-CH720N wireless headphones are on sale for $128 at Amazon. That's a discount of more than $20 compared to full retail price, and the lowest price yet for these noise-canceling headphones. This deal originally appeared during the recent Memorial Day sales, but fortunately, it's sticking around for now.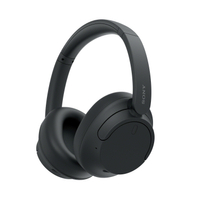 Sony WH-CH720N was $149 now $128 @ Amazon
As the follow-up to the company's WH-CH710N over-ear headphones that launched in 2020, the WH-CH720N offer improved noise canceling, 35-hour battery life with noise canceling enabled, and full Sony Headphone Connect app support. They're available in black, white, and blue color options. Similar price discounts can be found at Best Buy and Walmart.
Released in February as the follow-up to the popular Sony WH-CH710N, this latest pair of entry-level headphones by Sony, combine solid audio quality with a strong 35 hours of battery life (with noise-canceling enabled). Granted, the WH-CH720N may not stack up against the flagship Sony WH-1000XM5 headphones, but when you consider the XM5's currently cost $389 on Amazon, the difference in performance level is understandable.
Weighing just 6.8 ounces, the Sony WH-CH720N headphones have a solid construction with deep ear cups and a padded headband that adds a strong level of comfort. Thankfully these headphones avoid the feeling of being held in a vice-like grip that is common with some entry-level options. Sony's WH-CH720Ns are ideal for long listening sessions as they don't apply any undue pressure.
Of course, a comfortable fit would mean very little if the audio quality was lacking, but the WH-CH720N impress in this area as well. Our audio editor notes that "While music sounds punchy and nicely tuned for a warm sound with potent low frequencies fresh out of the box, the sound balance may lack a little presence in the midband for some. They focus on pushing out big bass notes and have a warmth and richness that many will enjoy." Plus, Sony's Headphone Connect app is always on hand to help you adjust the sound to your liking.
As mentioned, these noise-canceling headphones boast a playback time of around 35 hours, or they can stretch to 50 hours if you switch the noise-canceling tech off. Even better, when you need juice in a pinch, a quick three-minute charge will give you an impressive hour of playback.
Naturally, as these are entry-level noise-canceling headphones, you will have to make some compromises including the omission of on-ear detection for auto play/pause, and there's no low latency mode for watching video or playing games. But considering all they offer, the Sony WH-CH720N headphones are an easy recommendation at full price, doubly so now they've dropped to an all-time price.