With the best noise-cancelling headphones from many big-name brands costing upwards of $300, it's refreshing when a company introduces entry-level models for half the price. The recently introduced Sony WH-CH720N are a prime example, aimed at budget-conscious buyers seeking practical noise cancelation tech. They're a great starting point, and with an MSRP of $149 they bring a big-brand experience for a totally attainable price. Right now though, they can currently be found discounted for even less.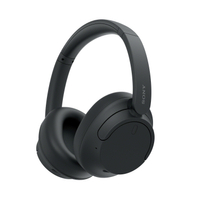 Sony WH-CH720N was $149 now $128 @ Amazon
As the follow-up to the company's WH-CH710N over-ear headphones that launched in 2020, the WH-CH720N bring improved noise canceling, 35-hour battery life with noise cancelling enabled, and full Sony Headphone Connect app support. They're available in black, white, and blue color options. Similar price discounts can be found at Best Buy, Walmart, and B&H.
Sony WH-CH720N: A big-brand experience for less
Few brands span the noise-canceling headphones market as comprehensively as Sony, although I readily admit that most of my attention has been on the current flagship WH-1000XM5 (as well as my all-time favorite Sony WH-1000XM4). That's because they rank highly in several of our buying guides right now for their exceptional sound quality, active noise canceling performance, and upgraded call quality. As you'd expect, class-leading performance like this doesn't come cheap, and even though we've seen the WH-1000XM5 drop to $348 recently, they may feel out of reach to many of us.
I'm not suggesting that the WH-CH720N entry-level headphones match the performance and luxury comfort levels offered by Sony's XM5 flagship headphones. But my time with its most affordable over-ear headphone noise-canceller demonstrates what a great starting point they are to the tech giant's lineup, introducing an outstanding brand experience for a fraction of the cost.
I've been using the Sony WH-720N headphones for several weeks now, and I have to say they've impressed me a lot. During the unboxing, I was half expecting to discover that the low-cost headphone design had compromised on build quality, with a cheap plasticky feel that creaked when I placed them on my head.
Thankfully, that wasn't the case at all, and while it's true that they have plastic hinges and outer casing to the earcups, they feel remarkably robust and nicely constructed around an expandable metal headband frame. The ear cushions are deep and the slim, padded headband is a nice touch and sat comfortably on top of my head without applying any undue pressure.
Weighing in at just 6.8 ounces, these are one of the lightest pairs of closed-back noise-cancelling headphones I've encountered. As such they had good comfort levels for longer listening periods and routine work commutes, and the clamping force was enough to make the fit feel reassuringly secure without making me feel like my head was being held in a vice-like grip.
Sony WH-CH720N: Big-brand audio for less
Although I wasn't expecting a $149 pair of headphones to be up to the noise-defeating capabilities of the company's $399 WH-1000XM5 flagship headphones, Sony's dual noise sensor technology cancels out background noise remarkably well. They incorporate the same Integrated Processor V1 chip as found in the XM5, and with Adaptive Sound Control enabled on the Headphone Connect app, the headphones adjust the amount of noise canceling based on my activity.
It's not quite the pool of silence achieved by the XM5. There's some low-level background hiss with noise canceling activated, but this is a minor compromise and blocks out most ambient noise like the sound of my neighbor's power tools remarkably well.
While music sounds punchy and nicely tuned for a warm sound with potent low frequencies fresh out of the box, the sound balance may lack a little presence in the midband for some. They focus on pushing out big bass notes and have a warmth and richness that many will enjoy.
But if you prefer a little more openness around vocals and don't want bass levels to overshadow other elements in the recording mix on certain tracks, then Sony's Headphones Connect app is on hand to help you adjust the sound to liking. It's a useful tool for bringing a bit more balance to the sound across the majority of the frequency range.
You can see from the image above how I manged to tune the EQ to my liking for Elbow's "Gentle Storm", one of my go-to listening test tracks. This may look like an extreme adjustment from Sony's original sound balance settings, but demonstrates the range of adjustment available on the app to help achieve a satisfying sound for even the most discerning listener.
Sony WH-CH720N: Longer battery life than WH-1000XM5
One of the greatest strengths of these low-cost headphones is the amount of playback time they give between recharges. Battery life runs to 35 hours with noise canceling on, which is 5 hours longer than the flagship WH-1000XM5. Without noise canceling enabled, they'll give anything between 40 to 50 hours of playback time, depending on how you use them. A 3-minute quick charge will give up to 1 hour of playback.
One of the best noise-canceling headphone deals
It's entirely coincidental that I have chosen to cover the WH-CH720N as one of my best budget noise-canceling headphone options right now. There are some compromises of course, like the lack of on-ear detection for auto play/pause playback, no LDAC support for higher quality wireless audio streams from compatible devices, and no low latency mode for syncing video and games.
Even at the full asking price the Sony WH-CH720N headphones are a great buy, but with up to 15% discounts running at several online retailers right now, they're even better value and too good to pass up.
Don't forget to bookmark our best headphones deals page to keep track of all the best bargains.
More from Tom's Guide