If you're looking to enter the world of PC gaming without spending an eye-watering amount on one of the best gaming laptops, then I've found the perfect deal on an entry-level machine that still offers solid specs.
For a limited time, the Lenovo Ideapad 3i Gaming Laptop is on sale for $649 at Amazon. That's a $350 saving on its full retail price of $999, and the lowest price ever for this particular configuration. I cover gaming laptop deals every day, and this is one of the best laptop deals you can get right now.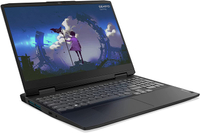 Lenovo Ideapad 3i Gaming Laptop: was $999 now $649 @ Amazon
This Lenovo Ideapad 3i gaming laptop is now even more budget-friendly thanks to a $350 discount at Amazon. It comes packing an Intel Core i5 processor, Nvidia GeForce RTX 3050 graphics card, 8GB of RAM and a 512GB SSD. It also boasts a 15.6-inch FHD display with ultra-thin bezels.
This Lenovo laptop definitely falls into the entry-level category of gaming laptops. It's still capable of playing some of the best PC games, but I wouldn't expect to be cracking the latest blockbuster releases up to ultra-settings. However, that's not to say it isn't a great wallet-friendly pick, especially for newcomers to PC gaming.
Underneath its sleek Onyx Grey casing you'll find an Intel Core i5 processor which has been paired with an Nvidia GeForce RTX 3050 graphics card. There's also 8GB of RAM, which is enough for gaming, and a 512GB SSD. I think the latter is a little on the small side considering the ballooning install size of modern-day video games, so you might also want to invest in one of the best external hard drives.
It also comes packing a 15.6 FHD display that is bordered by ultra-thin bezels. In terms of ports, this laptop comes equipped with two USB-A 3.2 and a USB-C 3.2 port; there's also an HDMI connector if you want to make use of a second display or gaming monitor. Weighing just 7.7 pounds this is a highly portable machine that is great for gaming on the go, and its unassuming design also means it can double as a work device if required.
Gaming laptops are often a very expensive proposition, but based on extensive experience covering deals, this Lenovo Ideapad deal at Amazon makes taking your first steps into the world of PC gaming a little more affordable. But if you're not fully convinced, be sure to check out our full rundown of laptop deals for more money off a whole range of top machines.