Black Friday may be fast approaching, but there are some great early sales happening as we speak.
As a Homes writer and decluttering obsessive, finding savvy storage solutions are a great way to organize your home. And if you're planning on doing an end-of-year haul, and want to create more space, I've spotted some great early deals I'd buy before Black Friday.
In particular, when it comes to organizing your pantry, you can save tons of storage space by decluttering and grouping things together. You can snap up this YCOCO 3-Tier Expandable Spice Rack for only $19 at Amazon. Originally $31, this is a decent 38% reduction, making a saving. These expandable, three step organizers are designed for storing and displaying your spice bottles or tin cans in one place. In addition, this makes it easier to find exactly what you're looking for, without having to sift through tons of condiments.
If you want to create an entryway to impress guests, you'll need to know clever ways to organize your shoes. Storage cubbies are another great way for keeping footwear in order, and looking tidy. Each cubby allows you to see your shoes clearly, making them easy to locate and put away. This is especially handy for children who can quickly put their shoes neatly away in their own spaces.
One of the best shoe storage deals I'd buy to keep your footwear in check is this wooden DINZI LVJ Shoe Bench on sale for only $89 at Amazon. With a 27% reduction, this is great value for money. Easily organize your footwear collection or items in the individual cubbies — ranging from nine right up to a 16 cubby capacity. Best of all, it's also a handy shoe bench with a padded seat to rest on — and makes the ideal window seat. Its farmhouse, vintage design makes it an attractive addition to any room, and it comes in five different colors.
If you're dealing with messy kitchen drawers or closets, another thing I'd buy are expandable drawer dividers or acrylic shelf dividers. These are ideal for dividing space, ensuring that certain items are kept in one area, and will make things easier to locate and store. In addition, if you have a compact wardrobe, these will save you storage space, and look less cluttered.
These adjustable Drawer Dividers Organizer 4 Pack is on offer for just $22, down from $35 at Amazon. With its no-fuss installation, simply lift the lever, place in the drawer, adjust to fit, and lock in place. What's more, these are versatile as you can use it to divide cutlery and kitchen utensils, stationary or even your sock collection. Best of all, this will prevent clutter from spilling over, and keep things neat and tidy.
So, if you don't want to hire a professional organizer, make the most of these top early Black Friday deals right now.
3 early deals I'd buy
Looking to declutter before the year is out? Check out these best early deals for organizing your home.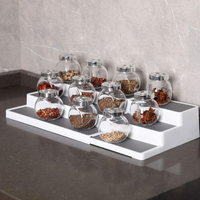 YCOCO 3-Tier Expandable Spice Rack: was $31 now $19 @ Amazon
This three-tier spice rack is adjustable to suit your cabinets or countertop space. Measuring from 14.5" to 26" W, the steps are 3 inches deep, giving you enough space to neatly store different items.What's more, it's versatile as you can use this in the bathroom or as a handy display shelf for your perfumes or favorite collectibles. It comes in either white or black to suit your preference.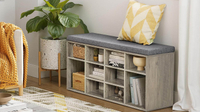 DINZI LVJ Shoe Bench: was $123 now $89 @ Amazon
This multifunctional shoe bench can hold up to 12 pairs of shoes, or store any other household items. It also has a soft, cushioned pad for seating that is removable and can be washed. Also, it's sturdy and can hold a weight capacity of 200kg. With its attractive wood grain design, and different colors available, it makes a great addition to your room.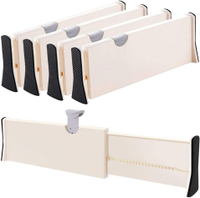 Drawer Dividers Organizer 4 Pack: was $35 now $22 @ Amazon
These adjustable drawer dividers are great for keeping everything in their rightful place, without being cluttered. With a strong, secure hold, they are easy to install and fit inside any standard drawer. They come in packs of four and six, and are 4 inches tall. Easy to clean, they do not scratch or damage walls of the drawer, and come in four colors to match.