When it comes to decluttering our homes, it can often feel overwhelming at the best of times. This is especially the case if you have a large household, hectic lifestyle, or simply don't know where to begin.
It isn't any wonder why many are turning to professional organizers to help them achieve a tidy space, and improve quality of life and well-being. After all, an organized home equates to an organized mind! But if you can't afford the luxury of hiring one, there are a few clever hacks professional organizers swear by.
In fact, these simple things could make a significant difference to getting your home in order, saving precious time. So, if you've ever wondered how the experts organize their own homes, here are some clever hacks professional organizers swear by.
Plus, these are the 5 things that professional organizers wouldn't buy. And if you want to declutter your closet, here are 7 ways to organize your wardrobe.
1. Always have measuring tape
How many times have you bought something for the home that's either too big or too small for your space? According to experts, it's wise to always keep measuring tape at hand.
"I have a couple of measuring tapes in different areas, one in the kitchen, office and even in my handbag", states Tia Mellis, professional home organizer and founder of The Mess Goddess, "I find it useful when you're shopping, and when buying so many things online." This way, you won't end up with the wrong-sized sofa, furniture, rugs or any other item that will only crowd your space. So get those dimensions right!
In addition, if you find space being cluttered up with cardboard boxes (from online shopping!), a Stanley knife or boxcutter is another essential tool.
"So many boxes are coming through our homes weekly, so have a Stanley knife at hand. As soon as you get a package, break down the cardboard boxes immediately. Not only do you want to avoid cluttering your space, but you don't want to create a mess for the next person."
2. Use cable ties
If you have unsightly cables or phone chargers everywhere, this can often make a room look messy. Experts recommend investing in reusable cable ties to keep cables in order.
"I love cable ties, and they have uses for everything," says Mellis, "the obvious thing is controlling cables, but you can buy different colored cable ties to identify each cable, or decorative ties to suit your interior, for instance, in a children's room to tie up and place against the wall." Plus, these ties are usually cheap and cheerful, available in your local store or online, like these 100PCS Reusable Cable Ties ($8, Amazon).
Also, if you want to identify each cable at a glance, invest in a good label maker to create labels. "Make labels for wires and put on phone charges. If you have a large household, use colour coded labels for different members of the family." This way, there won't be any disputes about who's using someone else's phone charger!
3. Invest in velvet or flocked hangers
Our closets are usually in need of a good decluttering, especially if you tend to buy more, and cull less! But once you've decluttered your closets, don't ignore your hangers. More often, chunky or large hangers tend to take up space, not leaving much room to store your clothing away. What's more you don't want to end up cramming your favorite items just for them to be creased the moment you wish to wear them.
"If you want to make the most out of the hanging space you have in your bedroom, velvet or flocked hangers will be your friend," suggests Ingrid Jansen and Lesley Spellman of The Declutter Hub Podcast, "Maximise your wardrobe. They'll save space and give you a streamlined calming look. And if you are going to do a hanger swap, count how many hangers you are going to need - it's always more than you think … lots more in fact!" Velvet hangers such as these Premium Velvet Hangers with Tie Bar — 20 pack ($19, Amazon), are slim-line, and designed to save you up to 50% more closet space. Just don't be tempted to fill that remaining space with more items!
4. Make use of underbed space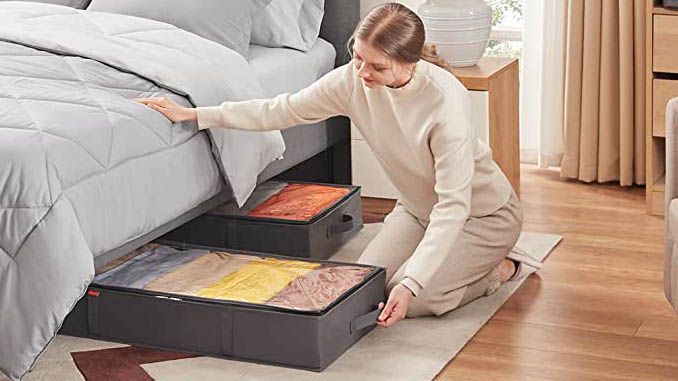 If you have small rooms, or simply lack storage, make use of underbed space if possible. Underbed storage boxes or bags are great hidden solutions to store all your winter wardrobe, shoes, or extra bedding.
"If you're not keen on exposed storage boxes underneath a bed, a storage bed or ottoman bed is a great option, providing you with a hidden storage space that's effectively the same size as your bed," suggests Jonathan Warren, director and bed specialist at Time4Sleep ."You can also make the most of the space by investing in vacuum storage bags and a label maker to pack in as much as possible whilst staying organised." Underbed storage containers come in all different sizes and capacity to suit your needs, and can be found online like these StorageRight Storage Bins — 3 pack ($16, Amazon), that are breathable and durable.
5. Reset your room every day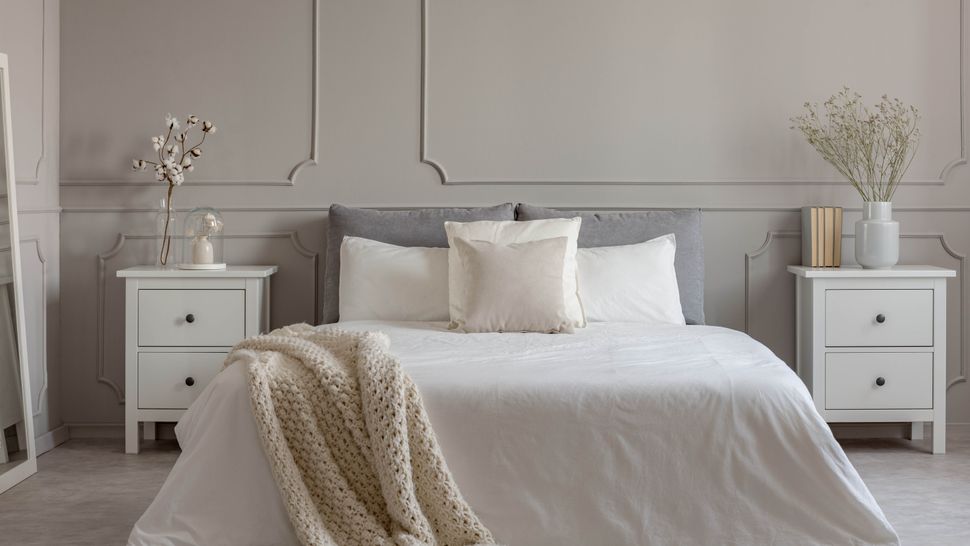 This is more of a daily habit, rather than a particular item, but experts swear by getting into the practice of tidying a little bit each day.
"A reset a day keeps the floordrobe away!", says Jansen and Spellman, "Each morning after you have got yourself up and ready for the day, be sure to make your bed and reset your bedroom by putting anything away that's out of place."
By doing so every morning, you'll prevent a messy pile cluttering up your room, and in turn, create a less stressful start to the day.
---
Do you have any of these 9 things you're hoarding, which you should throw away right now? Plus, these are the 3 things you should declutter right now, according to experts.
If you have too many pots, these 7 space-saving ways to organize pots and pans can help, and you might want to know these 7 space-saving hacks to organize kitchen cabinets to make tasks far easier and quicker.