I hate summertime. As a Scotsman who can burn just by blinking in the sun's general direction, sweltering July days aren't much fun for my chalk-white skin.
So how do I cope with the heat as someone who works in a clammy home office? With one must-have PC accessory.
I say 'PC accessory'; but a USB desk fan can plug into any device that sports a USB-C (type A) connection. The little one I use throughout the summer months hops between my living room and office depending on whether I'm working or watching TV.
Currently, the model I use is reduced here in my native U.K. The ibohr Personal USB Mini Desk Fan is on sale for £9 at Amazon — down from its usual £15.
Annoyingly, the ibohr doesn't seem to be available in the US, but I have found a well-reviewed alternative for my American chums that's currently half-price. The JZCreater USB Desk Fan is $8 on Amazon at time of writing, and has thousands of positive customer ratings.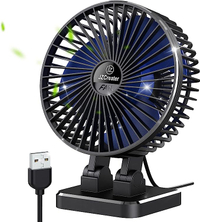 JZCreater USB Desk Fan: was $16 now $8 @ Amazon
This ultra-portable fan runs at about 50dB when switched to the highest setting. With a 3.7ft long cable, it's easy to plug into any device on your desk that has a USB port, then sit back and enjoy the breeze. It also has a flexible head and three adjustable speed settings.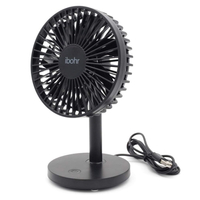 ibohr Personal USB Desktop Fan: was £15 now £8 @ Amazon
This seven-bladed USB desk fan has kept me going through some unpleasantly muggy days in my sweltering home office. Its adjustable fan head can be pivoted up to 35 degrees Celsius, which is handy. Thanks to its USB connection, it's compatible with PCs, laptops, power banks and portable chargers.
At the end of the day, a sub-$10 fan is a sub-$10 fan. Regardless of what USB desk fan you opt for, your bank balance isn't going to take much of a hit. As someone who currently spends his evenings being chilled to the bone by a large (much more expensive) tower fan, I consider my little ibohr to be a bargain.
In case you're wondering about my more costly model, the LEVOIT Tower Fan sells for $69.99 on Amazon. Running at only 28dB, this 36-inch beast is easy on my eardrums as it gently cools my beetroot-red face.
Unlike my heavy, room-dominating tower fan though, my tiny USB desktop model can easily be ferried around every room in my apartment; a fact my back greatly appreciates.
Tower of power
Sometimes my USB mini fan cools me down as I watch the best Netflix shows on my LG C2 OLED TV. Then when it's time to write about the best gaming laptops, I take it through to my home office, plug it into my rig and adjust the gizmo so that it's whirring plastic blades point at my feet.
Don't judge me. My poor tootsies get hotter than a chicken vindaloo on even moderately toasty days. And that's just dealing with average UK temps of around 70 degrees Fahrenheit (21°C), which probably sounds downright frosty to some of my NYC-based colleagues currently dealing with 86 degrees (30°C).
In short, fans are great… though my electricity bill probably doesn't agree.
Over the past month, I've got more enjoyment out of my budget USB desk fan than any of the expensive PC components I own.
If I had to pick between the fan and my Nvidia GeForce RTX 4090 GPU to keep me going through this long, sticky summer, the world's most powerful graphics card is in for a losing battle.
More from Tom's Guide