Planning what you'll bake over the Christmas season but need a new blender to help you perfect your recipes? We've found the perfect Black Friday deal for you.
Right now you can get the Ninja Mega Kitchen System (BL770) on sale for just $99 at Amazon. That's a whopping 50% off and its second lowest price ever. (An older/similar model was $85 back in 2019). We don't know how long this 50% offer will be available, so make the most of it while you can.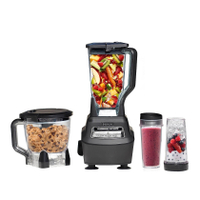 Ninja Mega Kitchen System: was $199 now $99 @ Amazon
Leave all the multi-tasking in the kitchen to one appliance with this Ninja blender. With four functions for smoothies, processing, dough, drinks and more it will quickly become your go-to kitchen appliance. With this ultimate appliance, you'll be enjoying fresh, healthy drinks, homemade bread and sweet bakes.
So, what's included with this super deal? A large 72oz pitcher for bulk-blending smoothies, two smaller 16oz cups with lids for individual portions, and a generous 8-cup processing bowl suitable for mixing up to 2lbs of bread or pasta dough, or cake and cookie batter. It also has three different stacked blades that speed up the blending process.
Crushed ice? No problem. Pulse or blend. The Ninja tackles the hard stuff with a powerful 1500W motor. It professionally blends fruit and veg in seconds to make nutritious juices that retain all their healthy nutrients and fibre. Fancy making homemade bread? Dough is mixed super quick using a special dough blade. And with stacked blades, there's no messing about with unclogging one blade that sits at the bottom of the processor as ingredients are blended evenly - the blender does it all.
And if you're stuck for ideas of where to start, be inspired by the 31 recipes in the accompanying quick-start guide. You'll be serving up tasty delights in no time.
The Ninja is super easy to use and lightweight enough to move around the kitchen, and with suction pads on its base, it will stay put on the worktop while in use. The lid also locks in place, making it safe to use. Plus, cleaning is easy and all parts can be placed in the dishwasher or hand-washed.
With a sleek black finish, we think this Ninja is a great-looking product and with this Black Friday deal, you'll get a fab piece of kitchen kit for a great price.
If you're looking for something at the premium end you might be interested in the best blenders we've tested.