The Labor Day mattress sales have kicked off early, and one of the best offers we've spotted comes from Casper. This early access deal knocks up to 25% off the full mattress range. Our pick of the bunch is the Casper Wave Hybrid Snow, a top-quality, super supportive mattress with outstanding cooling powers. That model has the full 25% off, which equates a maximum saving of $999.
We count it amongst the best mattresses around, as well as being one of the very best cooling mattresses specifically. It features a cover that stays cool to the touch, and special 'heat delete' bands that shift body heat away from the sleeper. Lots of bed brands talk the big talk when it comes to temperature regulation, but during our Casper Wave Hybrid Snow mattress review we found this model really delivered on those cooling claims, offering a reliably refreshing night's sleeper even for the habitually hot sleepers on our testing panel.
This is the best Casper mattress sale we ever see, and based on previous deals patterns we aren't expecting it to stick around past Labor Day itself. Here's a closer look at the deal, and who we'd recommend this mattress to (and alternative options if we don't think it'll be right for you):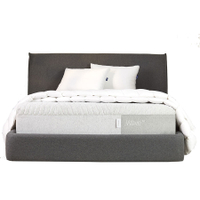 Casper Wave Hybrid Snow

Queen size was: $3,395
Now: $2,546.25

Overview: The Casper Wave Hybrid Snow is a 13-inch tall hybrid mattress with some incredible cooling powers. The design includes memory foam for contouring support and a tier of bouncy springs, alongside a whole array of cooling features designed to shift heat away and keep the sleeper at the perfect temperature all night. The medium-firm sleep feel is perfect for back and stomach sleepers, and will also suit side sleepers who prefer slightly sturdier support.
Price history: This is the lowest price we ever see on the Casper Wave Hybrid Snow. This mattress is generally sold at full MSRP (so $3,395 for the queen size) or occasionally 20% off ($2,716 for queen). Over national holidays, such as this one, Casper sometimes bumps that up to 25% off ($2,546 for queen size. That's the best offer we ever see, and represents an $849 saving on ticket price. Based on past deals patterns, we don't expect this 25% off deal to last past Labor Day itself.
Extras: The Casper Wave Hybrid Snow comes with a 100-night sleep trial, which you can use to make sure this design suits you. It's backed by a 10-year limited warranty, and free, no-contact delivery is included. These are all pretty standard extras, rather than being especially generous, but the really important thing is the mattress itself, and this one is excellent.
Buy it if...
✅ You sleep hot: The star of the show here is the Casper Wave Hybrid Snow's cooling features, which are perfect for anyone who struggles with overheating. The QuickCool cover delivers on its promises, remaining cool to the touch, and during our review period our habitually warm sleepers enjoyed the most comfortable and cooling sleep they'd experienced in a long time.

✅ You suffer neck or back pain: This is an ultra-supportive mattress, and we'd recommend it to anyone who struggles with back pain. The 7/10 firmness helps ensure the spine stays correctly aligned. For the same reason, it's also a great choice for those who like to sleep on their back or stomach, or anyone whose preference is for a slightly sturdier mattress rather than anything too squishy and plush.
Don't buy it if...
❌ You don't struggle especially with overheating: The Wave Hybrid Snow is an excellent mattress in general, but you're really paying the premium for those cooling powers. Those who don't sleep hot have more options – within the Casper range, there's the standard Wave Hybrid, which has a similar design minus the cooling features. That models also has the maximum 25% off in the Labor Day sales, taking the cost of a queen size down to $2,171.25.
❌ You want maximum bang for your buck: Casper isn't particularly generous with its extras – you'll get a more comprehensive overall package with other brands. For example, our #1 rated mattress, the Saatva Classic, comes with a full year's sleep trial (compared to 100 nights for Casper), forever warranty (compared to 10 years), and free white glove delivery to your room of choice, with optional complementary old mattress removal (compared to free doorstep delivery from Casper). It's significantly cheaper than the Wave Hybrid Snow, with $400 off for Labor Day – head to our Saatva Classic review to find our more.

❌ You're a lightweight side-sleeper: The Casper Wave Hybrid Snow has a medium-firm sleep feel (7/10), with excellent support. However, some side sleepers, and especially those of lighter body weight, might prefer something softer with more contouring, to prevent pressure from building up in the shoulder or hips in this position. Within Casper's own range, the Nova Hybrid has a softer sleep feel, and is 20% off in the Labor Day sales. Alternatively, consider something like the GhostBed Luxe, which has a 6/10 firmness level and is also geared towards keeping the sleeper nice and cool.