Did anyone call for a deal-slinger? If you've been waiting for the perfect Black Friday deal before swooping in on a PS5 console, this offer at Amazon might be as close as you're going to get ahead of the big sales event.
Right now, you can score a PS5 console together with a copy of Marvel's Spider-Man 2 at the amazing... wait, astonishing... no, spectacular price of just AU$655.95.
While the official PS5 Marvel's Spider-Man 2 bundle is already sold out, Amazon is offering the same discounted price for those buy the standalone PS5 console and a copy of Marvel's Spider-Man 2 in the same transaction, leading to a saving of AU$248.05!
To put this deal price into perspective, that's AU$143.05 cheaper than the standalone PS5's RRP, making this one discount that you should swing into immediately if you're looking to grab the console with one of the best PS5 games to date.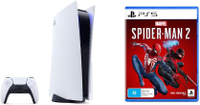 In our review of Marvel's Spider-Man 2, we called it "the best Spider-Man video game ever made," citing it as "a textbook example of a video game sequel done right."
In the game, you play as both Peter Parker and his protégé Miles Morales, in an intertwining story threads that bring you face-to-face with such classic Spidey villains (some would call them anti-heroes) as Kraven the Hunter and Venom.
So if you're a Spider-Man fan who's been looking for the perfect reason to grab a PS5 console ahead of the holiday season, this might be it. Better act fast, though — this deal won't last long!