It turns out you don't have to drop half a grand to enjoy the best Xbox Series X games. The Xbox Series S plays all the same titles (albeit at a lower resolution,) and right now it's more than half the price of the Xbox Series X.
The Xbox Series S is $239 at Microsoft right now. This sale appeared over Black Friday last year, and we are very excited to see it return. By comparison, Best Buy has it for $249.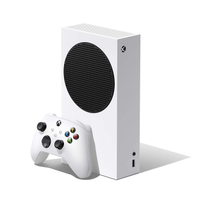 Xbox Series S: was $299 now $239 @ Microsoft
The next-gen Xbox Series S is limited to 1440p output, but still delivers fast loading, ray tracing, and high frame rates. It sports a GPU with up to 4 teraflops of output, 10GB of RAM, and a 512GB SSD for storage. (There's no disc drive). This compact console usually retails for $299, but Microsoft has slashed $60 off.
The Xbox Series S isn't as powerful as the Xbox Series X, but it plays all the same games. For half the price of the Xbox Series X, you get access to a huge library of awesome Xbox games and a console that's compact and surprisingly portable.
In our Xbox Series S review, we praised this console for its excellent game library, smooth performance and sleek design. As we mentioned, it also sits at a relatively very affordable price point — now that it's on sale, it costs $250 less than the Xbox Series X, and it's even $50 cheaper than the Nintendo Switch.
There's no disc drive on this console, so you'll be limited to downloading titles digitally. The 512GB SSD on the Xbox Series S fills up fast, too. But if you're frequently moving your console between rooms, or want a gaming system you can pack up and take with your for a weekend away, the Xbox Series S is ideal.
This console gets even better if you pair it with Xbox Game Pass. For a subscription starting from $9.99 a month, you'll have access to a huge selection of games to download and play whenever you want. Everything from Halo to Forza Horizon to Yakuza is represented here. Having them on the small but powerful Xbox Series S makes these incredible games all the sweeter.