Black Friday deals are already flooding our inboxes, with sales to be had every which way. Despite all this excitement, some products rarely see discounts though — one of which has to be the Dyson Airwrap. This hair styling tool is at the top of many wishlists, but the premium price tag often puts us off. That's about to change.
You can now get the Dyson Airwrap for just $480 at Amazon, down from its MSRP of $599. All you need to do is tick the coupon box to get this discount of $119. And this is a generous saving to say the least — in fact, it's the cheapest it's ever been! Want to learn more about this product before you make a purchase? Then read on.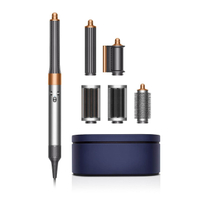 Dyson Airwrap Multi-Styler Complete Long: was $599 now $480 @ Amazon
Lowest price! You can now save $119 on the Dyson Airwrap in nickel/copper. Several tools are supplied with this bundle, including two different widths of barrel, a soft and firm smoothing brush, round volumizing brush and a smoothing dryer. All can be stored in the handy storage case. Note: This particular model is designed for long, wavy hair, but a Long Diffuse model is also available for long, curly or coily hair with the same discount applied at Amazon. Coupon needs to be applied to get this discount.
I myself have owned the Dyson Airwrap for a few years now, and as you will see from my Dyson Airwrap review, it's an innovative hair care tool to own. It works by using something called the Coanda effect to shape and style your hair. By creating a vortex of air, your hair is wrapped around the barrel and dried to curl. This imparts less heat damage versus traditional methods, and it can result in a much more natural appearance.
But, the Dyson Airwrap can do much more than that. With the additional tools, you can dry, smooth and volumize to your desired shape. And since you can switch each barrel from clockwise to counter clockwise with this latest design, there's less parts to store too. Not that storage is a problem — the streamlined case holds it all.
On test, the controls were intuitive to use, although styling via the barrels takes some getting used to. One major plus point is the ease of curling the back of your hair, which has always been tricky for me via a traditional curler. Once you get the hang of it though, you can create salon-like results all too easily. Considering this is the cheapest price we've seen Dyson Airwrap, it's worth taking advantage of.