In Pictures: 20 New Tablets at CES 2011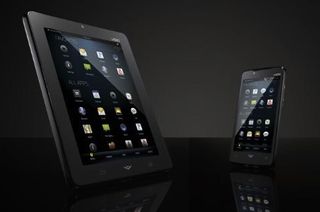 Vizio Tablet, Vizio Phone
Vizio? Tablet? PHONE? Yes. The Vizio Tablet and Phone are both running Android with a heavy Vizio UI on top, as well as undisclosed 1 GHz processors. Both are also part of Vizio's VIA ecosystem, so you can share apps between your portable device and TV, and even use your tablet and/or phone as a remote.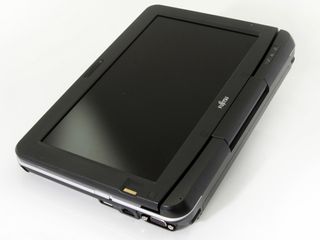 Fujitsu Lifebook T580
Fujitsu has been in the convertible tablet business for decades, so it's no surprise that some new models would be seen at CES. The T580 has a 10.1-inch screen, packs an Intel Core i5 CPU, and supports both finger gestures and pen control.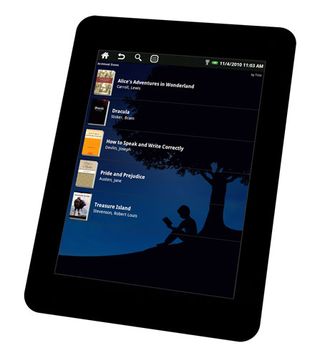 Velocity Micro Cruz T301
Velocity Micro is known as a custom desktop PC company, but they've recently jumped head-first into the tablet space. The Cruz Tablet is pretty lackluster hardware-wise, shipping with an 800x600 7-inch display, 4 GB of storage (via bundled SD), and Android 2.0. The silver lining? The T301 ships for $249.99.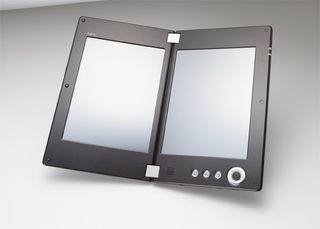 NEC Android Cloud Communicator LT-W
NEC's ACC (Android Cloud Communicator) is a blank slate. The company is mum on many of the specs, and is selling this to other developers who can tweak hardware and software as they see fit. We can't say we're enthusiastic about the dual resistive (ew) touchscreens, but with no set purpose, there are some definite possibilities (eReader, inexpensive student solution) here.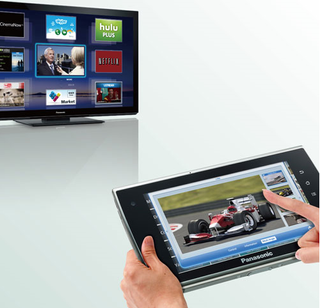 Panasonic Viera Tablet
Mum is the word on what the internals are, but Panasonic will release three Android-based tablets (4-. 7- and 10-inch versions) later this year. With a feature called Viera Connect, users can communicate and stream content directly to their enabled Panasonic televisions.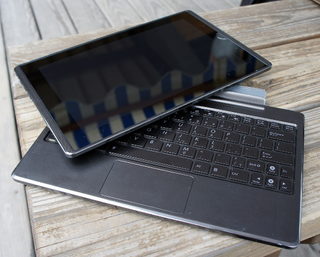 Asus EeePad Transformer
The first of three new Asus tablets, the transformer is a convertible tablet much like the Lifebook T580 from Fujitsu. Beyond that, this is one sleek-looking device, and its 1280x800 IPS display and Tegra 2 innards means you can watch HD content with awesome viewing angles to boot.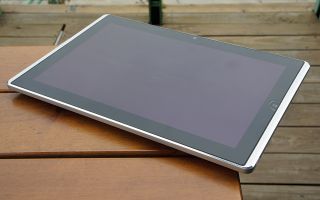 Asus EeePad EP121
Forget SoC's here, as the EP121 tablet is packing some serious laptop hardware. With an Intel Core i5 CPU, up 4 GB of RAM and a 64 GB SSD, there's no sign of netbook hardware in this powerhouse. And this is no piece of vaporware, either, as it just went up for pre-order on Amazon.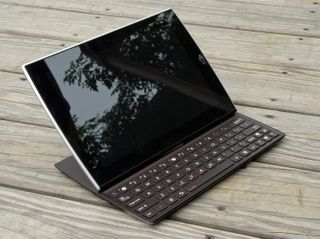 Asus EeePad Slider
The EeePad Slider has a killer design, and it's Tegra 2 hardware from Nvidia lets it chew through HD video without breaking a sweat.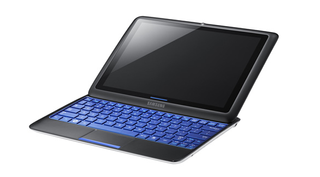 Samsung Sliding PC 7 Series
The Eee Slider from Asus isn't the only slider tablet at CES in 2011. Samsung's Sliding PC 7 Series comes with a new Intel Z670 CPU, a 12.1-inch screen with 1366x768 resolution, 2 GB of RAM, and a 32 GB SSD. These are some pretty impressive specs for a $700 touchscreen device, and the tablet will also come with WiMAX optional and Windows 7 with some custom Samsung UI tweaks.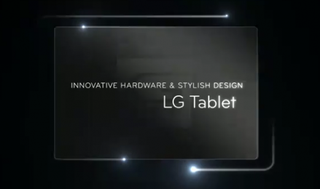 T-Mobile LG G-Slate
Announced yesterday, the G-Slate from LG and T-Mobile is still shrouded in mystery when it comes to hardware. What we do know is it's a Honeycomb (Android 3.0) device, and will take advantage of "4G" (HSPA+) on T-Mobile's network. Look for it later this year.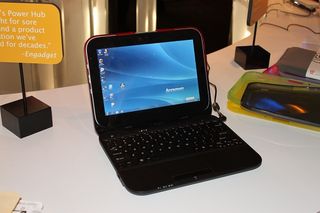 Lenovo IdeaPad U1 Hybrid
We were ready to deem the U1 hybrid as vaporware, but leave it to Lenovo to save the day. The laptop portion of this 2-in-1 machine has a Core i5 CPU, 2 GB of RAM and a 320 GB hard drive.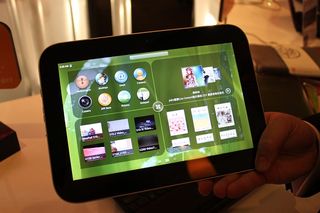 Lenovo LePad
Here we have the tablet, or LePad, portion of the U1 hybrid. The Android tablet has a dual-core 1.3 GHz Snapdragon CPU, 1 GB of memory and 16 or 32 GB SSD. Lenovo has put a lot of work into the Android-based software, as the UI is totally custom. The LePad will go for around $499 while the hybrid set will cost $1,199...if they ever hit the USA (they are shipping in China later this year).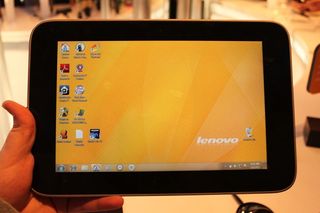 Lenovo Windows 7 Tablet (Prototype)
This is not the same LePad. Instead, you are looking at a prototype Windows 7 tablet from Lenovo. This Intel Oak Trail-based tablet may never see a store shelf, but it will likely lead to innovations and other products by Lenovo in the tablet/convertible space.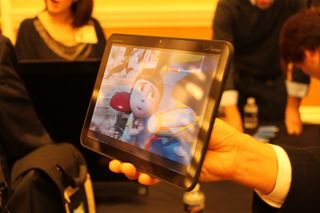 Motorola Xoom
Honeycomb must be delicious, because everyone is coming out with an Android 3.0 tablet this year. The Xoom from Motorola has some to-be-expected hardware specs (1 GHz dual-core CPU, 1 GB RAM, 32 GB SSD), but Motorola is already looking towards the future with this device. While the Xoom will ship with integrated 3G (Verizon), Moto will be offering 4G upgrades later on (no word on pricing). Look for the Xoom in Q2 2011.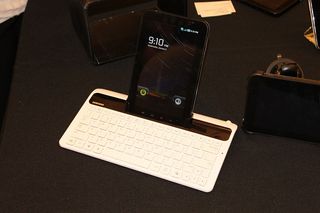 Samsung Galaxy Tab (WiFi Only)
The Galaxy Tab from Samsung is nothing new...but this model is the long-awaited (at least for some people) WiFi-only model. Other than the 3G/4G radio omission, the rest of the hardware is identical.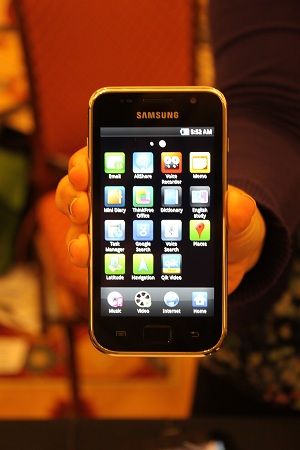 Samsung Galaxy Player
While the Tab has been available for a while now, the new Galaxy Player is brand new, and it might not ship to the US. The SLCD display on this PMP is gorgeous in person, take our word for it. We believe that most of the internal hardware is similar to the Galaxy Tab (CPU, RAM etc.) but official specs are TBA. iPod Touch killer, anyone?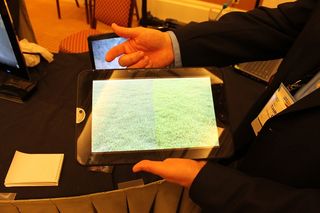 Toshiba Honeycomb Tablet
Another company, another unnamed tablet coming out later in 2011. We really enjoyed our time with this Tegra 2-powered Toshiba Honeycomb device (which was running Android 2.2 at the time). It's back is a nice non-slip rubber material, and the screen was impressive. Other great features include a removable battery, dual cameras, and both USB and mini USB (so you can use the tablet to transfer photos from a camera to a flash drive). Release date? Spring 2011.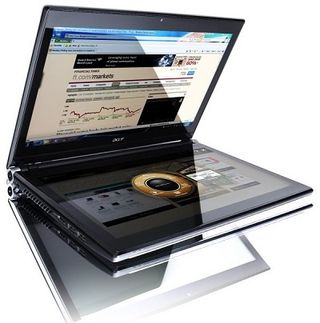 Acer Iconia Dual-Screen Tablet
The Iconia from Acer might be the tablet to see at CES this year. This is one of the sleekest machines at the expo, for sure, and the dual-screen setup combined with the impressive UI software leaves us wanting one ASAP. We don't have much on specifics, but we do know it's some version of Android coupled with Nvidia's Tegra 2 SoC and a Verizon 4G LTE radio. The sooner we get our hot little hands on this, the better.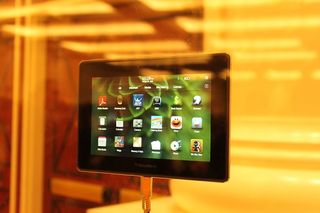 BlackBerry PlayBook
Another trade show, but the same BlackBerry PlayBook trapped in a glass prison. The dual-core 1 GHz CPU and 1 GB of RAM sound impressive, and we like the direction RIM is going in with the new web browser and recent purchase of QNX, so the sooner we can play with this book, the better.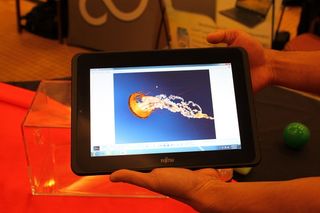 Fujitsu Windows 7 Tablet (Prototype)
Fujitsu is known for convertible tablets, but that doesn't mean the company will be left out in the cold when it comes to slate PCs. This unnamed (Fujitsu Slate PC) device runs Windows 7 on an Oak Trail platform, and includes a lot of neat features not found on other tablets, including a fingerprint reader, smart card slot, and removable battery. Mum is the word on if this slate will ever see the light of day, but fingers crossed!