If you own a pair of the Apple AirPods, you can make it even better with the best AirPods accessories. Sure, this is a fine set of miniature headphones, and from a series that the best wireless earbuds owe a lot of their success to, but even the AirPods can be improved with a few extras.
For instance, unlike with the replaceable tips of the AirPods Pro, AirPods users are limited to a single fit and design option. But, not all ears are the same. That's where these AirPods accessories come in: they'll help you personalize your pair with a better, more secure fit, or update the appearance of your beloved buds (and the charging case).
Just remember that all of these are designed exclusively for the 2019 Apple AirPods, not the AirPods Pro or any of the best fake AirPods. With that in mind, here are our picks of the best AirPods accessories.
AirPods wireless charging case
Whether you own the first-generation AirPods or opted out of the wireless-charging case option for the current-gen model, you might want a setup that eliminates or frees up your lightning cable. You can either purchase the official AirPods Wireless Charging Case from Apple for $79 or buy an exterior, Russian-doll-style wireless-charging adaptor case like the Neotrix A5-W from Amazon for less money. Both juice up your AirPods through a Qi-compatible charging mat; check our best wireless chargers for some options there.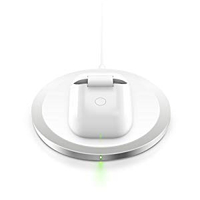 NeotrixQI Wireless Charging Case: $23 @ Amazon
The NeotrixQI A5-W is essentially a case for your AirPods case, only unlike the basic charging case this supports wireless charging. You can actually buy the base AirPods, plus this, for less than Apple's own charging case option.
AirPods earhooks
Earbud hooks may or may not be your preference. Some listeners like the security of latching their buds around their lobes, while others find the hooks uncomfortable. AirPods are excellent for the latter group, but you can also adapt a pair to suit your needs.
There are several styles of attachable AirPods hooks available. The EarBuddyz 2.0, available as a 3-pack from Amazon, creates an in-ear mount for AirPods to prevent them from moving around. If you like the traditional hooks that loop around the back of your ear, an alternative is the Elaggo Upgraded Ear Hook pack — that's $8 from Amazon.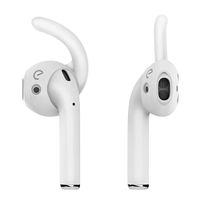 EarBuddyz 2.0 Ear Hooks: $10 @ Amazon
These discrete in-ear hooks give your AirPods extra stability when out on runs or at the gym. They come in four color options, too: black, clear, pink or blue.
innoGadgets strap for Apple AirPods
Never lose a single AirPod again, thanks to this handy connector cord. This strap turns your AirPods into a semi-wired pair like the Jaybird Tarah Pro or Beats Powerbeats 4, so if one bud falls out, it'll only fall around your neck instead of to the ground. Replacing a lost AirPod is expensive, so the $7 investment in this connector cord from Amazon is worth it if you're prone to accidentally knocking your buds out. Though AirPods are not entirely sweat-proof, this accessory is also cheaper than switching to a pair of the best running headphones.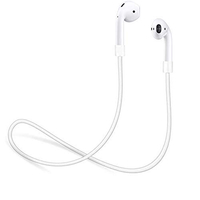 AirPods decorative cases
A decorative case makes a great way to personalize your AirPods without adding bulk or weight to the earbuds themselves. One pleasantly clean-looking option is Coffea's protective silicone case, which is $6 at Amazon. It's shock-proof and has a huge range of color choices available, so you'll never mistake your AirPods for those of a friend or family member.
If you want something with more personality, LEWOTE produces a series of covers that turn your case adorable fruit; check them out on Amazon. For a more rugged case, try the Raptic Trek: an aluminum and polycarbonate protective cover for AirPods. It's $29 on Amazon.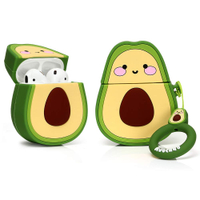 AirPods deceptive cases
Airpods pack a lot of value into a small, portable package. As such, they're a desirable target for thieves. A popular hack from the internet for defending against thieves is to remove the sticker from a dental floss case and use it to store your AirPods. But purchasing a deceptive case is another simple step you can take to fool bad actors looking to snatch a nice pair of earbuds. Burkley has a stylish leather case on Amazon that conceals the AirPods's distinctive shape; the more affordable CASEBUDi Tough Travel Case does the same. It's on Amazon too.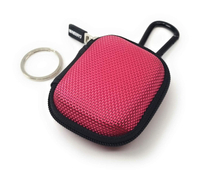 CASEBUDi Tough Travel Case: $10 @ Amazon
This impact-resistant case is both generally practical, including a carabiner and internal strap for the AirPods case, and better for security as it doesn't give away that you're carrying AirPods. There are four nylon colors to choose from, plus a leather version for an extra $2.
AirPods iPhone case
Charging AirPods in the traditional, stand-alone case inconveniences those with only one Lightning cable for all their devices. If that's you, consider an iPhone case that also replaces your AirPods case. Power1, the result of a successful Kickstarter campaign, is a multidevice charging case that's compatible with the iPhone X and iPhone 11 ranges and can simultaneously charge both the original and 2019 AirPods. It's expensive, costing $149 direct from the Power1 store, but it's certainly unique.