After an 18-month absence, PlayStation Showcase returned yesterday (May 24), and I spent the entire hour-long presentation in a giddy haze of PS5 gaming goodness. But a quick glance at social media after the show wrapped up told a very different story.
The overwhelming reaction on my feed seems to be "Was that it?" and "Where was [insert game] here?" In fact, the general consensus appeared to be that Sony did not deliver the goods and that the PlayStation Showcase 2023 had failed to energize the gaming community as expected.
Perhaps I'm just easy to please, but from my perspective, the PlayStation Showcase definitely lived up to its billing. It was a live stream stuffed full of excellent games, a small smattering of hardware reveals and sent out the clear message that the PS5 generation is really beginning now after a couple of years of cross-gen releases. What more can you (reasonably) ask for?
Gamers are a tough to please
You don't have to search social media far to find a brewing backlash to PlayStation Showcase 2023.
L for me, way too little good things for a showcase. This felt like a decent State of play 😭May 24, 2023
As soon as the show finished popular gaming news account @mrpyo1 on Twitter asked their more than 58,000 followers if the show was a "W or L" (win or lose essentially) and the vast majority of the responses were people firmly classifying it as an "L". Pyo themselves said, "L for me, way too little good things for a showcase. This felt like a decent State of Play" and one responder declared it "By far the biggest L in showcase history", which seems a bit… over the top.
The #PlayStationShowcase was a 'D' grade from a Shinobi602 perspective.While games like Spider-Man 2, Alan Wake 2 & Dragon's Dogma 2 look great & I'm excited for MGS3, we still have no real picture of PS first party studios' future lineup. CG trailers don't sell me on anything.May 24, 2023
Another gaming news aggregation account, @Shinobi602, graded the PlayStation Showcase 2023 a "D", noting that while they enjoyed certain aspects of the show, "we still have no real picture of PS first party studios' future lineup" and that is a sentiment that is seemingly shared by quite a substantial number of PlayStation gamers.
Sony avoided making Microsoft's mistake
I will admit, I was a little surprised how few games from PlayStation Studios were present in the PlayStation Showcase. Prior to the event, like many, I had assumed we'd see games from Sony-owned developers like Naughty Dog (The Last of Us, Uncharted), Sucker Punch (Ghost of Tsushima, Infamous), Housemarque (Returnal) and Bluepoint (Demon's Souls).
In the end, only four first-party studios were featured: Recent additions to the fold Haven Studios and Firewalk Studios both revealed new IPs, called FAIRGAME$ and Concord respectively, Bungie confirmed another Destiny 2 DLC and teased a reboot of 90s shooter Marathon, and Insomniac, which closed the showcase with an extended demo for upcoming superhero sequel Spider-Man 2. That's a lot less PlayStation Studios input than many of us were expecting, and most of the big players were missing in action.
However, I wonder if Sony was hoping to avoid the mistakes made by Microsoft during its Xbox Games Showcase in 2020. During this at-the-time well-received presentation, a whole bunch of console-exclusive Xbox titles were confirmed including Fable 4, Avowed and Everwild with slick cinematic trailers. And almost three years later we haven't heard another peep from any of them, leading to quite a bit of frustration from the Xbox community. In fact, Fable not appearing at every subsequent Xbox presentation has become a bit of a meme at this point.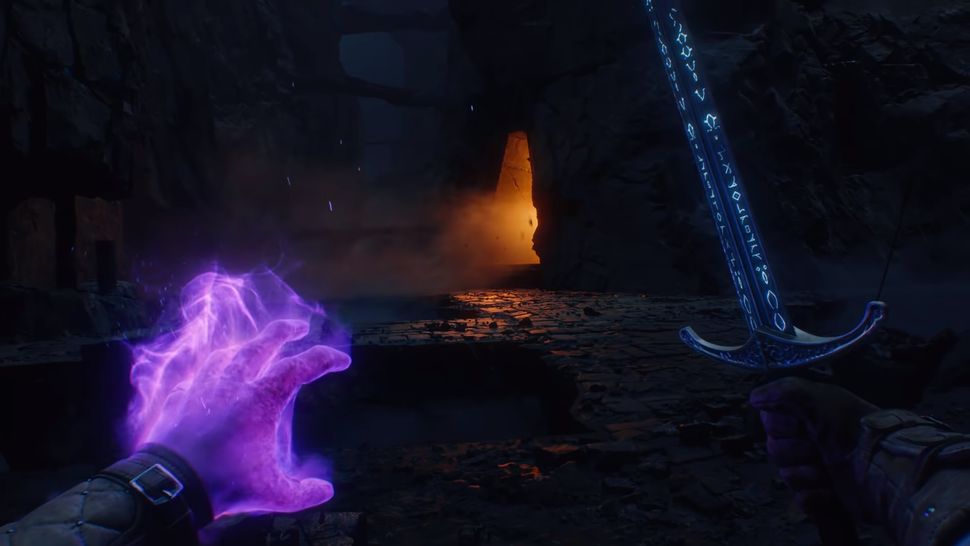 It would seem that Sony is taking the wise approach of not announcing games until they are within sight of the finishing line. Which is a very good thing in my eyes.
Maybe the social media reaction to this PlayStation Showcase would have been improved if it included a tease for Ghost of Tsushima 2 or The Last of Us Part 3. But these rumored projects are seemingly years away from release, so I'd rather Sony keeps its powder dry for now instead of announcing games far too early.
Games, games and more games
If there was one thing that PlayStation Showcase definitely wasn't lacking, it was games. There were some 30-odd titles included, with a strong variety overall from Final Fantasy 16 to Five Nights at Freddy's: Help Wanted 2. There was a little something for everybody here.
I won't list all the games featured to prevent this article from becoming novel-length, but my two highlights were definitely Alan Wake 2 and Assassin's Creed Mirage (and, of course, Spider-Man 2, but I'll discuss that game below).
I've been waiting for a sequel to the original Alan Wake for more than a decade so the confirmation this long-awaited follow-up is set to release on October 17 had me practically beaming. And, it looks like an absolute visual stunner to boot. The confirmation of a second-playable character also piqued my interest. Roll on spooky season, I can't wait to be reunited with Mr. Wake.
Another title set to launch in October is Assassin's Creed: Mirage and it really does look like the return to classic-style Creed that I've been yearning for. I've always loved the AC franchise, but recent entries have become increasingly bloated. A more focused and smaller-scale experience is exactly what I'm after, and Mirage seems to be delivering that. Plus, it's giving me major Assassin's Creed 1 vibes which is a very good thing.
The PSVR 2 section of the showcase was also pretty excellent. Sure, we didn't get the Half-Life: Alyx port I'm desperately hoping arrives at some point. But the VR mode for Resident Evil 4 looks horrifyingly good, and stealth-dropping Beat Saber during the showcase was a stroke of genius.
It's also easy to overlook the smaller titles, as gamers naturally tend to gravitate toward the blockbuster AAA stuff (something I'm also guilty of doing). However, the indie games representation during the PlayStation Showcase 2023 was very strong from The Plucky Squire to Cat Quest: Pirates of the Purribean. But, it was Sword of the Sea, the new game from Giant Squid (the team behind Abzû and The Pathless) that really caught my eye thanks to its sand-surfing protagonist and stunning art direction.
There was big stuff too
The PlayStation Showcase 2023 brought the good in terms of big reveals as well. The news that Metal Gear Solid 3: Snake Eater is being remade for current-generation hardware would have caused a social media meltdown if the reveal hadn't been ruined by leaks in the lead-up to the showcase. Still, after the high quality of Dead Space and Resident Evil 4, I'm here for this new era of remakes.
Bungie's Marathon reboot was another seriously awesome surprise. Released in 1994, the original game is a shooter classic, and while it seems this will be a reimagining rather than a straight remake, just the fact the Marathon franchise is alive again in 2023 is pretty mindblowing.
The show ended with Marvel's Spider-Man 2 and this was definitely a case of Sony saving the best for last. We got a full 12 minutes of the game in action, and this sequel is looking pretty darn incredible.
We got to see Peter's new symbiote suit, as well as new traversal options such as a web slingshot and a wingsuit. Plus, confirmation we'll be able to play as both Peter Parker and Miles Morales! The lack of a release date was pretty disappointing, but at least we got a "Fall 2023" launch window so hopefully it won't be long until we hear exactly when we can return to NYC as Spidey.
Overall, the PlayStation Showcase 2023, packed dozens of excellent-looking games heading to the PS5 over the next few years. And I've not even touched upon the hardware reveals yet. The rumors were true, Sony is making a new handheld and releasing its first set of wireless gaming earbuds. These announcements put a nice cap on what was a fantastic showcase overall.