Apple's big WWDC 2023 developer conference kicks off Monday (June 5) with a keynote address, and we expect the company to debut a few new pieces of hardware before the day is done.
The most intriguing potential reveal is no doubt the Apple VR/AR headset we've been hearing rumors about for ages. If such a thing shows up at WWDC this week it'll be the most notable new Apple product since the Watch launched, which is why so many of us are figuring out how to watch the WWDC 2023 keynote livestream during work on Monday.
One thing I'm especially keen to see, as one of TG's resident Computing editors, is what sort of Macs Apple plans to unveil.
Proven Apple reporters like Bloomberg's Mark Gurman have suggested we may see a new Mac Studio with a new M2 Ultra chip announced alongside refreshes of the 13-inch MacBook Air M2 and MacBook Pro M2.
That all sounds pretty straightforward, if not exactly exciting. But it only covers two of the 3 new MacBooks reportedly launching at WWDC 2023. The third is expected to be a new MacBook Air with a 15-inch screen, a first for the Air line and the first 15-inch MacBook Apple has sold since it killed the 15-inch MacBook Pro in 2019.
If that proves true, I expect we'll see loads of excitement and "take my money" memes on social media as fans start hitting Apple's MacBook Air 15-inch pre-order page. And more power to 'em—if you've been eagerly awaiting a 15-inch edition of Apple's signature ultraportable, WWDC 2023 looks likely to bring you good news.
But as I talk to friends, family and readers about how they're allocating budgets this year and what kinds of laptops they need, Apple's MacBooks are already getting hard to recommend.
Not because they're bad laptops, but because the branding and lineups are getting more complicated and moving away from the simplicity that makes Apple products easy to recommend, without gaining much of the complexity or variety that make the best Windows laptops well-suited for folks with specific needs.
Who needs a 15-inch MacBook Air?
A lot of my concern about this rumored 15-inch Air comes down to a basic question: Who needs it? Who would want it?
The answer depends significantly on the existence and specifications of such a laptop, neither of which have been confirmed by Apple. Until such time as Tim Cook sees fit to take me into his confidences, I can only give you my informed guess as to what Apple's next MacBook might look like.
Unless Apple really steps outside of the box it's built for itself on this one, a 15-inch Air seems likely to sport a 15-inch non-touch display (with a 1080p webcam notch) and the same ultra-thin, ultra-light design as the 0.44-inch thin 13-inch MacBook Air M2, albeit hopefully with a few more ports than the paltry pair of Thunderbolt 4 jacks you get on the current Air.
It will likely be configurable with multiple versions of the latest slice of Apple silicon (probably an improved version of the Apple M2 chip), and some tech analysts think you'll pay between $1,199 and $1,999 (to start) for a MacBook Air 15-inch.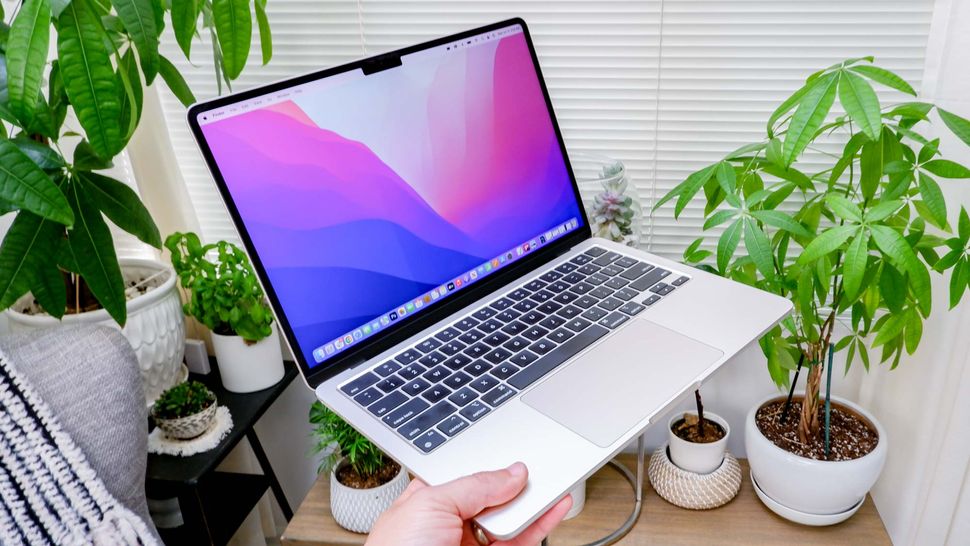 If that bears out and Apple really does start selling a 15-inch version of the current MacBook Air later this year, it begs the question: What benefits does it offer that would cause you to buy one over other MacBooks?
From where I'm sitting, it's hard to guess what those benefits might be. The one big reason I can see for recommending this laptop to folks in the market for a new MacBook is the weight/screen size ratio. If you like the idea of a lightweight MacBook but have big hands or bad eyes like me, an Air with a larger 15-inch display is a pretty easy recommendation to make.
But outside of that, why am I going to tell people they should buy a 15-inch Air over a lighter 13-inch model, or a more powerful MacBook Pro 16-inch 2023 with a bigger, more beautiful mini-LED display?
The answer is I don't know, and that's a feeling I've had before when Apple unveiled new MacBooks—specifically, the 13-inch MacBook Pro M2 (2022). With a starting price of $1,199 it's a perfectly solid 13-inch MacBook that's good enough for a variety of tasks, but it can't match the screen size, design quality or sheer power of its larger Pro siblings, nor can it compete with the 13-inch MacBook Air's killer combo of speed and portability.
With Apple preparing to reveal as many as three new MacBooks this coming week, I'm starting to lose my sense of what makes each one valuable and well-suited to specific needs. This is surprising because not long ago I would have said that was the only real value of Apple's simplistic Air/Pro marketing strategy: It's easy to tell which one you should get. Air for portability, Pro for power.
But in a world where a 13-inch and 15-inch Air exist alongside 13-inch, 14-inch and 16-inch MacBook Pros, all powered by some variant of the M2 chip, which one do you buy?
In that future, the process of buying a MacBook starts to feel a bit like buying a Windows laptop, but without all the benefits that come with navigating a market brimming with unique designs and technologies. As much as it can sometimes be painful to talk a family member through the process of deciding between an Intel-or an AMD-powered ultraportable, the upside is that you can recommend laptops with useful features like touchscreens, 2-in-1 folding chassis and discrete graphics cards.
Features like these make Windows laptops more complicated to buy but potentially more useful and more valuable to folks with specific needs. Personally I love touchscreen laptops because I've got RSI in both hands and wrists, so being able to take my hands off the touchpad and navigate my Windows 11 PC using my fingers is a healthier, happier way to work.
Features like those complicate a laptop in a useful, valuable way. I hope to see Apple unveil something similarly valuable at WWDC 2023 (can you imagine if we saw a 15-inch touchscreen MacBook Air?) next week, but I'm nervous we'll just see more of the same.
While most of the tech world will likely be talking about Apple's AR/VR plans, I know I'll be waiting to see what's next for MacBooks—and whether a 15-inch Air is really the most exciting advancement we'll see from Apple's computing team in 2023.
More from Tom's Guide