Apple's latest version of macOS was announced back in June during the WWDC 2023 keynote and now it's here you can read our full macOS Sonoma review to get our thoughts.
This is the 20th iteration of macOS and the successor to macOS Ventura, which we praised in our macOS Ventura review last year for how it improves key services like Mail and Messages.
Now we've been introduced to macOS Sonoma that ships as standard on one of Apple's new MacBook Air 15-inch laptops. It's also be available on Apple's new Mac Studio 2023 and Mac Pro 2023 desktops, which were also unveiled at WWDC.
Apple has included a slew of updates like new desktop Widgets, a new Game Mode and upgrades to apps like Safari and Messages that'll benefit all users.
macOS 14 Sonoma: What you should know
Widgets are coming to macOS 14, and through Continuity you'll have access to some of your iOS widgets as well.
Widgets on macOS 14 can be interactive, meaning you can use them to quickly do things like edit photos in Pixelator Pro.
New Video Effects are coming to macOS 14. Available in Zoom, Teams, FaceTime, Google Meet or other video-conferencing apps, macOS video effects allow you to do things like trigger video effects with gestures and more.
New Safari upgrades arrive with macOS 14 Sonoma, including improved private browsing that locks your browser when you're not using it, the addition of user profiles, and more.
New Game Mode prioritizes a running game, improving performance and reducing latency when using Apple earbuds or Bluetooth controllers.
macOS 14 Sonoma: Release date
Apple macOS 14 Sonoma was released on September 26 as a free update for all supported Macs.
Of course, any new MacBook or desktop Mac you buy from October onwards will come with macOS Sonoma as standard.
macOS 14 Sonoma: Compatible Macs
Apple says macOS Sonoma will only be available on a subset of Macs from 2017 or later. If your Mac is older than that, odds are good you won't be able to run the latest version of macOS by the end of 2023.
Here's the list of Macs which support macOS Sonoma, direct from Apple:
iMac: 2019 and later
iMac Pro: 2017
Mac Pro: 2019 and later
Mac Studio: 2022 and later
MacBook Air: 2018 and later
Mac mini: 2018 and later
MacBook Pro: 2018 and later
macOS 14 Sonoma: New features
There are loads of new features coming in macOS 14 Sonoma, and we're currently digging through them in even greater detail following our exhaustive review. Stick with Tom's Guide for more guides, how-tos and updates on all the best macOS 14 Sonoma features we find.
In the meantime, here are some you can start using right away.
Safari: Apple's web browser is getting a mild but notable upgrade alongside macOS 14 Sonoma. You'll get Profiles, so you can finally set up separate profiles for different people or different use cases for the same person (a work profile and a personal profile, for example, if you work from your personal Mac).
Safari's private browsing mode is also getting more powerful, as it will now automatically lock the window when you're not using it, stop trackers from loading and more. You'll also gain the ability to secure share passwords/passkeys with other folks in trusted groups (like your family), and you'll be able to quickly save oft-used websites to your Dock as a "web app" that lets you click and launch the site in a simplified web interface whenever you need to use it.
Some of these features can also be found in macOS Ventura - if you download the latest Safari Technology Preview.
Widgets: Widgets are coming to Mac in a big way with macOS 14 Sonoma. Apple has moved them out of the Notification Center and onto the desktop, where you can slap widgets for things like Weather, Notes and more. You can also tap into your iPhone Widgets, thanks to Apple's Continuity tech.
Plus, widgets can be interactive, so you can set up functionality like checking off tasks on a desktop to-do list or having a Pixelator Pro widget on your Mac desktop which lets you drag and drop images onto it to automatically edit them.
Video effects: Apple showcased a suite of new visual effects you can use in video calls on macOS 14. These tap the power of the Neural Engine in Apple silicon to do things like interpose whatever's on your screen in between you and your background, so you can virtually present in front of whatever you're sharing on-screen.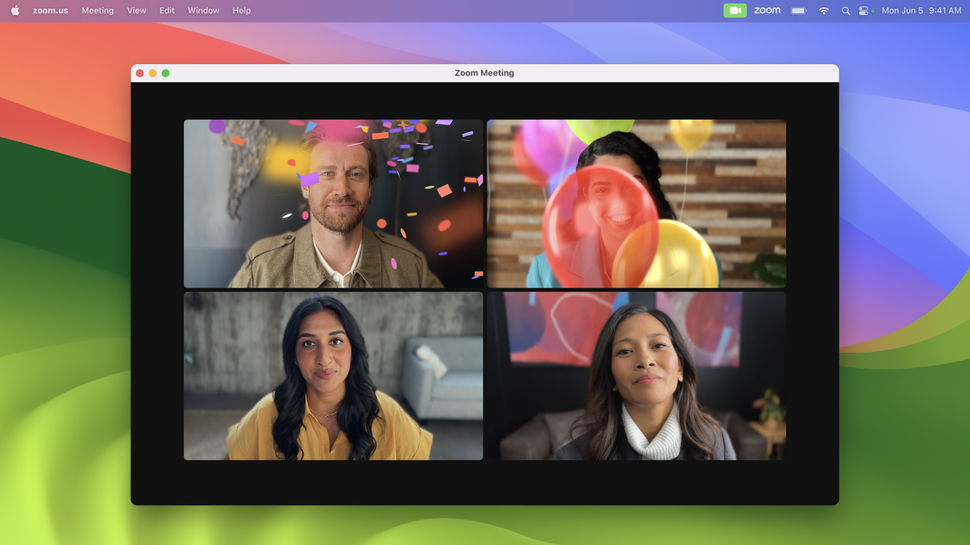 You can also trigger "cinematic-quality" visual effects during calls to spice up your reactions with tricks like virtual fireworks shows or bubbling emotes.
There's also a slew of less revolutionary changes and updates coming to the way your Mac handles Messages, Mail, Siri and more. We're talking simple stuff like no longer having to say "Hey" when triggering Siri, or getting what Apple claims is a better, more intuitive autocorrect feature. These updates arrived in macOS 14 Sonoma alongside counterparts in iOS 17 and iPadOS 17, so keep an eye out!
macOS 14 Sonoma: Gaming
Apple continues to talk up gaming on macOS, and with macOS 14 Sonoma it's introducing a new Game Mode which tunes your Mac to prioritize games and gaming performance. It also does something to minimize latency for earbuds and game controllers connected to your Mac via Bluetooth.
Game Mode kicks in pretty much any time you launch a game in full-screen mode, whether it's downloaded from the Apple App Store or a third-party platform like Steam. Apple claims it works by prioritizing the game's performance over other tasks and processes running on your Mac, and it's hard to argue given how little control you're given over how it works or what it prioritizes about a game's performance.
And the cherry on top of this gaming pie was confirmed back in June when Apple brought Kojima Productions founder Hideo Kojima on-stage during its WWDC 2023 keynote on June 5 to confirm Death Stranding Director's Cut will be available on Macs (via the App Store) in 2023.
Kojma, a practical deity in the gaming world, went on to talk up his history as a Mac user and promise that his team aims to bring future games to Apple platforms. So that bodes well if you're a Mac-owning gamer.
Apple is also making a special Metal 3 Game Porting Toolkit available to game developers to facilitate them getting their games running well natively on Apple hardware.
More from Tom's Guide