WWDC 2023 is just around the corner, and if history is any indication that means we'll be getting our first look at what Apple is planning for the next version of macOS, its operating system for Macs and MacBooks.
If Apple does debut a new version of macOS this year it will be the 20th iteration of the venerable operating system, and the successor to macOS Ventura (aka macOS 13). In our macOS Ventura review we praised the improvements Apple made to key services like Mail and Messages, but we were a little disappointed by how poorly macOS integrates with non-Apple devices.
With WWDC coming up fast — Apple announced WWDC would begin on June 5 — we have to wonder: Will Apple address any of our concerns with the next version of macOS? What are we expecting from macOS 14, what will it be called and when can you install it yourself?
Here's everything we know so far about the next version of macOS.
macOS 14: Possible release date
In recent years, a new version of macOS has been released to the public a few weeks after iOS. As we're expecting the iPhone 15 in September, we're likely looking at a release date between September and November 2023 for macOS 14.
But macOS 14's new features are almost certainly going to be out in the wild a few months before that. Apple tends to release a beta version of the software at its WWDC developers conference, which this year starts on June 5.
Expect immediate access for registered developers in the first week of June, with a public beta to follow around a month later.
macOS 14: Potential features
Anybody hoping for revolutionary new Mac features will likely be disappointed, as Mark Gurman — Bloomberg's well-connected Apple specialist — has predicted the update will not be "groundbreaking or significant."
Speaking on an April 2023 episode of the MacRumors Show, Gurman suggested this would be a fairly insubstantial update that continues to unify the Apple experience between devices (15:30 in the video below).
"Certainly I haven't heard anything remarkable about macOS. I think that they've basically moved to an idea where they're making enhancements on iOS, iPadOS, watchOS and elsewhere, and then they bake in support for those features and connectivity for those features in macOS," he said.
"The big push at Apple right now behind the scenes is to get every app [and] every feature to work across all of Apple's devices and integrate across all of Apple's devices — sort of a continuity push," he continued.
"The dream scenario is that you own an Apple Watch, an iPhone, a MacBook, an iPad, an Apple headset, and all five of those devices are capable of doing all the same things just in different use cases and at different times of the day."
If Gurman is correct, expect macOS 14 to be another step on the path to that ultimate goal.
macOS 14: Likely supported devices
The good thing about an iterative update is that its system requirements aren't likely to be dramatically different to the current version.
While the move to macOS Ventura saw Apple ending support for certain Macs built between 2013 and 2017, it seems likely that macOS 14 won't be anywhere near as exclusive. It's possible the update may see some of the older models from 2017 fall off the list. We'll have to see.
There might also be one more surprise inclusion. Take it with a huge grain of salt, but last year there was a rumor that Apple was testing a "smaller version of macOS" for the iPad Pro.
This kind of iPad fragmentation feels unlikely, given what Gurman said above, but if Apple does show off on macOS 14 on an iPad…well, you read it here first.
macOS 14: What will it be called?
Mac operating systems have been named after locations in California since 2013's OS X Mavericks, and assuming Apple doesn't opt for something entirely new and different this time, that gives us some clues as to what macOS 14 will be called.
Because Mark Gurman believes that macOS 14 will be a relatively slim update, he suggests that Apple will opt for one of the locations that's geographically close to Ventura — the name for macOS 13. With that in mind, his money is on Malibu.
But a tweet by Vox Media's Parker Ortolani highlighting all the California locations that Apple has trademarked to date doesn't feature Malibu.
there are 15 names of places in California Apple trademarked but never used, to date every name they have used was one of those trademarksUNUSED:DiabloCondorTiburonFarallonMiramarRinconPacificRedwoodShastaGrizzlySkylineRedtailSonomaSequoiaMammothUSED:Ventura…April 21, 2023
If this is indeed an exhaustive list of all of Apple's options, then macOS 14 will go by one of the 15 monikers laid out by Parker.
macOS 14: What we want to see
From what Mark Gurman has said, it seems pretty unlikely we'll see anything too dramatic with macOS 14.
All the same, with the ambition to offer synergy between iOS and macOS, a few little changes could make a big difference for us…
Desktop widgets
Okay, this wouldn't exactly be new. As macOS veterans will know, Apple deliberately discontinued Dashboard, its secondary desktop for widgets, with the arrival of macOS Catalina in 2019.
But a return might not be so far-fetched. If anything, the number of people who multi-screen has only gone up in the intervening years, and Apple has even added Home Screen widgets to iOS.
If we're talking about unifying the experience, bringing back pinned desktop widgets would be an excellent place to start.
More iPhone apps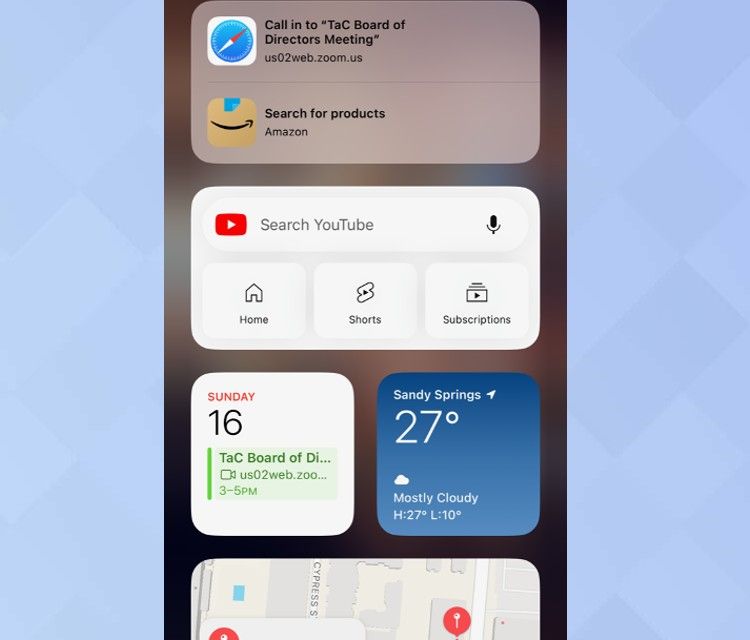 With Ventura, Apple brought the veteran Clock and Weather apps to the Mac.
Surely this is just the beginning. We'd love to see the likes of Translate, Clips, Health and even Watch coming to a laptop or desktop near you soon.
Time Machine on iCloud
iPads and iPhones automatically back up to iCloud. On Macs, you have to set up and maintain Time Machine, which is only available locally via external drives.
It would be wonderful if Apple would consider integrating Time Machine into iCloud. Yes, the current storage cap (2TB — or up to 4TB with Apple One) could be a problem given Macs can have up to 8TB of storage, but Apple could always put a premium on larger drives and turn the handy feature into a moneymaker.
More from Tom's Guide