Rumors surrounding the Samsung Galaxy Tab S9 tablet lineup have been coming in hot for months. With the Samsung Unpacked event kicking off in less than a week, we expect to get confirmation about everything we've heard so far. Unpacked should have some exciting announcements if you're a fan of the best Samsung tablets and best Android tablets.
Based on what we've heard, the Galaxy Tab S9 lineup won't offer monumental upgrades over the Samsung Galaxy Tab S8 series. That said, the improvements coming to this year's Samsung slates should be worthwhile if you're new to Android tablets or the Samsung ecosystem.
Below, we'll go over the biggest rumored upgrades for the Galaxy Tab S9 line and how they compare to the Galaxy Tab S8 series.
Galaxy Tab S9 vs Galaxy Tab S8: Price
We haven't heard anything concrete concerning pricing but we can take an educated guess as to how much we think the Galaxy Tab S9 tablets will cost.
The current Galaxy Tab S8 lineup starts at $699, $899 and $1,099 for the Galaxy Tab S8, Galaxy Tab S8 Plus and Galaxy Tab S8 Ultra (respectively). It's doubtful Samsung will significantly increase the price of these tablets, but again, that's speculation on our part.
Whatever Samsung ends up charging, there's already a way to save some money on the Galaxy Tab S9. If you pre-register for Galaxy Unpacked preorders by July 25 — one day before the big event — Samsung will give you a $50 credit toward purchasing any product announced at Unpacked. There's no commitment to buy anything, but you will need to give Samsung your name and email address for the credit.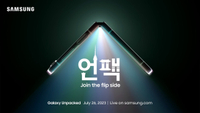 Get a $50 credit on Galaxy Unpacked preorders
Samsung will let you reserve a spot to preorder whatever gets announced at Galaxy Unpacked 2023 on July 26. Between now and July 25, you can sign up with your name and email address at Samsung's website or through the Shop Samsung app.
Galaxy Tab S9 vs Galaxy Tab S8: Design
In terms of design, it seems the Tab S9 tablets will retain the same basic form as the Tab S8 line. According to OnLeaks (via WolfofTablet), the Tab S9 Plus will be of a similar size to the Tab S8 Plus, as we reported in our story on Galaxy Tab S9 Plus renders.
Based on the image above, the new tablet will recreate the Tab S8 Plus' svelte design — including its slim bezels and matte aluminum chassis. We don't see the magnetic strip in the Tab S8 has in these renders, so Samsung is either planning on removing it or the render simply doesn't show it.
Another set of leaked renders revealed the Galaxy Tab S9, Galaxy Tab S9 Plus and Galaxy Tab S9 Ultra. Like its predecessor, the Tab S9 Ultra looks sleek with its notched display — at least according to those leaked images. We expect the new Ultra to once again feature a large 14.6-inch OLED display.
The Tab S9 Plus should feature a 12.4-inch OLED display with a 120Hz refresh rate. Its dimensions of 11.2 x 7.2 x 0.2 inches should also carry over from the Tab S8 Plus. One interesting bit is how the groove for the S Pen on the back looks to be further apart from the cameras, which drops the pill-shaped module of the Tab S8 Plus in favor of two separate cameras.
More renders appeared in a leak showing off everything Samsung's apparently planning to reveal at the next Galaxy Unpacked.
Better dust and water protection are also rumored for Samsung's upcoming tablets. For instance, the Tab S9 Plus will allegedly have a respectable IP698 waterproof rating — which could make it more durable than its predecessor. (The Tab S8 had no such rating.)
Galaxy Tab S9 vs Galaxy Tab S8: Display
Display analyst Ross Young tweeted that the entry-level Galaxy Tab S9 will pack an OLED display.
While the 11" Galaxy Tab S8 was LCD, the 11" Galaxy Tab S9 will be OLED. Will help boost the OLED tablet market.April 10, 2023
The Galaxy Tab S6 had an OLED panel, but since then, Samsung has reserved the display technology for the premium models of the Galaxy Tab S7 and Galaxy Tab S8 series; entry-level versions of those tablets featured LCD screens. If Ross is correct, all three expected Galaxy Tab S9 tablets would have OLED panels.
The Galaxy Tab S9 Plus and Tab S9 Ultra won't receive updated displays, according to leaks and reports. That's not so bad given how much we liked the bright and vibrant OLED screens on their Tab S8 equivalents.
Galaxy Tab S9 vs Galaxy Tab S8: Cameras
It sounds as if the Tab S9 cameras will be similar to those found on the Galaxy S23 and Galaxy S23 Ultra. That being the case, we can guess that the Tab S9 Plus will come with the upgraded cameras seen on two of the best Android phones. The Galaxy S23 cameras feature a 50MP main camera augmented by a 12MP ultrawide shooter and a 10MP telephoto lens.
We don't expect the Tab S9 or Tab S9 Plus to have a telephoto camera. If they did, it'd be a huge upgrade from the 13MP and 6MP ultrawide cameras the Tab S8 Plus packs.
Galaxy Tab S9 vs Galaxy Tab S8: Specs
According to leaks, the Tab S9 lineup will use the Snapdragon 8 Gen 2 chip seen in the Galaxy S23. That chipset offers impressive flagship-grade performance and we'd expect the same for the Tab S9, only with the potential for better heat dispersion; that, in turn, would improve the tablet's performance.
Leaker @Tech_Reve reported on alleged Geekbench results for the purported Samsung Galaxy Tab S9 Ultra (SM-X916B). Samsung's upcoming tablet reportedly notched a single-core score of 2,054 and a multi-core total of 5,426. The Galaxy S23 Ultra averages a single-core score of 1,870 and a multi-core score of 4,938.
Another leaker, Revegnus, tweeted that the Tab S9 Ultra will have a 10,880mAh battery, which would be smaller than the Tab S8 Ultra's 11,220mAh battery. Phone Arena reports that the entry-level Tab S9 will pack an 8,500mAh battery instead of the 8,000 mAh of its predecessor.
Nashville Chatter (via GSMArena) claims to have spotted certifications in the TUV Rheinland database with model numbers associated with the aforementioned tablets. Specifically, the Galaxy Tab S9 Plus has model numbers SM-X816B, SM-X810 and SM-X816N, while the Ultra's model numbers are SM-X916B, SM-X910 and SM-X916N.
What's interesting here is that each tablet has three model numbers. As sibling site TechRadar reports, each tablet in the listings has a 5G model, a Wi-Fi model and a South Korean model. That's in line with the Galaxy Tab S8 Plus and Galaxy Tab S8 Ultra, which also feature Wi-Fi and 5G options.
Another aspect that's rolling over to the new models is 45W fast charging, according to the listings.
Galaxy Tab S9 vs Galaxy Tab S8: Outlook
Everything posted here is based on alleged leaks and rumors. Because of that, it's wise to retain some skepticism about any Galaxy Tab S9 claims until Samsung officially reveals the tablets.
That said, if rumors are accurate, the Galaxy Tab S9 tablets won't be revolutionary. We expect the same basic design as their current-gen counterparts. At least, the small updates seem worthwhile, especially for those who have an older Tab S7 tablet. If you own a Tab S8 tablet, though, you might not need to upgrade to the newer models.
Of the three Tab S9 slates, the entry-level Galaxy Tab S9 is reportedly getting the most upgrades, highlighted by the new OLED panel and better rear cameras. All the tablets will apparently pack a Snapdragon 8 Gen 2 processor, which should offer noticeable performance boosts over the current gen models.
The July 26 Samsung Unpacked is less than a week away, so we'll hopefully get official word on what the Samsung Galaxy Tab S9 series has to offer. Stay tuned for more.
More from Tom's Guide