If you're in the market for one of the best foldable phones, Amazon Prime Day would seem like it's exactly what you've been waiting for. Prime Day deals are cutting the prices on Samsung's top-rated foldables, including the Galaxy Z Fold 4, one of the most expensive phones out there.
With both the Fold and its flip-phone sibling, the Galaxy Z Flip 4 available at significant discounts, it might be very tempting to mash that Buy button. But I think you'll regret it if you do.
It's not because I wouldn't recommend either phone — far from it, as both the Galaxy Z Fold 4 and Galaxy Z Flip 4 have gotten rave reviews from my Tom's Guide colleagues. Even with stepped-up competition from the Pixel Fold and Motorola Razr+, Samsung's foldables remain excellent choices.
Amazon's price cuts are also tough to ignore. As of this writing, you can buy the Galaxy Z Flip 4 for $799, a $200 discount off the regular price. The savings had been even more substantial with the Galaxy Z Fold 4 — Amazon had been slashing as much as $700 off the price of that $1,799 phone, though at this late stage, you'd need to buy a used Z Fold 4 to see that hefty a discount.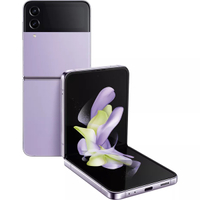 Samsung Galaxy Z Flip 4: was $999 now $799 @ Amazon
The good news: You can get the flip phone-style Galaxy Z Flip 4 at a $200 discount from Amazon as part of a Prime Day sale. But with Galaxy Unpacked just two weeks away, you're giving up the chance to get a Galaxy Z Flip 5 with several rumored upgrades.
On paper, these are among the top Prime Day phone deals. So why I'm being such a party pooper?
Because two weeks from today, Samsung is all but certain to show off new versions of both phones.
Samsung Galaxy Unpacked takes place on July 26, and based on Samsung's invite for the event, it's safe to assume that we're going to see new foldable phones from the electronics giant. Those are likely to be the Galaxy Z Fold 5 and Galaxy Z Flip 5, which are both expected to run on the new Snapdragon 8 Gen 2 that's delivered great performance and battery life gains for a number of the best Android phones this year.
The changes look more substantial for the Galaxy Z Flip 5, which is rumored to be getting a larger cover screen in the vein of the Motorola Razr+. This will allow you to do more with the phone without ever having to open it. In addition, Galaxy Z Flip 5 rumors hint at a new hinge that might make the crease across its display less prominent. Samsung might also opt for a big main camera sensor with an eye toward improving the camera's ability to capture light.
The expected Galaxy Z Fold 5 changes sound less substantial. It's getting that redesigned hinge, too, according to rumors, and it may also add dust resistance, which should improve durability. The most interesting rumor for our purposes concerns the price — one source says Samsung may drop the price of the Galaxy Z Fold 5 by a couple hundred dollars or so, which would certainly be a welcome development.
Even though we've got another couple of weeks before we see if these rumors come to pass, we do know that you'll be able to save some money on your Galaxy foldable preorder. Register with Samsung in advance of Galaxy Unpacked, and you'll get a $50 credit toward whatever the phone maker ends up announcing at its product event.
The waiting game is never easy, and I wouldn't blame you if you decided that the idea of extra money in your pocket now is worth more than whatever improvements Samsung will deliver later. Just make sure that if you are leaning toward buying a Galaxy Z Flip 4 or Galaxy Z Fold 4 through a Prime Day deal, you have a good idea of what's just around the corner.
More from Tom's Guide