We rank the Meta Quest 2 as the best VR headset you can buy. It's simple to use, performs great and it's one of the most affordable VR headsets out there.
That's why we're excited that the Meta Quest 2 (256GB) is $459 at Woot right now. This gets you $40 off the headset with upgraded storage, so you'll have plenty of room for apps and games. It's one of the best Presidents Day sales we've seen so far this month.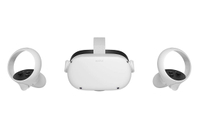 Meta Quest 2 (256GB): was $499 now $459 @ Woot
In our Meta Quest 2 review, we called the Meta Quest 2 the best VR headset you can buy. It has an impressive game library, intuitive controls, and good built-in audio, all of which makes this one of the best overall virtual reality headsets to date. It's now $40 off its regular price.
Let's address the elephant in the room: The Meta Quest 2 had a $100 price hike last year. This $40 discount at Woot goes at least some way to make that sting less. (Don't know Woot? They're a subsidiary company of Amazon, meaning you can log in with your Amazon account and take advantage of free Prime shipping.)
In our Meta Quest 2 review, we loved almost everything about this device. It's easy to use, comfortable to wear and has a sleek design. It even has good built-in speakers that provide an impressive audio experience.
If you're dipping your toes into VR for the first time, you'll probably be surprised at the Meta Quest 2's wide software library. While testing the device, we noticed that the best Meta Quest 2 games like Beat Saber, Pistol Whip and Vader Immortal ran smoothly without any noticeable performance issues.
The Meta Quest 2 controllers are responsive and feel great to use. The downside is that they aren't rechargeable — each controller requires one AA battery to stay juiced up. The headset, meanwhile, lasts for about 2 hours of gameplay or 3 hours of video playback before it needs to be charged.
The Meta Quest 2 is an awesome device that makes VR simple and accessible, so we highly recommend picking one up if you want to get into VR gaming. Looking for more sales? Stay tuned to our Presidents Day sales coverage.