The diminutive Fitbit Inspire 3 is the perfect fitness tracker for those who want to forget they're wearing one and our favorite budget model in 2023. Normally $99.95, you can snag the Fitbit Inspire 3 for just $69 on Amazon right now
I've been rocking the Inspire 3 for several months, using the exercise tracking function whenever I go out for a bike ride around Seattle, Washington's Lake Union, or a hike in the Cascade mountains with my pup, Belvedere. I also wear it to track my sleep. More on that in a moment.
Beyond its affordable price, what I like most about the Inspire 3 is the low-profile design: It more resembles a rubber Livestrong-style bracelet than a standard fitness tracking wearable. It's also quite comfortable after an initial getting-used-to-it period. This is something I appreciate especially considering the Inspire 3 is meant to be worn at all times, day and night.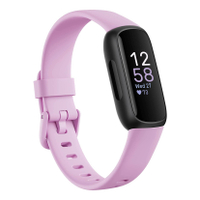 Fitbit Inspire 3: was $99 now $69 @ Amazon
The Fitbit Inspire 3 is our favorite budget fitness tracker in 2023 thanks to its small size, fantastic battery life, and bright, colorful touchscreen. Use it to keep tabs on your workouts as well as your sleep quality.
Don't let the small footprint fool you, the Inspire 3 is jam-packed with sensors and can capture a bevy of health data, including distance, steps, active minutes, heart rate, calories burned, Sp02, stress, and sleep quality. That's a lot of bang for not too much buck.
Geared more toward general fitness tracking and health monitoring than hardcore training, the Inspire 3 is still plenty versatile when it comes to what activities it tracks. And by some measures, it's more accurate than pricier models.
Sure, users can keep tabs on traditional cardio exercises like walking, running, biking, and swimming, but also less obvious ones, including golfing, weight lifting, spinning, and more. That said, I'm still waiting on support for snowboarding and kayaking. But perhaps that will come with future firmware.
Lastly, I appreciate the ability to set up reminders to move, a common feature on most modern trackers, especially during the work week. I also use these reminders as opportunities to give Belvedere some extra outside time daily.
So, whether you're an avid athlete after a small-profile, high-function wearable or simply someone looking to gain insights into their health and wellness, without breaking the bank, I highly recommend the Fitbit Inspire 3. I'd say more, but I just got a reminder to move…
Not for you? Keep an eye on the best Black Friday deals here on Tom's Guide, as well as the best Apple Watch Black Friday deals and the best Garmin Black Friday deals.