Best Cheap TVs 2020 (under $250): What to Buy, What to Avoid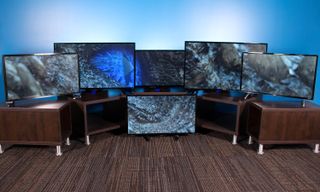 Best Cheap TVs 2020 (Under $250)
A new TV doesn't have to break the bank, and a second TV doesn't have to be an expensive luxury. While the latest TVs often boast impressive features like 4K resolution and high-dynamic range support, the best cheap TVs will handle your favorite shows, streaming devices and gaming consoles, all priced for $250 or less.
That low price means you may not get all of the fancy features like the ones we've seen in new TVs at CES 2020, but you may get more than expected from a budget TV. Most low-cost sets still offer connected features, like streaming through Netflix and Amazon Prime Video, casting media and apps from your smartphone, and offering HD picture quality.
We test budget-friendly TVs throughout the year, comparing the performance and functions of some of the most affordable sets on the market. Ranging from 24 inches up to 50 inches, we lab test every low-cost TV just like the more premium sets on the market, and rank them to help you find the best bargain TVs available. Here are the best cheap TVs right now.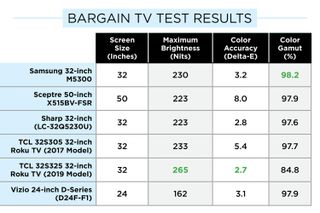 What to expect for less than $250
Saving money on a TV means you'll need to be prepared to make some compromises. The good news is that even in the $250-and-under range, you can still find some great features, like smart TV functions – including internet connectivity, streaming apps and smart home compatibility – and up to Full HD (1080p) resolution.
But there are real limitations, and the biggest one is size. In this price range you'll generally be limited to 40 inches or smaller. Standards like 4K resolution — and especially 8K resolution — are out of the question, but you can find 1080p if you look for it. And you will need to look for it, since many smaller, cheaper sets offer only standard HD (720p). Don't expect anything like the slim, sleek designs you've seen in store displays; in this price range, you're looking at chunky plastic construction and boxy, bulky designs.
The pickings also get pretty slim when it comes to connectivity. You will likely only get 2 or 3 HDMI ports and a single USB port, and while Wi-Fi is a common feature, it's not guaranteed. Neither are smart functions, with some manufacturers keeping prices low by sticking to older "dumb" technology. Bargain hunters should always double check the specifications for the model they plan to buy, since not even basic features can be taken for granted.
For more ways to get the most TV bang for your buck, check out our guide to buying a cheap TV.
Credit: Tom's Guide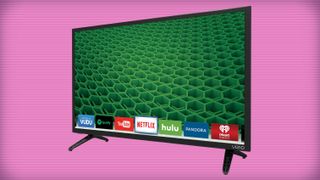 Vizio 24-inch D-Series (D24f-F1)
Rating: 3.5/5 stars
The Vizio 24-inch D-Series (D24f-F1) is small enough to perch on a desk or a coffee table, making it a great choice for a kitchen counter, a cramped apartment or a small dorm room. The TV offers full HD resolution, with pretty great performance given the price. And even though the TV is small, Vizio doesn't scrimp on the smarts, giving the D-Series the same full-featured version of its SmartCast platform that you'd see on it's larger, more premium sets.
It's also a good set for gaming, with respectably short lag times (24 milliseconds), and a pair of HDMI ports that let you connect a game console alongside a cable or satellite box.
Screen size: 24 inches|Resolution: 1080p|HDMI Ports: 2|Refresh Rate: 60 Hz|Dimensions: 22.15 x 13.21 x 2.36 inches|Smart TV: Yes
Credit: Vizio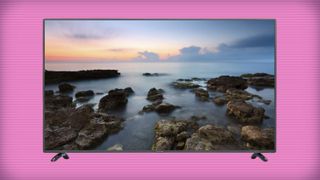 Sceptre 50-inch X515BV-FSR
Rating: 3/5 stars
The 32-inch Samsung M5300 is a compact, low-cost TV that manages to offer some great smart functions. The set is equipped with only two HDMI ports, but the built-in Wi-Fi and Samsung's Smart TV platform offer support for plenty of apps and streaming services.
The set struggled in terms of color accuracy and sound quality, but it manages to offer decent brightness (230 nits) and has a better color gamut than most competing sets. The M5300 is also is slimmer than most TVs in this price range, and while it's not as svelte as some premium models, it's wall-mountable and has a size and weight that are well-suited to regular moves, whether it's from room to room or packing up to head to a new house.
Screen size: 32 inches|Resolution: 1080p|HDMI Ports: 2|Refresh Rate: 60Hz|Dimensions: 29.2 x 17.2 x 2.7 inches|Smart TV: Yes
Credit: Samsung
Rating: 2.5/5 stars
When it comes to inexpensive TVs, the Sceptre X515BV-FSR is one of the largest we've seen, offering a 50-inch screen with Full HD resolution for roughly half the price of other similarly specced TVs. That alone makes it a great deal, but our enthusiasm is tempered a bit after testing and hands-on use.
Inconsistent backlighting left the screen looking like a picture frame, with a bright stripe running around the outside edge of the LCD panel. Poor detail and motion handling meant that densely packed details created unwanted noise in the picture, and color accuracy was among the worst we've seen, with a Delta-E rating of 7.97. The set's two 10-watt speakers offered distortion free sound, but overall volume levels were pretty quiet, and anything in the bass range is mostly absent.
But the real throwback on the Full HD TV is the feature set, which omits any online connectivity or smart functions. That's fine if you plan to connect the TV to a game console or a streaming stick, but when every other TV in this price range still manages to provide streaming through Netflix and YouTube, the absence of smart functions is another strike against a TV that's only just okay.
Screen size: 50 inches|Resolution: 1080p|HDMI Ports: 3|Refresh Rate: 60Hz|Dimensions: 44.3 x 25.5 x 3.6 inches|Smart TV: No
Credit: Sceptre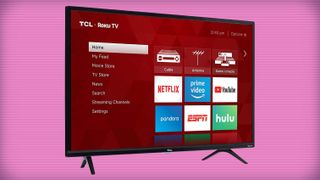 TCL 32S325 32-inch Roku TV (2019 Model)
Rating: 2.5/5 stars
You'll always have to give up some capability when shopping for TVs at the lowest prices, and that's just as true on the TCL 32S325 32-inch Roku TV, the 2019 version of TCL's lowest low-priced smart TV. For only $150 you'll get a Roku smart TV, with all the streaming goodies that comes with the smart platform, but you'll have to accept some flaws.
The most glaring issue is the 720p display, which is lower resolution than what's offered by many over-the-air broadcasts and game consoles from the last 10 years. There's also the issue of color (84.8 percent), which offered a narrower color gamut than any other sub-$250 TV we've tested. It also has wimpy speakers that make everything sound like it's being piped through a tin can.
But this is offset somewhat by a healthy selection of HDMI ports and the Roku smart TV platform, which offers thousands of apps and plenty of smart functionality.
Screen size: 32 inches|Resolution: 720p|HDMI Ports: 3|Refresh Rate: 60Hz|Dimensions: 28.8 x 17.1 x 3.1 inches|Smart TV: Yes
Credit: TCL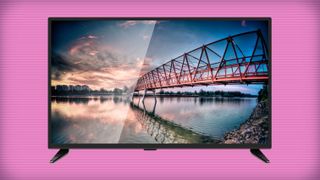 Sharp 32-inch (LC-32Q5230U)
Rating: 2/5 stars
Cheap TVs are all about the trade-offs, balancing what you give up against the money you save. But the Sharp 32-inch LC-32Q5230U cuts things pretty close, offering a lackluster 720p display and a limited selection of smart TV apps and functions.
Instead of the popular Roku smart TV platform offered on most inexpensive smart TVs, the Sharp LC-32Q5230U uses the lesser known Vewd platform, which offers some of the most popular streaming apps – Netflix, Amazon Prime Video, YouTube, Vudu, Fandango Now, Pluto TV, Pandora and Xumo – but has scant offerings beyond that. Other major streaming services, like Hulu and HBO Now, are AWOL, and the overall selection is meager.
Smart features aside, the Sharp LC-32Q5230U offers surprisingly good picture quality for a small HD display. A wide color gamut (97.6 percent) offers a vibrant palette with high accuracy (Delta-E rating of 2.8), and viewing angles are unexpectedly wide. It sounds good, too, with speakers that get downright loud, but stay mostly distortion free at top volume.
Screen size: 32 inches | Resolution: 720p | HDMI Ports: 2|Refresh Rate: 60Hz|Dimensions: 28.7 x 18.7 x 3.1 inches|Smart TV: Yes
Credit: Sharp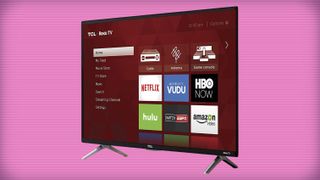 TCL 32S305 32-inch Roku TV (2017 Model)
Rating: 2/5 stars
You might be eyeing the TCL 32S305 (2017 Model), excited about a 32-inch LCD TV for cheap, but don't get too hasty. The TCL may boast Roku smart functions, built-in Wi-Fi, and three HDMI ports, but there's one big catch: It's a 720p display.
The image is noticeably grainy, even without comparing directly to a full HD panel. Color quality is fine, provided you view the screen head-on, but off angles experience some significant color shifting, with oranges going yellow. It may still be a good deal if you value the feature set over display quality, but you definitely will notice the difference every time you watch it.
Screen size:32 inches|Resolution:720p|HDMI Ports:3|Refresh Rate: 60Hz|Dimensions: 28.9 x 17.1 x 3.2 inches|Smart TV:Yes
Credit: TCL