The best smart speakers don't just play music — these smart home devices have a voice assistant built in, which lets you use the speaker for all sorts of tasks, such as looking up the news and weather, recipes, and controlling smart home devices, such as lights and locks. They can even change the channel on your TV. 
Of all the best smart home devices, the first you'll probably get is a smart speaker. Most smart speakers come with wither Alexa or Google Assistant. A few let you switch between Alexa and Google, but for the most part, you're stuck with one. Before you buy, decide on the assistant you want to use. Amazon's assistant came out on top in our Alexa vs. Google Assistant face off, but both have positive attributes that the other lacks.  
If you're already invested in a specific assistant, check out our guides to the best Alexa speakers and best Google Assistant speakers. But if you're undecided see all of the best smart speakers below. 
What are the best smart speakers?
The best smart speaker overall is the third-generation Amazon Echo. At $99, it's an affordable device that sounds great for the price. It has an attractive cloth-covered exterior that's available in five colors, and lets you use all of Alexa's abilities, including grouping multiple speakers together, using them as an intercom, and sending messages to your Alexa contacts. 
If you value audio quality above all else, the best-sounding smart speaker is the Sonos One. The Sonos One can be used with either Alexa or Google Assistant, and works with hundreds of streaming sources. The one caveat is that the Sonos One doesn't get all of Alexa's or Google Assistant's capabilities, such as the ability to call other smart speakers. 
For those on a budget, or who just want a small smart speaker for a bedroom or bathroom our favorite smart speaker is the 3rd-generation Echo Dot. Although you might want to wait — the all-new Amazon Echo, Amazon Echo Dot, Amazon Echo Dot Kids Edition and Amazon Echo Show 10 have just been announced are are coming later this year.
If you prefer Google Assistant, then check out the Google Nest Mini, which offers the best Google Assistant skills for less than $50 and also sounds awesome for its size. The larger Google Home speaker has been discontinued, but a new Google Nest speaker could be coming soon to shake up these rankings.
The best smart speakers you can buy today
The third-generation Amazon Echo is more stylish than the original and replaces its second-generation iteration as the top pick among the best smart speakers. While you can no longer swap out the exterior of the Echo, it's available in five colors, so you should find one that can best match your decor. It's also one of the best Alexa speakers and the overall best Alexa device. 
This Echo may look like a replica of the powerful Echo Plus, but it has a few tricks up its fabric-swathed sleeve. An improvement to its interior audio hardware made this speaker sound even better than the last Echo. At $99—and often on sale for less— it's neither the most, nor the least expensive smart speaker. If you're looking for a good all-purpose smart speaker, this is it. 
Read our full Amazon Echo review.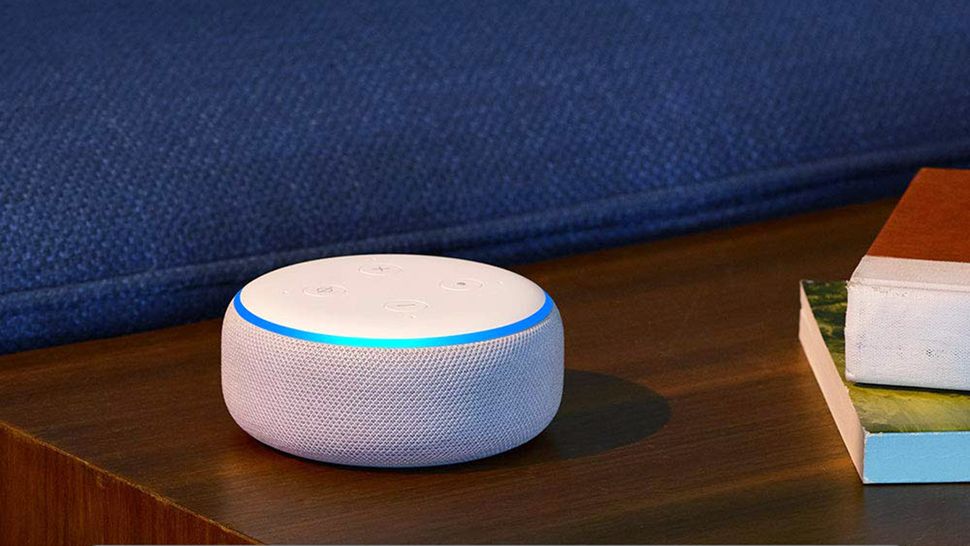 The third-generation Echo Dot has vastly improved sound over the previous generation and, with a fresh, cloth-covered design, looks better too. Although its one of the best smart speakers alone, the Dot has both Bluetooth and a 3.5mm jack, so you can connect it to a better-sounding speaker. The Dot is ideal for places where you want Alexa, such as a kitchen, but don't want another large device cluttering the space. And, at $50, it's the same price as the last model.
For $60, you can get the Echo Dot with Clock. It's quite similar to the basic Echo Dot, but features an LED clock display on the side that also shows the temperature, and can also be used as a timer. It definitely makes for a better bedside companion.
If you're looking for an even cheaper smart speaker, the $25 Echo Flex is an excellent variant. The plug-in Alexa device doesn't sound the best, but its useful nonetheless. 
Read our full Echo Dot review.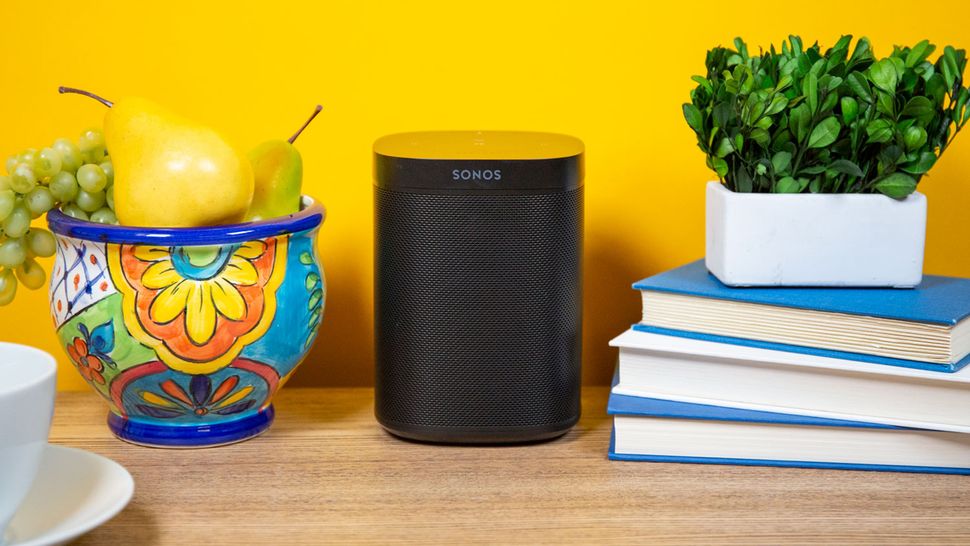 If you're looking for the best in sound quality from a smart speaker, look no further than the Sonos One. While not much larger than the Amazon Echo, the Sonos One churns out tunes that you would swear were coming from a much larger device. Like other Sonos devices, you can pair two of the Ones for true stereo sound, or link them with other Sonos speakers for whole-home audio.
Aside from audio quality, another advantage of the Sonos One is that you can stream audio from hundreds of streaming services, from well-known sources like Spotify to more obscure channels. And, the Sonos One can be set up to use either   Alexa or Google Assistant. While you don't get all of the abilities of either voice assistant, there's enough there for most. Yes, you'll pay more, but out of all the best smart speakers, this is the one to get for audiophiles.
Read our full Sonos One review.
Most smart speakers aren't weatherproof, and they have to be plugged into an outlet to get power. But want if you want to stream music out in your backyard, balcony, or roof deck? The JBL Link 20 is a great option for Google Assistant users. This smart speaker sounds awesome, and is portable and rugged: It can withstand being submerged in water for up to 30 minutes, so it'll survive if you forget it outside during a rainstorm. Its battery is also good for up to 10 hours, so it should be able to power your party all through the day.
When using Google Assistant, the Link 20 responsive to commands. The only thing it can't do is make hands-free calls. If sound matters and you plan to take the speaker out and about, the Link 20 — or its smaller, less expensive sibling, the $149 JBL Link 10 — is an excellent choice.
Read our full JBL Link 20 review.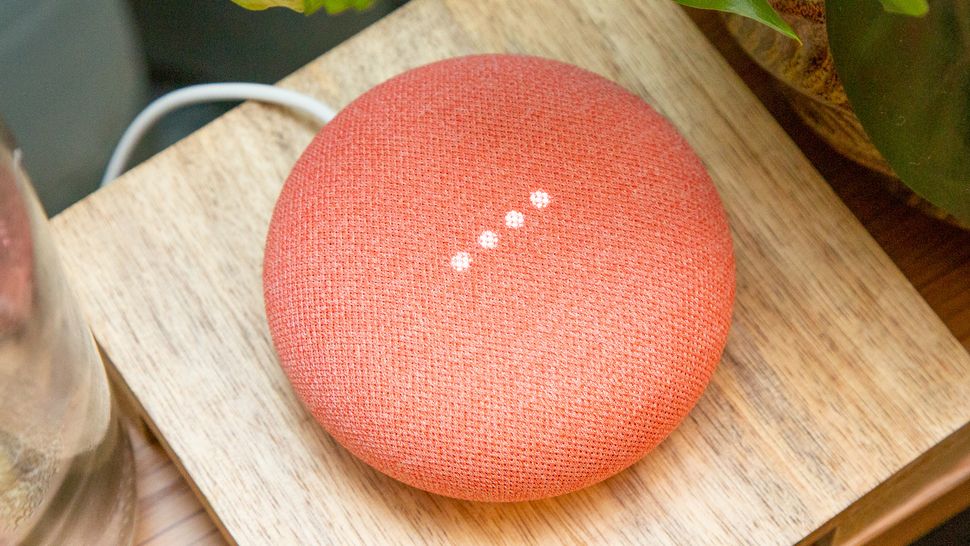 Like the Echo Dot, the Google Nest Mini is one of the best smart speakers you can get for less than $50. Without changing the price or general appearance of the original Google Home Mini, Google made significant interior upgrades that make the Nest Mini better than its predecessor. The added microphone, twice as strong bass and in-house learning chip give it spectacular value for the price. 
Touch-sensitive controls on the top of the Mini let you adjust volume, and are otherwise hidden, which gives its cloth-covered exterior a non-techy look. We also liked the fact that there's a physical switch to deactivate its microphone, for those times you don't want Google listening in. Plus, the hook on the back lets you hang it on the wall to save counter space. The Nest Mini also comes in a variety of colors: a modern-looking light-grey, Chalk, Charcoal gray, Coral orange and Sky blue.
Read our full Nest Mini review.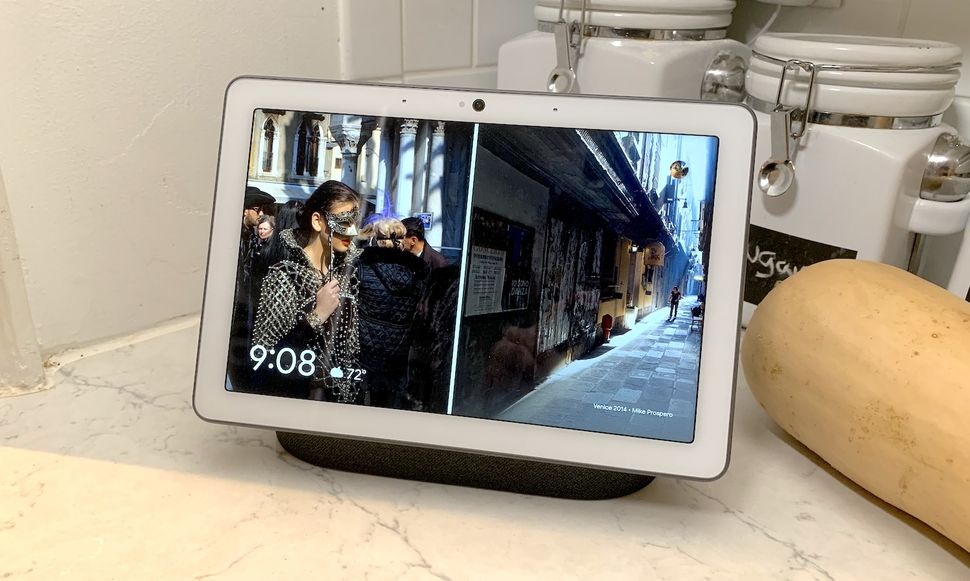 Why settle for a mere speaker when you can get one with a massive touchscreen, too? Yes, the Google Nest Hub Max is a great smart speaker — it has two 18mm, 10W tweeters and one 75mm, 30W woofer, which pump out great audio — but the star of the show its its large 10-inch display, which lets you do everything from watch videos to look up step-by-step recipes, control your smart home devices, and even get a glimpse at how long your commute will be. It's the ultimate vehicle for the best Google Home commands.
Atop the Nest Hub Max is a camera which you can use to make video calls (sadly, via Google Duo only), but it has a clever motion-tracking feature that will keep you in the center of the frame as you move about a room. It's great if you're in the kitchen  making dinner, and can't remain planted in front of the display. We also appreciate the camera privacy switch, and imagine others will, too. It's taken Google longer than Amazon to come out with a 10-inch smart display, but the Echo Show now has a more than worthy competitor in the Nest Hub Max.
Read our full Nest Hub Max review.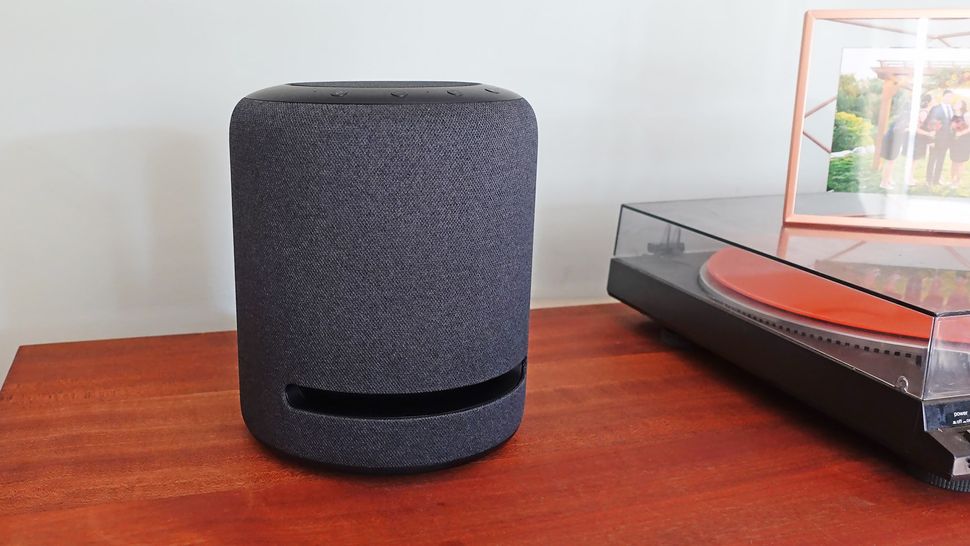 Perhaps tired of seeing Sonos eat its lunch, Amazon came out with its own premium smart speaker. The Echo Studio produces the best audio of any of Amazon's smart speakers, thanks to three 2-inch midrange speakers, a 1-inch tweeter, and a 5.3-inch woofer. You can also pair two Echo Studios together for stereo sound, and you can also use the Studio as a speaker for your HDTV as well as your Amazon Fire TV device
The Echo Studio delivers great room-filling audio and visceral, chest-pounding bass, though in head-to-head tests, the Sonos One still sounded better, with more defined mids. But, because the Echo Studio has a 3.5mm input jack — something the Sonos lacks — you can plug a turntable directly into the Studio, which gives you both a streaming speaker and an output for your record collection in one device.
Read our full Echo Studio review.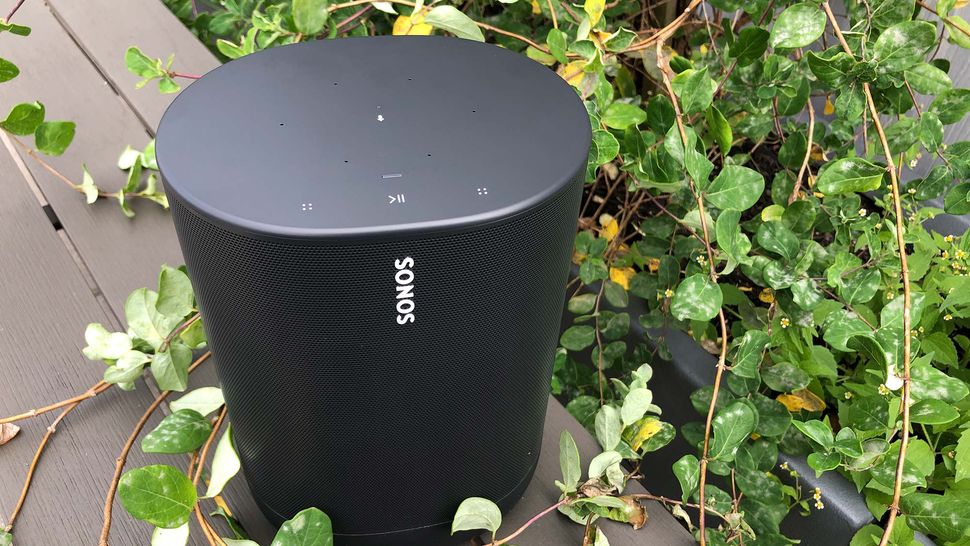 The Sonos Move is the one of the best smart speakers and though the field is limited, the overall best-sounding portable smart speaker on the market. You're able to transport it around the home and outdoor spaces while still taking advantage of Sonos' extensive streaming collection. It also introduces Auto TruePlay, a technology that allows the speaker to adjust its sound for its location using the internal microphones. 
The Move is also weather-resistant and can take a beating — we dropped ours a few feet without any damage. However, it's heavy, weighing in at 6 pounds, and isn't the easiest to carry. Also, if you move out of range of your Wi-Fi network, you lose all of the Move's smart features, and have to rely on a Bluetooth connection to you phone. And, at $400, it's an expensive device. But, if you want the best audio in an outdoor setting, this is the smart speaker to get.
Read our full Sonos Move review.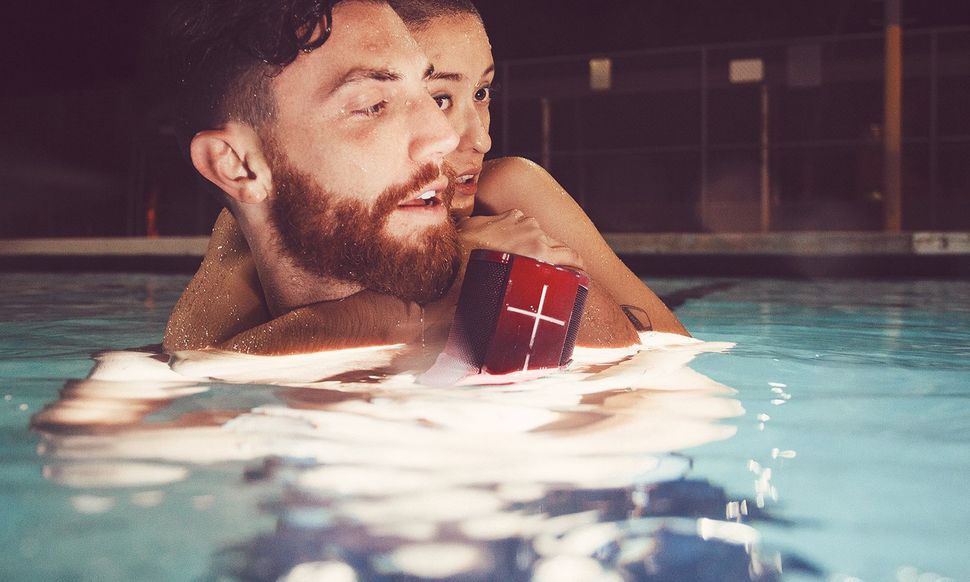 If you're looking for a portable smart speaker that's not as pricey as the Sonos Move, the UE Megablast is a great option. It costs half as much, weighs even less, yet sounds great for its size. Plus, the Megablast is water-resistant, so you can dunk it in a pool for up to 30 minutes, and it should come out just fine. 
The UE Megablast's battery is good for up to 16 hours of playtime, which makes it an excellent companion for a backyard barbecue or a day at the beach. As with most third-party speakers, the Megablast has almost all of Alexa's capabilities, but Amazon reserves some features, such as drop-in, messaging, and calls, for its own devices. But if all you're looking for is a smart speaker that can crank out some tunes, then check out the Megablast.
Read our full UE Megablast review.
How to pick the best smart speaker for you
Before you purchase any of the best smart speakers, decide how you plan to use it. If it's going to be the only device in your living room that will play music, then you'll want one that has good audio quality. But while sound is important, it shouldn't necessarily be the deciding factor in which smart speaker you choose. 
For example, the Amazon Echo Dot has perhaps the worst-sounding speaker among those we've tested, but its small size and low price make it useful for people who already have a good speaker and merely want to add some smarts to it. The Dot is also a cheap way to spread a voice assistant throughout your house.
If you want one of the best outdoor speakers, though, you'll want to consider a portable option, such as the JBL Link 20. The Sonos Move and Bose Portable Home Speaker are great options, too.
And if you're set on either Alexa or Google Assistant, check out the best Alexa speakers and best Google Home speakers for more options. 
How we test smart speakers
When evaluating a smart speaker, one of the first things we look at is its audio quality. After all, if a speaker doesn't sound good, then what use is it? We take into account the price and aim of the smart speaker here, too. If it's a small, budget device, we wouldn't expect it to sound as good as something that costs five times as much.
And, because it's a smart speaker, we also take into account what you can do with the voice assistant embedded inside. While smart speakers made by Amazon and Google naturally have all of the abilities of Alexa and Google Assistant, both companies exclude some features, such as the ability to make voice calls, from third-party manufacturers. So, if a speaker made by Amazon sounds the same as one made by another company, but that latter speaker doesn't have all of Alexa, then Amazon's device will get a higher rating.
We also look at the design of the speaker: How nice does it look? Does it have audio inputs, so you can connect things such as turntables or TVs? All these factors and more go into deciding what makes our list of the best smart speakers — and what doesn't.