If you're after the very best VPN, this is a question you've likely asked yourself: which is better in a match-up of ExpressVPN vs NordVPN?
As the two biggest and best providers on the market today, picking between the two isn't a clear-cut thing, with various sources undoubtedly claiming one or the other to be the one to get. We're going to cut through all that and compare these two giants head-to-head in all the areas that really matter to see which one is worth spending your hard-earned money on.
First we'll run down the defining specs and features on paper, and then we'll explore what each service is like to actually use in a number of important areas. Finally, we'll crown one the winner.
So, without further ado, let's get into it.
ExpressVPN vs NordVPN at a glance
ExpressVPN – our #1 VPN service
Overall, we rate ExpressVPN as the very best service on the market. It's powerful, simple to use, and now comes with three months free plus a year of Backblaze could storage. In most cases we'd recommend it over NordVPN thanks to its superior usability, device support and excellent streaming power.

NordVPN – a very close runner-up
Although ExpressVPN gets our vote, there are still a few compelling reasons to choose NordVPN. Firstly, features like Onion over VPN and Double VPN are useful for those who'll use them, and it's also slightly more affordable, too.
ExpressVPN vs NordVPN – specs on paper

| | ExpressVPN | NordVPN |
| --- | --- | --- |
| Number of servers: | 3,000+ | 5,400+ |
| Server countries: | 94 | 59 |
| Maximum simultaneous connections: | 5 | 6 |
| Money back guarantee: | 30 days | 30 days |
| Lowest monthly cost: | $6.67 | $3.30 |

ExpressVPN vs NordVPN: Which is more affordable?
Before we get into anything too subjective, we'll have a look at some numbers.
Like almost all services, paying monthly for ExpressVPN will cost you the most, setting you back $12.95 a month, while six months will cost you $9.99 a month. Express's longest plan is the 12-month option, and this comes in at reasonable $6.67/mo, which includes the exclusive Tom's Guide offer of three months free.
ExpressVPN now also offers a free 1-year plan with cloud backup provider Backblaze as standard with its 12-month plans – although this is only available through Tom's Guide and our sister sites TechRadar and T3.
Paying monthly for NordVPN will cost you $11.95/mo, a dollar less than Express. Plump for the six-month plan and you'll see that knocked down to $9.00/mo, which is again a little cheaper. However, your best option is to go for the two-year plan, which currently comes in at an excellent $3.30/mo. Nord also offers a variety of knock-down VPN deals throughout the year that Express doesn't, so catch it at the right time and you might get even more time for your money.
We could argue that ExpressVPN provides a more well-rounded service and that it offers better true value, but if you're looking to spend less money, NordVPN takes this round.

ExpressVPN vs NordVPN: Which is faster?
Connection speed is an essential part of any VPN service worth its salt, and we think many users will base their purchase on this section alone.
In our testing, both Express and Nord impressed. On a 1Gbps US line, Express delivered speeds of up to 630Mbps. On the same line, NordVPN delivered similarly scorching speeds of up to 480Mbps. It's worth noting that these speeds were achieved when using Express's Lightway and Nord's NordLynx protocols respectively. With OpenVPN, both delivered speeds of around 280mbps.
On a similar line in the UK, NordVPN blasted past any other VPN we've tested with incredible speeds of 480-820Mbps. Unfortunately, however, we weren't able to install ExpressVPN on the virtual desktop we used to test these UK speeds, so we haven't got a comparison (and that's a failing of the workaround we were using to test this, not ExpressVPN).
So, what does that mean for you? Overall, both ExpressVPN and NordVPN deliver seriously speedy connections that are more than capable of matching domestic lines that commonly max out at around 110mbps. If you've got access to an uncontested gigabit line, NordVPN might be able to push your top speed a little higher, but for most users there will be no discernible difference.

ExpressVPN vs NordVPN: Which is more secure?
Both providers are at the top their game when it comes to keeping your data secure.
Both ExpressVPN and NordVPN use industry-standard AES-256 encryption, backed up by Perfect Forward Secrecy which changes keys frequently to avoid compromising your security.
ExpressVPN owns all its own DNS servers, which is excellent in terms of keeping everything under one roof and sidelining third parties. You'll also get a functional kill switch, split tunneling and tons more additional options, but the standout feature is Express's all-RAM servers. These mean no data can ever be stored on them, backing up the no-logging policy.
However, NordVPN delivers some unusual features such as Double VPN and Onion over VPN that ExpressVPN doesn't offer, and for those who need them, they could sway the vote.
Picking between the two is difficult – you may remember Nord's 2018 server hack, which caused great commotion in the CyberSec world, but it's also recently undertaken a second independent audit of its servers and privacy policy. However, Express is also a fully audited VPN, and has never had any issues in this respect.
If we're honest, these two VPNs are arguably the two most secure VPN services available today, so the decision will most likely come down to what you're after from your VPN – will you actually use features like Onion over VPN, or would you prefer the peace of mind Express's unblemished history provides?

ExpressVPN vs NordVPN: Which is better for Netflix?
Both Express and Nord feature on our Netflix VPN guide, as well as our iPlayer VPN guide and overall streaming VPN guide – so either is an excellent choice for watching geo-blocked streaming content.
However, if you visit those other guides, you'll also see that ExpressVPN tops every one of them, and that's down to a combination of a number of factors.
Firstly, ExpressVPN is just super simple to use – all you need to do is select your location and connect. Then simply head over to the streaming service of your choice and get watching. Alongside that, Express's reliable speeds are great for streaming, and that means that you'll be able to watch without buffering whenever you want, wherever you are.
Importantly, though, while NordVPN has more individual servers, Express has locations in over 30 more countries than NordVPN. That means you'll have a greater range of effective servers to connect to, potentially expanding the range of streaming content that's available to you.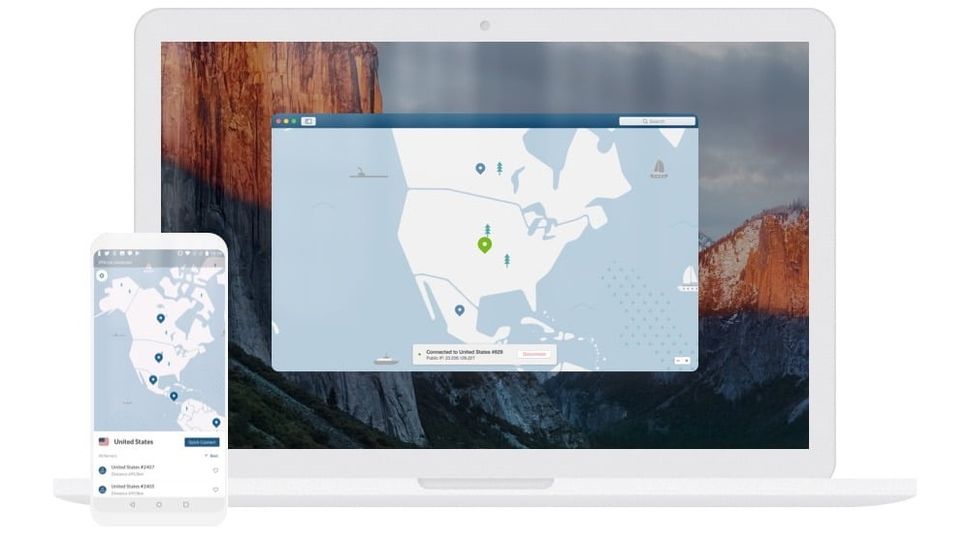 ExpressVPN vs NordVPN: Which is better for torrenting?
Similarly, both services are among the very best torrenting VPN services, owing to their great speeds and excellent P2P support.
However, it's ExpressVPN that takes it again, thanks to full P2P support – that means on every single server you'll be able to torrent. With Nord – while it's automated and painless in practice – not every server is torrenting-optimized, and sometimes server swaps are necessary.

ExpressVPN vs NordVPN: Which has better apps?
Both Express and Nord have a cohesive suite of apps for a wide range of devices, ranging from their Fire Stick VPN to Android VPN, and even apps for smart TVs and games consoles, too. Both have distinct interfaces which don't have too much of a learning curve, and they are stable and effective.
However, one issue we have with NordVPN's apps is that while the map-based interface works well on desktop, on smaller screens like mobile phones it's an awkward way of selecting a server. We'd much rather be displayed a standard server list immediately rather than hunting for Macedonia on a tiny map.
Plus, while it's a somewhat niche use-case, on Fire Stick NordVPN's app looks nothing like it does on other devices, while ExpressVPN is very familiar.
While these are small issues (both providers have apps that are top quality in the grand scheme), Express's are more intuitive and work more seamlessly on a wider range of devices.

ExpressVPN vs NordVPN: Which has better support?
There's a bit of a trend developing here, isn't there? Both providers deliver excellent support, but Express's is just that bit better.
In terms of live chat, both are swift to respond, and email responses are reliable and comprehensive. However, when it comes to the support website – usually your first port of call – Nord's is somewhat confusing compared to Express's very simple yet effective approach,
Once you find what you need, Nord's articles are excellent, but getting there takes a bit of effort.

ExpressVPN vs NordVPN: Final verdict
Going into this it might have seemed like a difficult decision – picking between two of the best-known VPNs on the market. However, having broken it down over the most important categories, the result is clear: ExpressVPN outdoes NordVPN at almost every turn.
With great speeds, an intuitive interface and seriously powerful privacy features, ExpressVPN is the best service on the market today. Plus, Tom's guide readers can claim three months free, which works out at 15 months for the price of 12, and you'll also be covered by a 30-day money-back guarantee so you can make sure you like the VPN before you commit.
However, NordVPN is no slouch, and we wouldn't hesitate to recommend it to anyone who wants to give it a go. It also has great security, useful apps, excellent speeds and an quality support network. You'll also be covered by a 30-day money-back guarantee for peace of mind.