Simba GO Hybrid Mattress review in brief
The Simba GO Hybrid Mattress was released in September 2022, with an emphasis on sustainability. It's the first of Simba's mattresses to use latex, giving it a bouncier and more buoyant feel than other beds in the range. Simba's mattresses regularly feature in our best mattress round-ups, so we were keen to find out if the eco-friendly Simba GO is as comfortable to sleep on as others we've tested.
Our two lead testers and a testing panel slept on a double Simba GO for three weeks, and evaluated it on all major areas of performance, such as pressure relief, motion isolation, edge support, cooling and ease of set-up. So how did we get on with this organic mattress?
Simba GO Hybrid Mattress: At a glance
Best for: Back and side sleepers, hot sleepers
Type: Organic hybrid mattress
Firmness: Medium-firm 6.5/10
Materials: Cotton, organic latex, steel coils
Depth: 30cm
Weight: 32kg – 59kg
Sizes: Single, double, king, super king
Trial: 200 nights
Guarantee: 10 years
Simba rates its GO Hybrid mattress as medium firm, with a rating of 6.5 out of 10 – the same as the Simba Hybrid. Unlike the Simba Hybrid though, the Simba GO is made from a combination of latex and coils, which gives it more of a 'bounce' than synthetic foam.
Our average-weight sleeper found the mattress comfortable from the first night, feeling supported as a back (and occasional side) sleeper. Our lighter-weight sleeper actually found the mattress a little soft but is known for preferring an almost rock-hard bed. Both felt well supported on the bed, with the lower layer of zoned support springs doing a great job of providing pressure relief. However, front sleepers may find it too soft to adequately support their spines and pelvis, whilst heavyweight sleepers could end up sinking too deep onto the coils.
It's not a proper cooling mattress, but the Simba GO is a great choice for hot sleepers. Its top cover is made of breathable, GOTS organic cotton and remains cool to the touch. Our hot sleeper didn't wake up in a sweat once. Edge support here is also excellent, as Simba has fortified the edges of its GO mattress with firmer coils. In other words, you won't have to worry about sliding off if you're sitting on the edge.
We wouldn't say it's the best mattress for co-sleepers, due to the bouncier nature of latex but we were pleasantly surprised by the motion isolation and this would be an ideal choice for many couples. If either of you don't move much in your sleep, this should suit you just fine – but consider something else if you or your partner thrash about in your sleep.
The Simba GO is not a cheap mattress though and, considering the price, one minor annoyance is the fact that the cover isn't removable for washing. Overall though, this is another excellent mattress from the brand that's bound to appeal to a wide range of sleepers.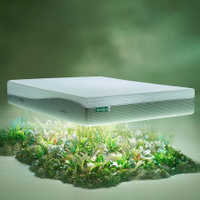 See the Simba GO Hybrid Mattress from £1499 at Simba Sleep
This is Simba's most eco-friendly mattress to date, also offering great pressure relief and support with a bit of bounce and movement. The current Simba Black Friday sale is cutting 45% off the RRP, so a double can be yours at £1181.95 (was £2149). Included are a 200-night trial, 10-year warranty and free carbon-neutral delivery.
Simba GO Hybrid Mattress review: Materials
100% recyclable organic mattress
Each layer is designed for cooling and support
Zoned coils provide pressure relief
The Simba GO is an organic hybrid mattress that measures 30cm deep and consists of six layers – each made to offer support and cooling whilst being as environmentally friendly as possible.
The Simba GO's cover is made from GOTS-certified 95% organic cotton, designed to be breathable and to keep sleepers cool. But it's not removeable which is a bit of a bugbear. Fortunately, Simba are currently offering a free mattress protector with the mattress during its current sales, make sure you take them up on it.
Underneath is the Simba Renew layer, made from 75% recycled fibres that are anti-allergenic, dust mite resistant and designed to create space and promote breathability. Next up, the organic latex layer with perforations for further airflow, followed by 2000 of Simba's patented Aerocoil springs for body support. These sit on top of up to 900 further pocketed springs providing zoned support. The mattress is finished off by a recycled mesh cover to hold it together.
Simba GO Hybrid Mattress review: Price and deals
Tied as Simba's most expensive mattress on offer
Already seeing a 45% saving in the Simba Black Friday sales
Free mattress protector with purchase
The organic Simba GO Hybrid Mattress is tied as the brand's most expensive offering along with the Simba Hybrid Luxe, which has the same price scale. The Simba GO sits squarely in the luxury mattress bracket. The RRP of a double is £2149, and a single costs £1449. But thanks to regular Simba mattress sales and discounts you should be able to find it at a cheaper price, with offers of up to 45% off.
Here's the official pricing for the Simba GO, along with sale prices we've seen for it so far:
Single RRP: £1499 (Currently £824.45)
Double RRP: £2149 (Currently £1181.95)
King RRP: £2299 (Currently £1264.45)
Super King RRP: £2649 (Currently £1456.95)
You'll also get a free mattress protector with purchase – useful since the Simba GO's cover is not removable. You'll have 200 nights to test your mattress out, with free collection plus a full refund if you're not satisfied. Keep the mattress and your purchase will be backed by a 10-year guarantee. What's more, Simba offer free carbon-neutral delivery, either with zero-contact or to a room of your choice.
You'll find mattress sales running all year round, but major sales events like the Black Friday mattress deals can yield bigger discounts, if they coincide with when you want to buy.
Simba GO Hybrid Mattress review: Firmness and comfort
Slightly bouncier and plusher than Simba's other mattresses
May be too soft for front and heavyweight sleepers
Excellent temperature regulation to aid hot sleepers
We'd rate the Simba GO as a classic medium firm feel at 6.5 out of 10 on the firmness scale. The latex layer makes this a slightly bouncier option than other Simba mattresses but from the first night of sleeping on it, we found the mattress both comfy and supportive.
Our two main testers are both primarily back sleepers, with occasional forays onto their sides. Our average weight sleeper was particularly taken with the Simba GO, feeling that it kept their spine aligned and provided excellent pressure relief at the hips and shoulders. Whilst our lighter weight sleeper did find the mattress equally supportive, they also felt it was a fraction soft but suspected this was down to personal preference rather than anything else.
Latex offers a slightly bouncier feel to a mattress and the Simba GO is no exception. It's easy to change positions through the night, which also helps to make this a great choice for combo sleepers. However, the mattress could be too soft for front sleepers and heavier weight sleepers may find that they sink too far into the mattress, ending up lying on the coils rather than being supported by the latex.
One of the other things we really liked about the Simba GO was how each layer is designed to promote airflow, with the mattress staying cool to the touch throughout the night. Our tester who tends to sleep hot felt cool throughout the night on the Simba. This is a well-made mattress that's going to appeal to a range of sleepers.
Simba GO Hybrid Mattress review: Performance
Excellent temperature regulation and pressure relief
Superb edge support, and quite durable, too
Expect some bounce if you sleep with a partner
We slept on a double Simba GO mattress for three weeks, looking at all the major areas of performance in accordance to our methodology for mattress testing. We rated it on pressure relief, motion isolation, edge support, cooling and ease of set-up. Here's how we fared...
Set-up
Score: 5 out of 5
Set-up for the Simba GO is very straightforward, as long as you choose to take advantage of the two-man delivery service to a room of your choosing. And we'd strongly recommend that you do take advantage of this as the mattress is heavy (between 24.2 and 50.9kg).
All the packaging with the mattress is 100% recyclable (as you'd expect from an eco-mattress). Inside the cardboard box, the mattress is wrapped in a thick layer of vacuum-sealed plastic. Place the mattress on your bed, cut the plastic to break the vacuum seal and the mattress will start to inflate as you remove the packaging. You can sleep on it after 3-6 hours, but it can take up to 72 hours for it to inflate fully.
Off-gassing
Score: 4.5 out of 5
When we first unwrapped the Simba GO there was a faint smell of off-gassing, which is totally normal for mattresses in a box. As we explain in our feature answering what is off-gassing, it's the process where organic chemicals and gases are released from the foam as a mattress expands. It's generally harmless, but the smell isn't particularly pleasant.
With the Simba GO, the off-gassing smell dissipated extremely quickly over a few hours and wasn't too strong to begin with. Being organic and containing latex as opposed to foam, the mattress has minimal amounts in it to cause a smell.
Pressure relief
Score: 4.5 out of 5
We tested sinkage on the Simba GO Hybrid Mattress with our largest weight of 20kg placed in the middle of the bed. As we'd expect from a medium firm mattress, the weight sank in by 4 inches (4.5 inches when the weight was moved to the edge of the bed).
Translating this over to real world sleeping, the mattress is particularly supportive for light to average back and side sleepers. We particularly liked the zoned support from the lower level of coils, which provides firmer support where it's needed at the shoulders and hips. Pressure relief is noticeable and our testers woke without any aches or pains. This is all aided by the natural elasticity of latex, which is particularly suited to distributing pressure.
We did feel that heavier-weight sleepers could end up sinking too far into the mattress for adequate support and front sleepers will find the Simba GO too soft for adequate spinal support. If you're looking for a firmer feel, check out our DreamCloud Luxury Hybrid mattress review.
Motion transfer
Score: 4 out of 5
To test the motion transfer on the Simba GO we conducted a drop test using a 6kg weight and an empty wine glass. This allowed us to simulate a partner tossing and turning in bed.
The results were much as we'd expect from a mattress containing both latex and springs, as it's far bouncier than a memory foam hybrid. The wine glass wobbled at both 25 inches and 10 inches, before falling over at 5 inches – this was with the weight dropped from a height of around 4-5 inches.
Meanwhile, our human testers noticed some motion transfer while they were awake and moving from side to side in the bed, but it didn't disturb their sleep in any marked way. Whilst the bouncy latex means there's some motion transfer, we were pleasantly surprised by how much isolation there actually was.
Still, if you don't want to feel your partner's movements, a memory foam mattress would be your best bet. We'd recommend looking at our Nectar Mattress review, as this full-foam model did a tremendous job of isolating motion when we tested it.
Temperature regulation
Score: 5 out of 5
The Simba GO is remarkably good at keeping sleepers cool, considering that it's not actually specifically a cooling mattress. Simba has packed the mattress full of space – meaning there's good airflow throughout. We tested the mattress with a summer duvet (4.5 tog) and a thick fleece blanket in a bedroom of around 16C overnight.
Our main hot sleeper stayed comfortable throughout the night and the bed stayed cool to the touch. This is down to the fact that each layer is designed to promote airflow. There's a breathable cover with the Simba Renew layer underneath designed to create space for air to circulate. The latex layer has perforations for airflow and added graphite to absorb heat, while the two layers of springs are well spaced out for even more airflow.
Edge support
Score: 4.5 out of 5
Edge support on a mattress is key for two reasons. First, if you like to spread out on your bed, you don't want to worry about possibly falling off. Second, if you have mobility issues, being able to comfortably sit on the edge of the bed to get in or out of it is crucial.
We were impressed by the edge support on the Simba GO, which is mainly down to the firmer coils that Simba have included at the edge of the mattress. Whilst there is a little give when you sit down on the very edge, there is no danger of sliding off the mattress entirely.
The firmer edge coils also mean that it's easy to spread out and use the entirety of the mattress, particularly when sharing the bed with a partner. However, sleepers might find the very edge of the mattress a little too firm for sleeping on, as there is less give in the coils.
To further test the edge support of the Simba GO Hybrid Mattress, we placed a 20kg weight on the middle perimeter. It sank 4.5 inches at the edge of the mattress, compared to 4 inches in the centre, showing that the edge is almost as firm as the middle of the mattress.
When it comes to edge support, the Simba GO is one of the best mattresses we've tested in this regard.
Durability
Score 4 out of 5
It's difficult to fully gauge the durability of a mattress after a short test period, but we feel confident in saying that the Simba GO should last for many years to come. Simba clearly feel equally confident in this as they offer a 200-night trial and a 10-year guarantee.
The Simba GO contains high-quality materials, including natural latex that's known for its durability. It's not impossible for pure latex mattresses to last up to 20 years, although the springs in this mattress may have sagged a little before then.
Our only slight reservation is with the Simba GO's cover, which is non-removeable and, because of its curved shape, prone to a little sagging. Thus, it's important to know how to clean a mattress, and wrap it in a well-made mattress protector. Those are a couple of practices that should help your bed last for years, if not decades.
Simba GO Hybrid Mattress review: Customer reviews
At the time of writing (November 2022) there are three five-star reviews for the Simba GO mattress, but no in-depth analysis of the mattress. This is obviously due to the fact that the mattress was only introduced in September 2022.
Initial customer reviews have praised the mattress for reducing back pain and keeping the sleeper cool at night. Overall, Simba mattresses are highly popular and receive positive reviews from both customers and critics for their build quality and overall comfort, so we would expect the Simba GO to be similar.
We'll update this section as soon as more verified customer reviews for the Simba GO become available.
Should you buy the Simba GO Mattress?
If you're looking for a high-quality sustainable and environmentally-friendly mattress the Simba GO is an excellent choice. It offers exceptional pressure relief for light to average weight back, side and combo sleepers, who will find their shoulders and hips are well-supported throughout the night.
Hot sleepers will also feel comfortable throughout the night, with the mattress being packed with features to help promote airflow and keep sleepers cool. Edge support is excellent, as well, so feel free to spread out and take up as much of the bed as you'd like – you won't fall off.
Motion isolation is good, although latex is naturally a little bouncier so really restless sleepers may disturb a partner a little. If that's the case, opt for a memory foam mattress (like the Nectar) instead, as that'll do a better job of isolating movement if your sleep partner is a chronic fidgeter or operates on a different schedule than you.
As supportive as the Simba GO mattress is, we found it a little soft for front sleepers and heavier sleepers may feel as if they're sinking too far into the mattress, sleeping on the coils rather than the latex comfort layer. Thus, we'd recommend the firm Brook + Wilde Elite mattress, which should provide more lumbar support. If you prefer a hybrid containing memory foam, the DreamCloud Luxury Hybrid is an excellent choice, with a soft and cushioning feel.
The Simba GO Hybrid Mattress isn't a budget model, though recent sales will help you save quite a bit of cash. Not to mention, you'll get 200 nights to trial it at home. It's worth the investment if you want a well-made bed that'll benefit the environment (and your health, too).