Simba Hybrid Luxe mattress review in brief
The Simba Hybrid Luxe mattress boasts a complicated design that includes various foams, springs and wool, and clocks in at a whopping 31cm thick. But more layers doesn't always equal more comfort when it comes to mattresses, so we tested one out to see how it performs in the real world. For our Simba Hybrid Luxe review, we put this luxury mattress through its paces in terms of comfort, support, motion isolation, temperature regulation and more, to see if it's worthy of a spot in our best mattress ranking.
Simba Hybrid Luxe mattress specs
Type: Hybrid
Materials: Bamboo-infused wool, foams, springs
Firmness: Medium-firm (we'd rate as 8/10)
Depth: 31cm
Trial period: 200 nights
Warranty: 10 years
RRP: £1,579 - £2,749
We initially called this mattress in over a year ago, and spent three weeks sleeping exclusively on it. Since then, it has been in a spare room, used intermittently by our main tester as well as various guests. As well as our own experiences, we performed specific tests to gain an objective view of this mattress' performance, and considered other customers' experiences too.
Although this is a hybrid mattress, the overall feel is more akin to a traditional pocket-sprung model than a memory foam one. The sleep surface is cushioned yet responsive, and there's none of the sink-in feel you get with memory foam. We'd rate it about an 8/10 in terms of firmness, making it best suited to back sleepers or stomach sleepers. We also found it comfortable in a side-lying position, but other side-sleepers might prefer something squishier to relieve pressure around the hips and shoulders.
The Simba Hybrid Luxe performed pretty well in our tests. It offers excellent edge support and decent temperature regulation. There is some degree of motion transfer though, so this perhaps isn't the best choice for couples – especially if one of you is a light sleeper.
Price-wise, the Luxe sits at the top of Simba's range, matched by the organic GO. Even with fairly regular Simba sales and deals, it's one of the priciest mattresses we've tested. Is it worth the extra outlay? We're not sure – it certainly has some tough competition in the luxury hybrid arena (and (as a side note, we think the GO is perhaps a more intriguing prospect if you're going to be spending that amount – head to our Simba Hybrid GO review for more on that one). If you decide to give it a go, be aware there's a 200 night sleep trial you can use to make sure it's right for you. That's the short version – for more info, read on for our full Simba Hybrid Luxe mattress review.
Simba Hybrid Luxe mattress review: price
Double is £2,299 (RRP), often on sale for around £1,380
Undercut by many competitors' luxury hybrid mattress models
Free mattress protector usually bundled in
The Simba Hybrid Luxe sits firmly in the high end category when it comes to price. That's even considering regular deals that knock something in the region of 40% off ticket price. This model sits joint top of Simba's range, with the same pricing as the organic GO. Here are the RRPs for each size of the Simba Hybrid Luxe mattress, along with the discounted prices you'll often pay:
Single: RRP £1,579 (usually £947)
Small double: RRP £2,299 (usually £1,380)
Double: RRP £2,299 (usually £1,380)
King: RRP £2,399 (usually £1,440)
Super king: RRP £2,749 (usually £1,650)
Note: the Luxe (alongside the rest of Simba's range) got a price increase at the start of 2023, which means at full price most models are more expensive than they were previously. So the RRP for the double in 2022 was £2,149, but now it's £2,299.
That 40% off isn't always available, but it is regular enough that if you spot this mattress at full price, it's worth hanging on for a week or two to see if a deal appears. Around major sales events, discounts can be even bigger – last year's Black Friday mattress deal knocked 45% off, for example.
In the context of the wider market, the Luxe is undercut by most brands' premium hybrid models. Factoring in regular discounts, at time of writing, a double Simba Hybrid Luxe is RRP £2,299 (usually £1,380), while the Brook + Wilde Elite is RRP £1,299 (usually £585) and the Emma Premium is RRP £1,079 (usually £647). Only the likes of Tempur will put a bigger dent in your wallet – a double Tempur Hybrid Supreme costs £1,999, and discounts are rare.
In terms of extras, Simba will usually throw in a free mattress protector with your mattress. Two-person delivery is free to either your front door or to your room of choice, and there's a 10-year warranty. At time of writing (early 2023), the trial period has just been decreased from a year to 200 nights, but that's following an increase the other direction, so it might go up again at some point – who knows? Either way, it'll give you a chance to test the mattress out in a range of seasons.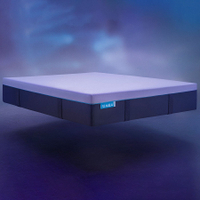 View Simba Hybrid Luxe mattress at Simba
The most advanced of Simba's hybrid range, the Luxe is 31cm deep and includes 10 different layers. The cushioned yet responsive sleep surface is a great choice for back or stomach sleepers. At full price it's an investment, but 40% off deals are fairly common. You'll have 200 nights to try it out before committing, and there's a 10-year guarantee.
Simba Hybrid Luxe review: materials and design
31cm thick, hybrid mattress, with 8 layers plus cover
Includes multiple layers of springs, foams and wool
Zip-off cover and side handles for easier maneuvering
The Simba Hybrid Luxe is a chunky mattress. It's 31cm tall, which is thick enough to require the purchase of special deep sheets (and to make changing those sheets something of a workout). The reason it's so chunky is that is includes eight different internal layers, all designed to add up to a dreamily supportive, cool and comfortable night's sleep. Let's take a closer look...
The uppermost tier is one of bamboo-infused wool. Both the wool and the bamboo are naturally temperature-regulating materials – i.e. they should keep you cool when it's hot and warm when it's chilly. They also add some padding to the sleep surface.
Beneath the wool is the first of this mattress' four foam layers (all CertiPUR-US certified, meaning they meet certain health and environmental standards). The top one is the brand's own 'Simbatex' foam, which Simba says has "30 times the airflow of memory foam", thanks to an open-cell design. Here, it has also been infused with graphite for extra cooling clout.
In middle section of the mattress are three layers of springs: a double layer of cone-shaped titanium 'Aerocoils' (to offer custom pressure relief and support) and single lower layer of high-carbon steel coils. These coils also provide somewhere for air to circulate within the mattress, which is why hybrid mattresses are more breathable, as a rule, than all-foam models. The springs are sandwiched between layers of more foam, designed to bolster the mattress and improve edge support in particular. At the base you'll find the final chunky foam layer, which has five distinct zones for firmness or softness as required.
The whole thing is wrapped in a cover, the top half of which can be zipped off for easy cleaning (Simba recommends 40°C on a reduced spin cycle). There are also sturdy side handles to make maneuvering this beast a little easier.
While this is the most advanced of Simba's mattresses, you'll find the same specialist materials – namely the Simbatex foam and Aerocoil springs – throughout the range (read our Simba Hybrid mattress review for a closer look at the original model). Slightly disappointingly, they all look pretty similar on the outside. While the Luxe is well-made and high quality, there's nothing about it that looks and feels particularly, well, luxe.
Simba Hybrid Luxe mattress review: support and comfort
Medium-firm feel that's especially good for back or stomach sleepers
Cushioned sleep surface, but no sink-in memory foam contouring
Some slight dips starting to form after 1 year of use
Simba describes the Luxe as being 'medium-firm', and we'd probably rate it around a 7.5 or 8 out of 10 in terms of firmness. The overall feel is more like a traditional mattress than a memory foam model, with a sleep surface that's comfortably cushioned and responsive, rather than super-squishy. While the coils do meld slightly around your body, it's nothing like the sink-in hug of memory foam.
That kind of sleep surface is great for back sleepers and stomach sleepers (a little extra firmness will help keep your spine healthily aligned in these positions). This tallies with our experience testing the Luxe. For context, our primary tester is an average weight and height, and mostly a back sleeper, although sometimes also lies on her side. She found the Luxe very comfortable and felt fully supported when lying on her back or front. She also found the Luxe comfy in a side-sleeping position, but we suspect some side sleepers might prefer something softer, with more pronounced contouring around the hips and shoulders in this position.
To get a more objective view of firmness, we placed an 8kg weight on the mattress to see how far in it sank. In the centre of the mattress, the weight sank 6.5cm. On the edges, the sinkage was less – around 5.3cm.
Slightly concerning is that after a year or so of intermittent use, the Luxe is developing a very slight dip around where the sleeper's hips lie. Although it doesn't affect comfort at this point, it does raise questions over longevity. We'd expect better from a mattress of this price.
Simba Hybrid Luxe mattress review: performance
Some motion transfer – not the best choice for couples
Neutral temperature, warms only to body temperature
Sturdy edge support around the full perimeter of the mattress
In this section of our Simba Hybrid Luxe review, we're going to home in on three specific areas of performance – motion isolation, edge support, and cooling – and provide a test score for each. We first called the Luxe in around 18 months ago. We slept on a double size mattress for three solid weeks for our initial test period, and since then this mattress has been in a spare room, with guests of different sizes and sleep preferences sleeping on it on a fairly regular basis. As a result, we've been able to try it out in a range of weather conditions, and get something of an idea of how it'll perform over time. Generally, we've used it with a 10.5 tog synthetic duvet, and cotton sheets.
Motion isolation
Motion isolation refers to how well a mattress absorbs movements, so they don't reverberate across the sleep surface. A mattress with poor motion isolation can cause a broken night's sleep for anyone, but it's most problematic if you're a light sleeper and share a bed.
Because the Luxe has quite a responsive sleep surface, it's not the best at isolating motion. In short, you can feel if someone is wriggling around in the bed next to you. To test this properly, we placed an (empty) wine glass on the sleep surface, then dropped an 8kg weight at distances of 4, 10 and 25 inches away from it, to roughly mimic someone moving position, getting up or back into bed, and so on. At all but the furthest dropping distance, the glass fell over.
As a result, this probably isn't the best choice for light sleepers who are easily disturbed in the night, and especially if they share a bed. If that's you, a softer memory foam mattress with more of a sink-in sleep surface might be a better pick.
Our score: 3.5 out of 5
Temperature regulation
Overheating at night can be a major sleep disruptor, which is why many of the big bed brands invest heavily in ensuring their mattresses regulate temperature effectively. Memory foam is often the worst culprit for trapping body heat, but Simba has replaced this with its own-brand Simbatex foam, which has an open cell design that the brand says has '30 times the airflow' of regular old memory foam. This foam has been infused with graphite to boost cooling powers further.
The top layer of wool is also naturally temperature regulating, and the springs create space for air to circulate within the mattress (which is why hybrid or pocket-sprung mattresses tend to sleep cooler than all-foam models).
Does all this add up to a cool sleep experience? Kind of. The sleep surface does warm up to body temperature, but it doesn't cling on to body heat and radiate it back to you as we've experienced with other mattresses. How you judge temperature regulation will also depend a bit on what you're used to: our tester who regularly sleeps on hybrid and all-foam mattresses found the temperature regulation on this model good, whereas the sleepers who were used to traditional pocket-sprung models judged it to be a bit warm.
Temperature regulation score: 4 out of 5
Edge support
Edge support is basically how sturdy the mattress feels around its side and top and bottom edges. Poor edge support reduces the amount of usable sleep space, because anyone getting too close to the edge might feel in danger of rolling off. It can also make it more difficult to get up or sit comfortably on the edge of the mattress.
Simba has addressed this aspect of performance by building something called 'Edge Lift Technology' into the foam layers in the Luxe. These work well – the perimeter of the mattress is soft but sturdy, and there's no sloping to speak of (quite the opposite, actually: the centre of the mattress feels slightly softer than the edges). Our testers could use the whole sleep surface, and one sleeper who has slight mobility issues commented that they felt confident using the mattress to push up off when getting up in the morning.
When we placed our 8kg weight on the surface, it sat there unsupported, and sank in 5cm at the foot end of the mattress, and 5.3cm at the edge (by comparison, it sank 6.5cm into the centre of the mattress).
Our score: 5 out of 5
Simba Hybrid Luxe mattress review: delivery and setup
Free, two-person, carbon-neutral delivery to your bedroom
Mattress delivered vacuum-packed, rolled and boxed
Sleep trial has been shortened to 200 nights
The Simba Hybrid Luxe is a mattress in a box, which means it arrives vacuum-packed and rolled. That makes it much easier to maneuver than a flat mattress would be, but you'll still likely be grateful that Simba offers two-person delivery to your room of choice, because that box isn't light. There's free, carbon-neutral delivery on weekdays to most parts of the UK. Delivery is typically available within 3-4 working days from order, and you can pick your delivery day at checkout.
That's what you get for free, but for a fee (in most cases, £40, so not wildly expensive) you can unlock some more delivery options. For example, you can upgrade to a timed delivery slot or a weekend delivery, or if you order before 10am, you should be able to book in next-day delivery. There's also the option to pay for Simba to take care of removing your old mattress for you, although do note, that'll happen separately from delivery of the new one.
Once delivered, our Luxe mattress was ready to sleep on after just an hour or two, and we didn't experience any off-gassing issues.
Simba has been going back and forth with its trial length. It was originally 200 nights, then it went up to a year, then back down to 200 nights. It's rare (although not unheard of) for bed brands to offer that year-long trial, but we'd say that 200 nights is plenty. During that time, if you decide the Luxe isn't for you, Simba will collect it for free too.
Simba Hybrid Luxe mattress review: customer reviews
An average of 4.8/5 on the Simba website, over 4,400+ reviews (Feb 2023)
Overwhelmingly positive comments from all sleep styles
Mattress comfort is a very personal thing, so to get a more rounded view of this particular model, we combed though a wide selection of other customer reviews on the Simba website (Simba's mattresses are also available via Amazon, but those mix the reviews for a bunch of different models in together, making it difficult to draw conclusions from).
At time of writing (Feb 2023) the Simba Hybrid Luxe has an average of 4.8 stars, based on over 4,400 reviews, on the Simba website. The vast majority of people are extremely pleased with this mattress, saying it improved their aches and pains and led to better sleep. It's possible to filter results by sleep style, and there's plenty of praise from side, back and front sleepers alike.
In terms of temperature regulation, general consensus tallies with our assessment of the Luxe sleeping fairly neutral. There are plenty of customers who praise the temperature regulation here, and of those who say it sleeps warm, that's often framed as a positive attribute rather than as part of a complaint about overheating.
Of those who didn't get on so well with the Luxe, the complaints are varied. For example, some people find it too firm, some say it's too soft. There some complaints of motion transfer, but also plenty of praise. There aren't enough people saying similar things to pinpoint any widespread issues with the design.
Should you buy the Simba Hybrid Luxe mattress?
The Simba Hybrid Luxe is a comfortable, supportive and well-made mattress with a fairly traditional sleep feel. The sleep surface is comfortably cushioned yet responsive and easy to move around on, with excellent edge support and good temperature regulation. We think it'd suit back and stomach sleepers, and side sleepers whose preference is for a slightly firmer mattress. On the flip side, side sleepers who want sink-in cushioning around their hips and shoulders should look elsewhere, as should light sleepers with wriggly partners – the motion isolation isn't great here. It's also very tall, heavy and bulky, which will appeal to some shoppers but not others.
Overall, we feel the Luxe is a good all-rounder, but there's little (other than the complexity of the internal structure) to justify that higher price tag. The fact of the matter is there are alternatives that look and feel similar, but cost less (even, perhaps, within Simba's own range – the Pro looks like a strong alternative, for example). These mattresses might not have such a complex internal structure, but if the comfort and support are the same, then does that really matter?
Simba Hybrid Luxe mattress review: alternatives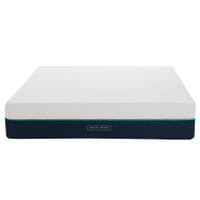 Brook + Wilde Elite mattress
The Elite is another luxury hybrid, but the USP here is that you can pick from soft, medium and firm sleep feels (and swap if you get it wrong). There's a similar responsive yet cushioned sleep surface to the Simba. At RRP a double is £1,299, but it's almost always on sale for around £585. Get a taste of what to expect from our Brook + Wilde Lux review, which looks at the model down, and is also a strong recommendation, although it's only available in medium firmness.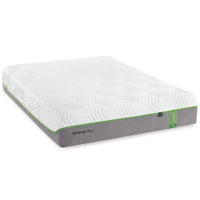 Tempur Hybrid mattress
If you're pushing the boat out, head to Tempur. This brand is known for its luxurious foam, which cradles your body as you sleep. In our Tempur Hybrid mattress review, we found this model dreamily comfortable, with deep pressure relief and excellent motion isolation. The surface is less responsive and more contouring than the Simba, and would suit side sleepers or anyone suffering from joint pain. A double is from £1,999.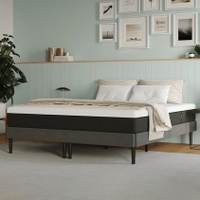 Emma Premium mattress
This brand's own luxury hybrid model, the Elite combines body-contouring memory foam with tall springs, to boost support and airflow. We were very impressed with the pressure relief and motion isolation in our Emma Premium mattress review, although edge support could be better.