When it comes to delivering top-quality sleep, Nectar and DreamCloud are both well-respected brands with two industry leading memory foam mattresses. Although they might sound like similar mattresses on the surface, we will delve deeply into their differences in this Nectar vs DreamCloud comparison piece. From price, comfort and support, we will help you decide which mattress is best for you and your sleep.
What you can expect from both, however, is outstanding support, a pressure relieving 'sink-in' feel, and cradling memory foam that ensures correct spinal alignment. The Nectar ranks highly in our best mattress guide, and tops our best memory foam mattress roundup.
Price-wise, there isn't a huge amount between them. The DreamCloud is marginally more expensive (a queen size mattress is $1,099 and $1,282 respectively), but the imminent Black Friday mattresses sales will likely throw those MSRPs up in the air. Plus, both memory foam mattresses include a 365-night sleep trial, lifetime warranty, and free delivery and returns.
The DreamCloud has certain luxurious touches that the Nectar doesn't, but our Nectar Memory Foam mattress review found that it provided better temperature regulation than the DreamCloud. So which mattress you will opt for will ultimately depend on what you need to get a good night's sleep. Let's dig a little further to find out which memory foam mattress is right for you.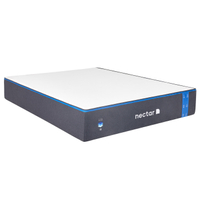 Nectar Memory Foam mattress: was from $699 now from $359 at Nectar
40% off - The original Nectar mattress is a versatile all-foam model that delivers excellent comfort and support in all sleeping positions. The Nectar Black Friday sale knocks 40% off the MSRP, which means a queen size now costs $659 – one of the lowest prices we've seen for it all year. You won't get the usual sleep accessories bundle, but you can buy two pillows, a mattress protector and some sheets for the bargain price of $129. The extras are outstanding for the mid-range price too – you'll get a 365-night trial, a forever warranty and free shipping.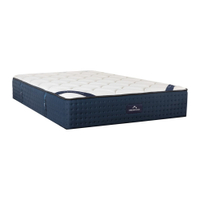 DreamCloud memory foam mattress: was from $789 now from $359 at DreamCloud
40% off DreamCloud's memory foam mattress comes with a breathable cashmere cover and therapeutic gel-infused memory foam for additional comfort. Like Nectar, DreamCloud has slashed the prices of all their mattresses by 40%, as part of their Black Friday sale. This takes the price of a queen size memory foam mattress from $1,282 down to just $899 — this is an astounding offer from one of our favorite mattress manufacturers. As ever, you'll get a free 365 night trial, free shipping and returns, plus a lifetime warranty.
Nectar vs DreamCloud: Specs
Swipe to scroll horizontally
| | | |
| --- | --- | --- |
| Row 0 - Cell 0 | Nectar | DreamCloud |
| Type: | Mattress in a box | Mattress in a box |
| Internal layers: | 3 | 5 |
| Firmness (1-10): | 6.5 | 6.5 |
| Height: | 12" | 12" |
| Trial: | 365 nights | 365 nights |
| Warranty: | Lifetime | Lifetime |
| Price bracket: | $699 to $1,798 | $789 to $2,078 |
Nectar vs DreamCloud: Price, trials
A queen-size Nectar is usually on sale for $1,099
A queen-size DreamCloud is usually on sale for $1,282
Both have free delivery, a 365-night sleep trial and lifetime warranty
When it comes to trials and warranties, Nectar and DreamCloud both offer lengthy 365-night trials and lifetime warranty, plus they also both offer free delivery and returns. This makes choosing either mattress low-risk, as you can trial your sleep set-up over a long period of time, navigating different seasons and comfort needs throughout the year.
MSRPs start at $699 for a twin Nectar Memory Foam Mattress vs $789 for a twin DreamCloud Memory Foam mattress, but both Nectar and DreamCloud have excellent online sales throughout the year.
The original price for a queen size Nectar Memory Foam is $1099, while the DreamCloud is $1099. However, at the time of writing, both brands were offering a huge 40% off everything sale, bringing the cost of a queen size Nectar and DreamCloud mattress down to $659 and $749 respectively. If you're looking for a luxury mattress at an affordable price, these are both excellent deals.
Of course, the Black Friday mattress sales will bring great savings across all brands, but if you're not looking to buy right now you can also keep an eye on our DreamCloud mattress sales hub, plus the Nectar mattress sales page, to see the latest offers. If you're looking for even more choice from top brands, check out our best affordable mattresses too.
But how much can you expect to pay for a Nectar and DreamCloud Memory Foam mattress when they're not on sale? Let's find out.
Swipe to scroll horizontally
Price comparison

| | | |
| --- | --- | --- |
| Row 0 - Cell 0 | Nectar | DreamCloud |
| Twin MSRP: | $699 | $789 |
| Twin XL MSRP: | $899 | $1,039 |
| Full MSRP: | $949 | $1,149 |
| Queen MSRP: | $1,099 | $1,282 |
| King MSRP: | $1,399 | $1,619 |
| Cal king MSRP: | $1,399 | $1,619 |
| Split king MSRP: | $1,798 | $2,078 |
Nectar vs DreamCloud price winner: Nectar
Despite both these best mattresses in a box offering free delivery, free returns, a generous 356-night trial and a lifetime warranty, Nectar still manages to start at a lower cost, with a bigger price difference to DreamCloud as the sizes increase.
Nectar vs DreamCloud: Design & features
The Nectar is an 12-inch memory foam mattress with three internal layers
The DreamCloud is a 12-inch hybrid mattress with five internal layers
Both feature hypoallergenic CertiPUR-US foam layers
The Nectar Memory Foam bed is our top choice for the best memory foam mattress, as it's designed to deliver everything you need for great sleep. It features adaptive memory foam for comfort at the shoulders, hips and knees, as well as a cool-to-the-touch cover for a fresh feel the minute you lay down your head.
The cover is made using heat-absorbent fibres that help cool the body by wicking excess heat away. Further cooling is provided by two inches of gel-infused memory foam that sleeps cooler than standard memory foam. This sits over a three-inch dynamic response layer with breathable foam offering plenty of support to keep the spine aligned, while also minimising motion transfer.
Stability comes courtesy of Nectar's 'ActiveSupport' base layer — seven inches of durable foam that provides a sturdy foundation for the softer layers above.
Just like the Nectar Memory Foam mattress, DreamCloud's premium-feel Memory Foam mattress is made with hypoallergenic CertiPUR-US foam layers. However, this more expensive mattress offers a few more luxurious touches.
At the top is a soft cashmere-blend cover quilted with a thin layer of gel memory foam for cooling and standard foam for extra support. Beneath this is a layer of gel-infused memory foam for cooling support that adapts to your body at the pressure points.
Next down is a transition gel foam layer that helps distribute your body weight evenly to aid spinal alignment. At the base you'll find nine inches of standard foam that delivers firm support for the layers above and helps absorb motion transfer. This mattress also has handles, which the Nectar Memory Foam doesn't — when the time comes to move the mattress you'll be glad of this extra feature.
Nectar vs DreamCloud design winner: It's a draw
Both mattresses follow the same design template. However, when it comes to plushness, the DreamCloud has the edge with its cashmere-blend cover, while the Nectar takes the lead when it comes to breathability and cooling. It's only fair to declare it a draw.
Nectar vs DreamCloud: Comfort & support
The Nectar is a medium-firm mattress, rated at 6.5 out of 10
The DreamCloud is also rated 6.5 out of 10, but has a softer feel
Both have firm foam bases for support through the layers
When it comes to comfort, support and motion transfer both Nectar and DreamCloud's mattresses are reliable options. Both are medium-firm and constructed with premium-feel foam that's breathable and cushioning too. But there are also some key differences between the two
The DreamCloud Memory Foam mattress is more plush at surface level with its super-cushioning cashmere-blend cover that's soft, breathable and quilted with two thin layers of foam: 1.2 inches of CertiPUR-US Certified gel memory foam for cushioning and 0.5 inch of CertiPUR-US Certified standard foam for support.
Rather than cosiness, Nectar's Memory Foam bed chooses cooling for its cover with heat-absorbent polyethylene fibres that help wick excess body heat away for fresher sleep. Beyond this, the layers remain similar to the DreamCloud Memory Foam mattress with layers of gel-infused memory foam, a dynamic transition layer and a stable base.
The layers do, however, come at different depths between the two brands — it's an inch each of gel foam and transition layer for DreamCloud, and two inches of gel foam and three inches of dynamic transition layer for Nectar. The sturdy foundation base is nine inches and seven inches respectively for DreamCloud and Nectar. This alters the feel of the mattress, and it's down to what you need to sleep well.
If you prefer a plusher feel from the top then DreamCloud is for you; bearing in mind you still get plenty of stability from the 9-inch base. And if you want a cooler-to-the-touch mattress with balanced stability and cushioning throughout, then Nectar is a great choice. Bear in mind these both come in at 6.5 firmness, so, as mentioned, the difference is down to personal preference here.
Both do a great job at minimising motion transfer, so if you have a restless co-sleeper, then either is a strong choice.
Nectar vs DreamCloud comfort and support winner: It's a draw
Depending on what you prefer, either of these mattresses is a strong choice —
DreamCloud offers a plush luxury feel, while Nectar offers a balance of support and softness.
Nectar vs DreamCloud: Temperature control
Nectar's breathable top layer and cooling gel memory foam deters heat
The DreamCloud is cosier, but might not be suitable for hot sleepers
Both mattresses feature gel-infused layers for extra cooling
One concern you may have is are memory foam mattresses hot? While it used to be the case that memory foam, with its denseness and huggy feel, was less than ideal for hot sleepers, things have now changed. However, if you sleep particularly hot, then one of our dedicated best cooling mattresses will help you sleep more comfortably.
Both Nectar's and DreamCloud's memory foam mattresses feature gel-infused memory foam for a fresh and breathable feel. But Nectar's memory foam mattress goes further by adding a breathable cooling cover made with heat-absorbent polyethylene fibres that helps wick excess heat away from the body.
While the extras with both the Nectar and DreamCloud memory foam mattresses will take the edge off the heat, if you want a touch more cooling for warmer seasons, adding one of the best cooling toppers will provide welcome relief.
Nectar vs DreamCloud temperature regulation winner: Nectar
Nectar wins here with its extra cooling feature built into the cover that gives breathability to the mattress, which is essential if you get too hot when you sleep. The gel memory foam offers a little more cooling than traditional memory foam, too.
Nectar vs DreamCloud: Which should you buy?
Buy the Nectar if...
✅ You want extra cooling: While the Nectar Memory Foam mattress isn't a dedicated cooling mattress, it does feature some extra touches, such as a breathable cover for an airier-feeling mattress.
✅ You're a combination sleeper: The Nectar offers a balanced feel with softness and support in equal measure, ideal for combination sleepers.
✅ You're on a tighter budget: With a lower starting cost and a price difference that gets larger as the sizes go up, the Nectar Memory Foam mattress is the more affordable choice. You still get a 365-night trial, forever warranty and free delivery/returns too.
Buy the DreamCloud if...
✅ You want more plushness from the top: The DreamCloud's luxurious feel is clear the minute you lay down your head, with a soft cover made with cashmere blend and quilted with not one, but two foam layers.
✅ You sleep on your side: With its soft layers and sturdy support base, there's plenty of cushioning and stability for side or combination sleepers here.
✅ You want a mattress that's easy to manoeuvre: The DreamCloud includes handles down the side of its memory foam mattress – this thoughtful design feature always comes in handy when it's time to rotate the mattress or move home.