The new Apple Watch Ultra 2 may be the hottest smartwatch this upcoming holiday season, but thanks to an early Black Friday deal, anyone willing to forego the watch's fanciest features can save quite a bit of cash by grabbing the original Apple Watch Ultra instead.
The Ultra 2 costs $799 and is currently available for $774 via Amazon. In contrast, the original Ultra can be yours for $659 — $140 off its original retail price. So the question is, are the Ultra 2's new features and tech worth $140 to you, or is the original Apple Watch Ultra enough to meet your needs? Let's go through some use cases to find out.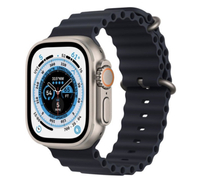 Apple Watch Ultra: was $799 now $659 @ Amazon
Launched in 2022, the original Apple Watch Ultra may have since been usurped by the Ultra 2 but it's still a fantastic piece of tech for adventure-minded folks. It also sports the same design and many of the same features as its successor, including a built-in SOS siren, fall detection, a dual-frequency GPS, 100 meters of water resistance and more.
I want the Apple Watch with the best screen: Get the Ultra 2
If you're after the best screen performance, the Apple Watch Ultra 2 will likely suit you better. Both devices sport Retina OLED displays but the Ultra 2's goes up to 3,000 nits compared to 2,000 nits on the original model. This makes the Ultra 2 easier to read in very bright daylight. This is also the brightest screen available on any Apple Watch model.
I want the best battery life possible: Get the original Ultra
For those concerned about battery life, you're probably better off saving some dough and sticking with the original model over the Ultra 2. Both models sport the same built-in rechargeable pack with 36 hours of battery life under standard operating conditions.
That said, in low-power mode, the Ultra 2 should give you a little bit more juice than the original: 72 hours versus 60 hours. But we're not convinced that stat alone is worth $140.
It's also worth mentioning that plenty of other smartwatches on the market offer substantially better battery performance, including the Fitbit Sense 2 (six days) and Garmin Venu 3 (five days).
I need the fastest performance: Get the Ultra 2
While the original Apple Watch Ultra is certainly no slouch when it comes to speed, the Ultra 2 sports Apple's latest S9 processor, the same one found in the new Apple Watch 9 Series. The Ultra 2 also boasts a quad-core Neural Engine for processing machine learning tasks twice as quickly as the original Ultra.
So, whether you're jumping between apps, installing new ones or downloading content, you can expect lightning-quick performance. This also means the Ultra 2 is better suited to handle and run future watchOS versions.
I need the toughest-built Apple Watch: Get the original Ultra
Both the Apple Watch Ultra and Ultra 2 offer the same rugged design and impressive water and dust resistance (IPX6). In fact, you'd be hard put to tell the two apart.
Constructed of space-grade titanium with a flat sapphire screen, both models are water-rated down to 100 meters and temperature-rated to operate on the wrist down to -4 degrees Fahrenheit. This means either model would be a good choice for activities like snorkeling or even scuba diving. Both are considered Apple's toughest-built smartwatch models.
I want Apple's new double-tap feature: Get the Ultra 2
Among the Ultra models, only the Ultra 2 supports Apple's handy double tap gesture, which can be set up to execute a range of commands, depending on which app is open. Using the gesture requires users to simply tap the screen twice with both their thumb and index finger and their watch hand. By default, a double-tap can be used to answer or end phone calls, reply to messages and more.
I need the best fitness and health tracking features: Get the original Ultra
Both the Apple Watch Ultra and Ultra 2 offer the same suite of fitness and health monitoring functions. So, we say go with the original model.
Users can keep tabs on their blood oxygen levels, heart rate and skin temperature, while also monitoring for signs of an irregular beat (thanks to an ECG sensor). There's also sleep and menstrual tracking but no recovery tracking. For the latter, you may want to consider the Whoop 4.0.
Apple Watch Ultra vs. Apple Watch Ultra 2 verdict
Ultimately, both of these models share more in common than not, including a rugged design, excellent safety features (fall detection, SOS siren, etc.), a well-placed action button, fantastic app compatibility and impressive overall performance.