Phones are getting more and more expensive nowadays, so it's good to know you can still get an awesome handset without paying a fortune. Not only that, but these inexpensive phones can still be found on sale.
For instance, the OnePlus Nord N20 5G is on sale for $229 at Amazon right now. We named it the best phone under $300 and it's now even cheaper. We highly recommend it to anyone shopping for a new phone on a budget.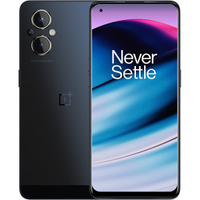 OnePlus Nord N20 5G: was $299 now $229 @ Amazon
An already cheap phone gets even cheaper, thanks to a discount on the OnePlus Nord N20 5G at Amazon. The Nord N20 is our favorite phone for available for less than $300, thanks to its beautiful design, good performance and solid battery life. It's even got an AMOLED display.
We'll get our biggest issue with the OnePlus Nord N20 5G out of the way first: its camera system is less than perfect. It's not great in dark conditions, but regular shots and selfies look OK. Still, the OnePlus Nord N20 5G is far from winning a spot on the best camera phones.
Everything else about the OnePlus Nord N20 5G is great for a phone at this price point. Running on a Snapdragon 695 chip, this phone handles everyday tasks very well. Gaming is a little iffy, but if you play simple titles or lower your graphics settings, the OnePlus Nord N20 5G gets the job done.
The battery life of the OnePlus Nord N20 5G is also excellent. We got 11 hours, 20 minutes out of our unit in the Tom's Guide battery test, which gets this phone a well-deserved place on our best phone battery list. It's only 22 minutes behind the iPhone 13 Pro (11:42), a phone with a starting cost of $999. Additionally, the 33W charger that comes with the OnePlus Nord N20 5G will juice the phone up from empty to 56% in just 30 minutes.
The design of the OnePlus Nord N20 5G may be its biggest selling point. It has a beautiful AMOLED display, an in-display fingerprint sensor, and a 3.5mm headphone jack. Plus, the phone's flat edges and gold finishing make it look a million dollars.
The OnePlus Nord N20 5G is the best phone under $300, so we highly recommend picking one up. Getting the phone for $229 is a steal. However, if you're looking for more options, check out our list of the best cheap phones.