My iPad Pro is the piece of tech I use the most during my leisure time. But I recently replaced Apple's official Magic Keyboard with a third-party keyboard case for my tablet, and now that case is reduced in one of the most tempting Amazon Prime Day deals yet.
At time of writing, the Logitech Combo Touch iPad Air Keyboard Case is on sale for $154 at Amazon. That's a nice saving of $45, compared to its regular $199 price. If you're reading this in the UK, there's also a similarly good deal, as the Logitech Combo Touch iPad 10th Gen Keyboard Case is on sale for £140 — down from its usual £159 price.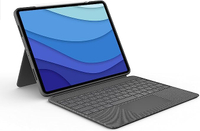 Logitech Combo Touch iPad Air Keyboard Case: was $199 now $154 @ Amazon
This stylish keyboard case is compatible with 4th and 5th Gen iPad Air models. Thanks to the detachable keyboard and adjustable kickstand, you can take advantage of 50 degrees of viewing angles. In the time I've owned it, I've found that the Combo Touch is a flexible accessory that caters to both my work and downtime needs.
Check other retailers: $159 @ Best Buy
I use the slightly more expensive version that fits the 12.9-inch iPad Pro, but the underlying accessory is the same, regardless of what size Apple tablet you own.
I bought the Logitech Combo Touch just over a month ago at full price. Normally, missing out on a saving would really bug me, but I've enjoyed using the keyboard/case hybrid so much, I can live with a little buyer's remorse.
The iPad Pro (2021) is one of my best-ever tech purchases, and the Combo Touch has only made me appreciate the tablet more. Originally, I paired my iPad with the $299 / £319 Magic Keyboard, and it served me well for 18 months. Then I spilled a beer on it, ruined several keys, and didn't want to shell out another $300 on a premium (yet probably overpriced) peripheral.
The Logitech Combo Touch admittedly lacks the sheer wow factor Apple's first-party keyboard provides thanks to that mystifying 'hanging' effect. But for half the price with this Prime Day deal, I'll take the third-party route every time. I actually prefer typing on the Combo Touch's pleasingly snappy keys, which is a bonus.
Make no mistake: Logitech's keyboard case feels premium. I went for the 'Oxford Grey' version, and the stitched materials the company uses on this keyboard/cover scream both quality and durability.
My favorite thing about the Combo Touch is its versatility. The keyboard and case are actually two separate components joined by a magnet, so unconnecting them is easy.
Currently, I have the keyboard attached in the evenings when I'm looking for Zelda: Tears of the Kingdom tips with my iPad next to my Switch OLED; then, the keyboard comes off when I listen to rain noises on YouTube in bed. That's obviously a highly specific usage scenario, but I appreciate the Combo Touch caters to a need I didn't previously know I had.
If you're looking for other related discounts, make sure you don't miss our best Prime Day iPad deals.