A big price tag doesn't always equal big comfort, as the Siena Memory Foam Mattress proved to us when we rated it a solid 4 out of 5. The Siena is especially impressive considering its rock bottom price – and today it's even cheaper as you can get a queen size Siena for just $379 in the brand's Flash Fall Sale.
We added the Siena to our official best mattress guide, highlighting it as the top choice under $500. We normally see it on sale for around $399, so today's sale price of $379 is the cheapest we've seen in a while. The sale ends on Thursday 28 September, so don't sit on this one. We'll also be keeping an eye out for it in this year's best Black Friday mattress deals and sales.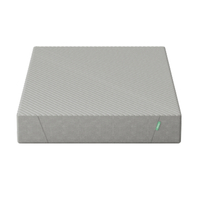 Siena Memory Foam: 53% off in Flash Fall Sale
Was: from $499
Now: from $199
Summary: The Siena is the best memory foam mattress for anyone with a very small budget. Today you can buy a queen size Siena for just $379. That's a brilliant price, rivalled only by the likes of the Casper Snug ($495 for a queen at Casper). The Siena is 10" tall, which is a standard mattress height, and when we slept on it we found it had a subtle contouring effect. So you won't sink in deeply. We'd even describe it as being on the firmer side of medium-firm, and would therefore recommend it to back and stomach sleepers. Side sleepers, take a look at our best mattress for side sleepers guide instead. The Siena slept fairly cool for an all-foam bed too, which surprised us.
Price history: As we explain in our Siena Memory Foam Mattress review, this all-foam bed is normally on sale for $399 in a queen size, so admittedly an extra $20 off isn't a huge amount. However, we don't see Siena Sleep sales that often so the chance to get a queen for $379 isn't to be ignored. There are plenty of beds discounted in this month's mattress sales, but few come close to offering what the Siena does at these prices.
Extras: 180-night trial; 10 year warranty; free shipping and returns
Siena Sleep is a sister brand to Nectar Sleep, but as it's a significantly cheaper mattress (the Nectar mattress sale drops a queen to $699) it doesn't offer the same year's trial and lifetime warranty as the Nectar. Instead, with the Siena you get a 180-night trial, a 10-year warranty and free shipping and returns.
While Nectar normally leads the Black Friday mattress deals, we aren't sure whether Siena will be making an appearance yet. So if you need a new mattress and like the Siena, now is a good time to buy.
Are cheap mattresses worth it?
As we said in the beginning of our article, a big price tag doesn't always equal big sleep comfort. There are a few good cheap mattresses out there that punch above their weight and deliver a nice balance of support and comfort. Some of them, like the Siena Memory Foam and the Cocoon by Sealy Chill, sleep reasonably cool too. Though if you overheat, consider getting a proper cooling mattress instead.
So cheap mattresses are worth it as long as you know what to look for and as long as you don't expect them to last several years (the average lifespan of a good mattress is eight years).
Based on our testing and research, we'd recommend considering the following before buying a budget mattress:
What position you sleep in
The firmness or feel of a mattress you like best
Any specific health or sleep issues your mattress needs to help with
Whether you sleep alone or share a bed
Does it come on a trial period?
Are shipping and returns free?
Is it covered by a warranty and is that a full or limited warranty?
Many of the best mattress in a box brands are now making affordable mattresses, including the likes of Casper and Sealy. Always check the sale terms and conditions before buying, and research trusted mattress reviews such as ours as well as what existing customers have to say.