Meta has announced a bundle deal for the Meta Quest 2, formerly known as the Oculus Quest 2. Now not only do you get one of the best VR headsets on the market, but you get two free games to enjoy right away.
From now until June 3 (or while supplies last), the Meta Quest 2 VR headset w/ GOLF+ and Space Pirate Trainer DX is available for $399 at Meta. That's a $49 value when combining the price of the two free games.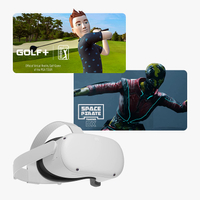 Meta Quest 2 (128GB) w/ GOLF+ and Space Pirate Trainer DX for free: $399 (a $50 value) @ Meta
Yes, we're still mad they raised the price, but the Meta Quest 2 is simply the best VR headset out there. For a limited time, you can get a new one with two free games (GOLF+ and Space Pirate Trainer DX) included. This deal also works with the 256GB model for $499. It is also available at Amazon.
It's important to note that the two bundle games aren't throwaway titles, either. Alongside the Meta Quest 2 headset, this package contains digital copies of GOLF+ and Space Pirate Trainer DX. While not quite as iconic as some of the best VR games out there, both have incredibly high ratings on the Quest store. GOLF+ has nearly five stars with over 13,561 reviews and Space Pirate Trainer DX isn't far behind it.
As for the device itself, we rank the Meta Quest 2 as the best VR headset you can buy. We labeled it a "masterclass in incremental improvements" as it builds upon the solid foundation of its predecessor. In our Meta Quest 2 review, we said its combination of price, a vast library of must-play games, and its overall ease of use makes it "The best entry point into virtual reality yet."
It's not the perfect VR experience, but being able to play games without being tethered to your PC is very freeing. You will need a link cable in order to play PC games which is an inconvenience, as is the lack of rechargeable controllers. However, these minor issues are easy to overlook because the Meta Quest 2 headsets get pretty much all the fundamentals right.
Finding the Meta Quest 2 in stock hasn't always been easy in the past, so the chance to score this impressive VR headset with a couple of worthwhile free games is an opportunity that shouldn't be passed up. Grab one now before units sell out.