As much as I would love to, I don't have the space or the money to deck out my home with all of the very best gym equipment. However, when I don't have time to trek to the gym for a strength session or when I just crave a simple home workout, I use my trusty Bowflex SelectTech 840 Kettlebell and it never fails me.

You can currently get the Bowflex SelectTech 840 Kettlebell for 25% off, because Amazon has marked this product down for its early Black Friday deals. This kettlebell price drop is not one to miss, as it is usually on the pricier side of $199, but right now it's available for a prettier $149.
Sale price or not, the Tom's Guide fitness team rates it as number one in our best kettlebell roundup for its space-saving design and versatility.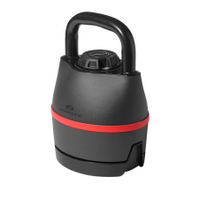 Bowflex SelectTech 840 Kettlebell: was $199 now $149 @Amazon
The Bowflex SelectTech 840 Kettlebell boasts an adjustable design, offering a weight range of 8-40lbs, making it ideal for all fitness abilities. This space-efficient weight is on sale for $149 right now and this includes a two month free trial of the JRNY membership which recommends kettlebell workouts suited to your fitness ability.
What really sets the Bowflex SelectTech 840 Kettlebell apart for me is its ease of use. I can transform my bedroom into a mini workout station, thanks to its adjustable design. The compact and unobtrusive look of the kettlebell allows me to keep it tucked away in the corner of my room, ready for action whenever I am.
With the adjustable design, I can engage in a vast array of exercises - such as squats, lunges, presses and weighted ab exercises - without the need for an entire kettlebell rack with various weights. The inconvenience of jostling for the right kettlebell at the gym or dealing with a limited selection of weights is not an issue when I use this Bowflex number at home. It also offers me the flexibility to implement progressive overload into my training at home by effortlessly adjusting the weight dial as needed.
I'm a keen runner and this year I have really been focussing on adding more hip strengthening exercises to my kettlebell workouts in order to develop more strong and efficient hip flexion on my runs. One particular exercise I've been trying to get good at is kettlebell hip marches, which I require a lighter weight for and a spacious enough handle so that I can fit my foot and shoe inside it. After many awkward moments trying to squeeze my shoe into a tiny kettlebell loop at the gym, I can confidently say, that the Bowflex SelectTech 840 Kettlebell is the only bell that I can comfortably complete this move with.
While the kettlebell's plastic material isn't as robust as traditional steel kettlebells, I've found it to be ideal for my home workouts, as I already steer clear of high-impact movements that could disturb my neighbors.
As a regular kettlebell user, I highly recommend the Bowflex SelectTech 840 Kettlebell to anyone looking to take their strength training at home up a notch without taking up space. We fully expect many more great fitness deals to come over the official Black Friday period so stick with us as we cover all the best deals as and when they come.