The Steam Deck is on sale right now for only the second time ever, and it's one of the biggest discounts we've seen yet on Valve's handheld gaming PC.
Valve is hosting its annual Steam Summer Sale right now, and during the sale the Steam Deck (512GB SSD) is on sale for $519.20 on the Steam Store. That's roughly a $130 savings compared to its usual $649 asking price, and the cheapest it's ever been.
If you want something cheaper, good news — all three models of Steam Deck are discounted during the Steam Summer Sale. That drops the Steam Deck (256GB SSD) to $449.65 and the Steam Deck (64GB eMMC) is $359, although we generally advise against opting for the entry-level model, as 64GB is too little space to hold more than a couple of games.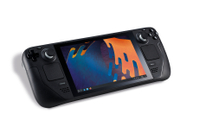 Valve Steam Deck: was $649 now $519 @ Steam Store
Valve has discounted Steam Decks by 10% to15% for a limited time as part of the Steam Summer Sale. This is the most expensive model and it bears the largest discount, knocking the usual $650 asking price of the 512GB SSD Steam Deck down to roughly $520.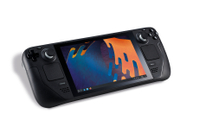 Valve Steam Deck: was $399 now $359 @ Steam Store
Valve has discounted all Steam Decks by 10% to 15% for a limited time as part of the Steam Summer Sale. This is the cheapest model, which bears the smallest discount and the least amount of onboard storage.
The Deck should be available at this discounted price for the duration of the Steam Summer Sale, which is on now and scheduled to conclude Friday, July 7 at 1 p.m. ET/10 a.m. PT.
While the Steam Deck still has a few shortcomings, we hope Valve will address via either system updates or a second-generation model, but there's no evidence such a successor is coming anytime soon.
So if you want a handheld that can play most PC games well, this is a stellar choice that has helped establish a whole new category of handheld gaming PC.
If you're still on the fence check out our Steam Deck review, where we celebrated how it "mostly delivers on its promise of allowing you to play PC games on the go." We were impressed with the Steam Deck's sturdy but still lightweight construction, as well as the large 7-inch screen.
Of course, a word of caution: Not all of the best PC games are Steam Deck compatible, and some popular games (like Destiny 2 and Call of Duty) have anti-cheat tech or other software components that don't play well with the Linux-based Steam Deck.
However, the list of games bearing Valve's Steam Deck Verified seal of approval is growing every day, so it might be a good idea to snap one up now while they're on sale for the lowest price we've ever seen.