The Purple Mattress, also known as the Purple Original, is one of the most famous beds in America. And thanks to this year's Black Friday mattress deals you can save $200 on every size of the Purple Mattress, with a queen reduced to $1,199 (was $1,399). This is a great opportunity to buy the brand's signature bed for less, but is the Purple Original the best mattress for you?
As a sleep and mattress writer, I know that the Purple Mattress is on the wish list of many people, and it's also one of Tom's Guide's top picks for best mattress for side sleepers. In our Purple Original mattress review, testers praised the mattress for its deep pressure relief and temperature control, so I can confidently recommend the mattress to sleepers needing a cooler bed that eases aches and pains.
However, I also know from my work that even the best memory foam mattresses aren't for everyone, and I suggest that those in need of a firm mattress without contouring memory foam feel should look elsewhere. Luckily, I've broken down all the pros and cons of the Purple Original so that you can make an informed decision as to whether you should buy Purple's claim to fame this Black Friday. First, let's take a closer look at this Black Friday sale offer...
Black Friday mattress sales — Quick links
The Purple Mattress Black Friday deal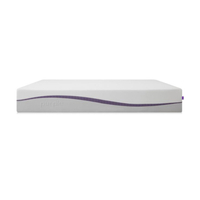 The Purple Mattress by Purple
Was: from $799
Now: from $599 at Purple
Saving: Up to $200
Summary: I think the Purple Mattress is one of the best memory foam mattresses you can buy, thanks to the use of GelFlex Grid technology that delivers superb pressure relief and contouring. In tandem with a breathable SoftFlex cover, that GelFlex Grid layer dissipates heat to keep hot sleepers cool. A 2" surface layer also adapts to your in-bed movements to constantly relieve pressure, which should be music to the ears of anyone with aching joints. When creating our Purple Original mattress review, Tom's Guide testers noted that it absorbed motion well, so I think it will make an excellent choice for restless bed sharers. The medium-firm feel suits a wide range of body types, but I think it's a particularly good mattress for side sleepers thanks to how well it hugs the shoulders, hips and knees.
Price history: There are Purple mattress sales and deals most months, with average discounts ranging from 10-15%. I've looked around and all sizes of the Purple mattress have been reduced by $200, with a queen down to $1,199 (was $1,399). This is a good price for the Purple Mattress, but from research I can see that in the past Purple has slightly tweaked their deal for Black Friday and Cyber Monday. Therefore I'd suggest waiting just a little longer to see what deal Purple goes with on Black Friday itself. You may find that you'll get a money off saving and free bedding. However if you need a new mattress urgently, $200 is in-line with the larger discounts I've seen from Purple recently.
Benefits: 100 Night Trial | 10 Year Warranty | Free shipping
Why you should buy the Purple Mattress this Black Friday
✅ 1. It's great for couples and restless sleepers
Our wider review panel and the lead tester for the Purple Original mattress found that the motion isolation is very high, making this a great mattress if you bedshare with someone who moves around a lot in their sleep. The Gel Flex Grid inside the Purple Original will simply soak up the movements from your partner, so less of them will transfer to your side of the mattress, waking you up.
The only slight issue I can see for couples is that the edge support on the Purple Original mattress is a little weak, so you may find that if you sleep right up to the edge of the mattress to maximise space, it won't be as supportive as it is elsewhere. I don't think it's a dealbreaker by any stretch though.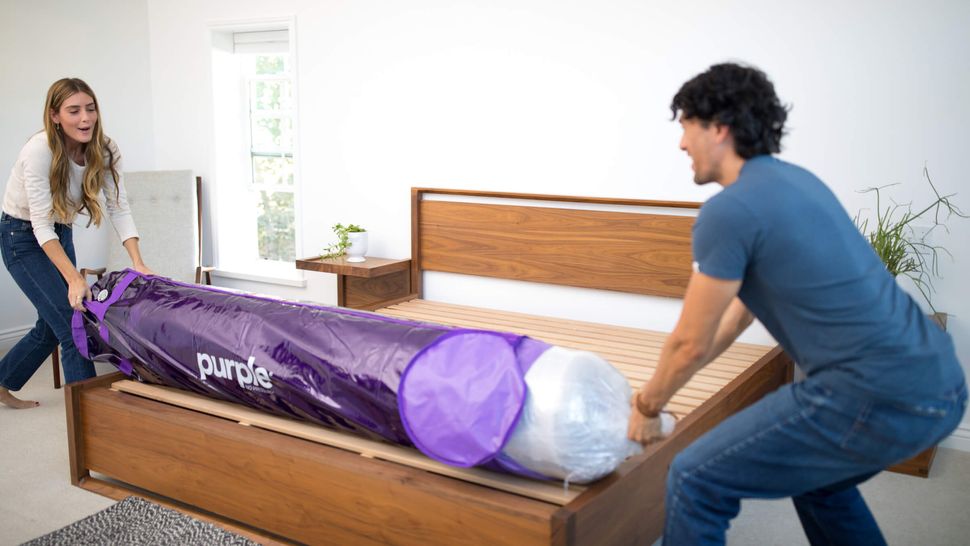 ✅ 2. The Purple Mattress keeps hot sleepers cool
With a breathable cover and a GelFlex Grid layer that dissipates heat, the Purple Original is designed to help you feel cool throughout the night. I'm mentioning this because memory foam-style beds typically hold onto heat and are therefore not something I would usually recommend to hot sleepers – you'll find very few all-foam beds in the Tom's Guide best cooling mattresses rankings, for example.
The members of our review panel for the Purple Original who tend to overheat at night found that they stayed comfortably cool throughout the night. The polymer grid system contains over 2,800 open channels to encourage air to flow throughout the mattress. Teamed with the breathable foams, I think this makes the Purple Original an excellent option for anyone who overheats.
✅ 3. It also alleviates aches and pains
The Purple Original's snuggly support has made it a standout choice for providing deep pressure relief to those with joint and back pain. I believe side and back-sleepers will be super comfortable on this bed, with pressure points (shoulders, hips, and knees) massively reduced.
The bed's soothing comfort is all thanks to the adaptive technology which conforms to your body's shape for extra pressure relief. I know from my job writing about different types of mattresses that a medium-firm rating has a universal appeal and should suit most sleep styles and body types. Though if you weigh over 250lbs and sleep on your back or stomach, I'd recommend considering one of the best mattresses for heavy people instead.
Why you shouldn't buy the Purple Mattress this Black Friday
❌ 1. Some may find the bouncy feel too soft
Memory foam is known for its traditional floating-on-air feel and body-contouring 'hug'. For those who prefer a softer bed – such as lightweight or side sleepers – I think the cushiony feel of the Purple Original will fit you well.
If you're a stomach and heavyweight sleeper, however, I'd recommend opting for something firmer to keep your body on top of the mattress where your spine will be properly aligned. If your back dips at any point when sleeping on a softer mattress, over time this will lead to lower back pain.
The Purple Original also has a feel that our panel described as 'unusual' and won't appeal to everyone, which could be due to the unique materials involved. The other thing I want to point out is that this Purple Mattress is quite a thin model at 9.5 inches tall, whereas most mattresses are at least 10" tall. The GelFlex Grid overcompensates for this, but if you want a taller profile mattress of at least 11.5", check out our Saatva Classic mattress review and, for a more affordable choice, DreamCloud Mattress review.
❌ 2. The Purple Mattress has weak edge support
Mattresses need edge support to make it easy to get in and out of bed and to make sure the bed doesn't dip when you sit on its edges. Strong edge support means you can also sleep right up to the edges and experience the same support and comfort, all while maximising your sleep space.
While the Purple Original does contain edge support form to increase support and durability, I explained above that our in-house test data shows that the support could be better.
I'm aware that it's notoriously difficult for memory foam beds to get edge support right – and I should note that the Purple Mattress's edge support is still adequate and never caused our testers to roll off it – but just be aware that you'll likely feel yourself sinking a little while on the mattress edge, especially if you're heavier than average.