The Eight Sleep Pod cover is a quick way to turn your existing mattress into a smart bed – and at a fraction of the price too. An app-controlled mattress cover with integrated sleep tracking, the Eight Sleep mattress cover enables you to have dual cooling and heating, so you and your partner can sleep at different temperatures. And the Eight Sleep Pod Cover has been reduced by $250 , with its cheapest model, the Eight Sleep Pod 2, now priced from $1,545 (was $1,795) in the Black Friday mattress deals.
However, as a sleep writer, I know even the most affordable of smart mattresses doesn't come cheap, so it's important to weigh the pros and cons before buying. Luckily, I've created a guide to the advantages and the disadvantages of the Eight Sleep Pod 2 Cover, along with a breakdown of its core features, to help you decide if this piece of sleep technology is right for you.
If you decide to buy a more traditional mattress instead, then our best mattress buying guide contains all of this year's top-rated models.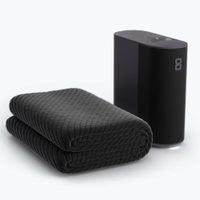 Eight Sleep Pod 2 Cover at Eight Sleep
Was: from $1,795
Now: from $1,545 at Eight Sleep
Saving: Up to $250
Summary: A favourite among pro-athletes, this smart mattress cover uses world-class, medical-grade hardware and software to help you fall asleep faster and wake you up feeling more refreshed. The Pod 2 is compatible with 10"-11" mattresses only (but you can upgrade to a PerfectFit which fits all beds). While Eight Sleep has their own 5-layer non-smart mattress that's compatible with the Pod 2 cover, we recommend sticking with your own mattress as the 5-layer mattress doesn't feature any smart technology.
The mattress cover is both cooling and self-heating, as it can adjust the bed's temperature based on your sleep stages and weather – ideal for any hot sleepers who suffer from night sweats. The bed also uses sensors to track bedroom conditions, sleep, and health, along with sending you daily health reports to give you insight into your sleep duration and heart and respiratory rates. Along with helping you fall asleep and tracking how long you stay asleep, it also helps to wake you up in a silent, gentle way by using chest vibrations and gradual thermal change.
Price history: This year, we've seen the Pod 2 to its lowest price at $1,845 for a full size. However, its latest Black Friday deal has now knocked an extra $300 off that discount price (and $250 off its MSRP), as you can now get your hands on a Pod 2 for as little as $1,545.
Eight Sleep discounts aren't known to stick around for an extended time, so we recommend taking advantage of this Black Friday deal while you can.
Benefits: Free Delivery | 30-night trial | 5-year limited warranty
Why you should buy the Eight Sleep Mattress Cover this Black Friday
✅ 1. Eight Sleep's mattress cover keeps you warm and cool
Ranked as one of our best cooling mattresses, this mattress cover uses individualised cooling and heating technology which adapts to your bedroom conditions and sleep stages. This is not only ideal for those who live in a warm climate, but also for those who tend to overheat at night. If you enjoy the comfort of a memory foam mattress, but don't enjoy its tendency to trap heat, this cooling smart cover makes a great addition to your bed.
✅ 2. It tracks your sleep and resting heart rate
A favourite among pro-athletes, the Pod 2 Cover uses medical-grade hardware and software to track your heart and respiratory rate, along with your bedroom conditions. The mattress then collects and compresses this data into daily, weekly, and monthly reports so you can keep track of your sleep, health, and fitness levels. This feature is ideal for those who live an active lifestyle or want to improve their overall health.
✅ 3. It's ideal for early-risers
Is your schedule forcing you to become a morning person? Well, the Pod cover's customisable silent alarm is the perfect way to rise early without feeling groggy. In the morning, it gradually warms the cover and vibrates at chest-level for a soothing wake-up call so you can start your day feeling refreshed instead of startled by a loud alarm clock.
Why you shouldn't buy the Eight Sleep Mattress Cover this Black Friday
❌ 1. It has membership costs attached to it
While it goes without saying that the high-tech features of the cover is every health guru's dream, I should warn you that a lot of these features are hidden behind a paywall. To unlock the full features of the pod, you are required to sign up to a 12-month Eight Sleep Membership, which starts at $15 a month.
While one membership covers both you and your partner, this can be quite annoying for those who signed up for a cool mattress cover, not a year-long membership. Plus, the extras aren't great – most mattresses have trials up to 365 nights, while this mattress cover has a 30-night trial. This barely scrapes the recommended adjustment period, and its 5-year warranty could be slightly longer, too.
❌ 2. There's only a limited amount of size options
The Pod 2 cover is only compatible with mattresses 10" to 11" thick, but you can get a one-size-fits-all version if you upgrade to the popular Pod 3 PerfectFit. However, whichever model you choose, the cover only comes in 4 sizing options: full, queen, king, and Cal king. If your mattress is a twin or twin XL size, you should unfortunately look elsewhere for a smart cover.
Black Friday mattress sales — Quick links