Founded in 2010, Amerisleep makes a small range of mattresses designed to be high-performing and supportive. The AS2 is the brand's firmest option and also the cheapest in the range. It's available as either all-foam or a hybrid. In this article, we're going to take a closer look at the AS2, to see how it might compare to the rest of today's best mattresses.
We'll explore factors such as design, price, comfort and support to help you can decide if it's the right mattresses in a box for you. Because we haven't had a chance to test this bed out for ourselves yet, we've also combed through existing customer reviews to get a picture of how the AS2 performs in practice. Let's see if the Amerisleep AS2 mattress might be the right choice for you.
Amerisleep AS2 mattress: At a glance
The Amerisleep AS2 is designed especially to promote healthy spinal alignment, and is marketed as a good mattress for back pain. It's available in either all-foam or hybrid versions. Both feature the brand's own 'Bio-Pur foam' rather than traditional memory foam; the all-foam version adds a zoned layer designed to promote correct spinal alignment, while the hybrid has a layer of pocketed springs for increased responsiveness.
Amerisleep AS2 all foam / hybrid specs
Type: Memory foam / hybrid bed-in-a-box
Trial Period: 100 days
Warranty: 20 years
MSRP: $1,299-$2,248 / $1,499 – $2,648
Height: 12 inches
Firmness (1-10): medium-firm, no rating given
Customer rating: 4.7/5 (3,300 reviews)
This is Amerisleep's firmest mattress, with the brand rating it as a medium-firm (there's no rating out of 10 given, and no information as to whether there's a difference in firmness between the all-foam and hybrid versions, so we'd assume it's the same for both). Typically, we'd recommend this level of firmness to back sleepers or stomach sleepers, who need that extra support to keep their spines aligned in this position. The firmer sleep feel means the Amerisleep AS2 is probably not the best mattress for side sleepers of any shape or size, though, because there's a risk of pressure points building up at the shoulders and hips. Existing reviews echo these sentiments.
Although not specifically a cooling mattress, Amerisleep has put thought into keeping sleepers cool at night. The own-brand Bio-Pur foam boasts an open-cell structure that should deliver more breathability than traditional memory foam. There's also a cooling cover, designed to wick heat away from the body. We'd expect the hybrid version to be the more breathable of the two options, because the coil layer provides somewhere for air to circulate.
Customers also say that the layer of springs in the AS2 Hybrid also give the mattress good edge support and, whilst the motion transfer isn't bad, those sharing a bed with a really restless partner might want to consider the all-foam version of the AS2 for greater motion isolation.
Prices for the AS2 start at $1,299 (MSRP) for a Twin (or $1,499 for a twin Hybrid), but we often see generous discounts of around 30% on these mattresses, so don't expect to pay full price.
Amerisleep AS2 mattress: Price
The AS2 mattress sits at the high end of mid-range mattresses, although with one of Amerisleep's regular discounts you can grab a good bargain. Here are the ticket prices for the AS2 All-foam and Hybrid versions, alongside the regular deal price:
AS2 All foam / Hybrid
Twin: MSRP $1,299 (usually $849) / MSRP $1,499 (usually $1,049)
Twin XL: MSRP $1,349 (usually $899) / MSRP $1,549 (usually $1,099)
Full: MSRP $1,499 (usually $1,049) / MSRP $1,699 (usually $1,249)
Queen: MSRP $1,549 (usually $1,099) / MSRP $1,749 (usually $1,299)
King: MSRP $1,849 (usually $1,399) / MSRP $1,949 (usually $1,299)
Cal King: MSRP $1,399 (usually $1,399) / MSRP $1,949 (usually $1,499)
Split King: MSRP $2,248 (usually $1,798) / MSRP $2,648 (usually $2,198)
Amerisleep offers regular discounts and offers on its products. Our mattress sales guide will keep you up to date with all the latest discounts.
Amerisleep AS2 mattress: Design and materials
Starting at the top, the AS2 is covered with Amerisleep's Refresh Cooling Cover, designed to help wick heat away from the body. Underneath is a layer of Bio-Pur foam, designed specifically by Amerisleep to be cooler and more breathable than traditional memory foam, thanks to an open-cell structure.
If you opt for the all-foam version, next up is a HIVE transition layer. This is zoned to give the head, back and legs extra support, while boosting cushioning to around the shoulders and hips. This sits atop a chunky 'Bio-Core' base, which is mainly there for durability and stability.
The design of the hybrid version is a bit more complex. Beneath that upper layer of Bio-Pur is a thin layer of firmer foam to add stability to the mattress. Underneath this is the main support section of the mattress – an 8" layer of coils, which make the sleep surface more responsive. The coils along the left and right sides are firmer, to bolster the edge support, although this doesn't extend to the head and foot edges.
All the foams in the Amerisleep AS2 are Certi-PUR certified, meaning they're free from harmful chemicals and heavy metals, and are produced without dangerous or toxic materials. The Bio-Pur foam is also made with environmentally friendlier plant oils.
Amerisleep AS2 mattress: Customer reviews
The AS2 scores 4.7/5 on the Amerisleep website, based on just over 3,200 reviews (January 2023). Reviews for both the hybrid and all-foam versions are bundled in together.
A recurring theme throughout the reviews is what a good job the AS2 does at relieving aches and pains and, in particular, back pain. Both back and stomach sleepers report feeling well supported by the mattress, with a recurring theme being how firm the Bio-Pur foam is compared to traditional memory foam. Sleepers praise the mattress for being extremely supportive in these sleeping positions.
Most customers praised the temperature regulation on the AS2, commenting on how well it kept them cool through the night. Of course as with all things, not everyone agreed on this and a few customers found the mattress slept warm.
Most of the lower starred reviews complained that the mattress was just too firm. Firmness preference is very personal, but a handful specifically say the mattress is uncomfortable in a side sleeper position. Typically, we'd recommend a slightly softer bed for side sleepers, to provide the required cushioning around the shoulders and hips in this position.
Those who comment on motion transfer all agree that this mattress is good at isolating movements from elsewhere in the bed. As a rule, we'd expect the all-foam version to be better in this regard, as springs increase the responsiveness of the sleep surface (the two versions are lumped in together here, so we can't back this up with review comments). Longer-term durability can be tricky to assess as most reviews are left shortly after purchase, but there are no comments to suggest premature wear.
Is the Amerisleep AS2 Hybrid any good?
Based on customer feedback, we think this mattress is a great choice for back pain sufferers who sleep on their backs or stomachs. The firmer feel should promote correct spinal alignment in these positions, preventing the sleeper's hips from sinking too far into the bed. It's also firm enough to support sleepers of up to 300lb. This wouldn't be our recommendation for side sleepers of any weight, as the mattress is too firm to relieve pressure points at the hips and shoulders.
The general consensus is that the AS2 does a decent job of keeping sleepers cool at night, with its cooling cover, open-cell foam and spaced-out coils. We expect the hybrid version to sleep cooler than the all-foam alternative, if overheating is a particular issue for you.
We'd also recommend the Amerisleep AS2 to anyone who shares a bed, with plenty of reviews praising the motion isolation on offer here (the all-foam version should be your pick if motion isolation is your priority, as coils are always going to add some bounce). But overall this is a mattress that will suit many sleepers and could be a particular godsend if you suffer from back pain.
Amerisleep AS2 mattress: Also consider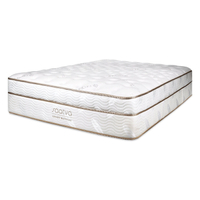 Saatva Classic from $995 at Saatva
The Saatva Classic is our overall top-rated mattress, and available at a similar price to the AS2 Hybrid. This luxurious innerspring hybrid comes 3 firmness options – Plush Soft, Luxury Firm and Firm. There's not much memory foam here, so this would be a good option for someone who's not after that 'sink in' sleep feel. It scored highly across the board in our tests, and would suit a wide range of sleepers.
Read our Saatva Classic mattress review.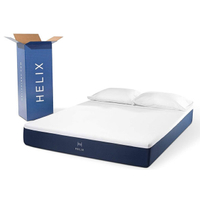 Helix Midnight from $936 at Helix
If you're a dedicated side sleeper, check out the Helix Midnight. It's softer than the AS2, and the upper layer of memory foam will comfortably cradle pressure points at the shoulders and hips. Regular sales mean you'll usually be able to pick it up at below MSRP. Combi-sleepers beware though – this one's not firm enough to support healthy spinal alignment in a stomach sleeping position.
Read our Helix Midnight mattress review.