Amazon Prime Day deals are here, with more and more rolling out as the day progresses. If you're in the market for a new gaming laptop, this could be the deal for you.
Right now, Best Buy is selling this HP Victus 15.6" gaming laptop for $679 — that's $220 off and much cheaper than Amazon, where it costs over $950. While this is still a relatively new laptop, this is the cheapest price we've seen it so far since release, so it might be worth taking the plunge.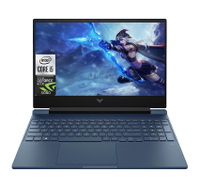 HP Victus 15.6" (RTX 3050/8GB/512GB): was $899 now $679 @ Best Buy
The HP Victus 15.6" gaming laptop features a 144Hz, 1080p display, for a smooth gaming experience. There's a discrete GPU in the form of an RTX 3050, an eight-core 13th Gen i5 CPU and a 512GB SSD. Performance will likely be limited by the 8GB of RAM, but at this discounted price, this laptop could still be a decent option for portable gaming on a strict budget.
The best gaming laptops pack enough power to take on today's resource hungry games. And, ostensibly, this HP Victus laptop does have a few decent specs.
This is the base model of the 2023 HP Victus lineup, featuring an eight-core, 12-thread i5 CPU from Intel's 13th generation architecture, known as Raptor Lake. It's a decent processor, and should provide enough performance to tackle demanding games, as well as multi-tasking and perhaps even some production work. There's also a 144Hz 1080p display — a high refresh rate like this is one of the best features you can ask for in a monitor or laptop display, resulting in smooth gameplay.
On the face of it, though, the rest of the internal specs are slightly underwhelming. The 6GB Nvidia RTX 3050 GPU will only really allow for gaming at low to medium settings on modern, graphically intensive titles. Although it should be able to run less demanding contemporary titles at medium to high settings.
There's also only 8GB of RAM, which may only come in single channel, as sister publication Tom's Hardware found in its HP Victus 15 review. This will limit performance and multi-tasking quite a bit, and isn't really enough for medium to high-end gaming on modern titles. What's more, 512GB of storage isn't a huge amount, although it's not unexpected to see under a terabyte in this price point.
However, for the money, these aren't bad specifications. What's more, you can actually do something about the RAM and SSD — this machine should be easy to open up for the installation of new RAM in dual channels and a second M.2 SSD.
What you can't do much about is the GPU, so if you have the extra cash, you may be best looking for something with an RTX 3060, or an RTX 40-series GPU inside. So, at full price, I probably wouldn't recommend buying this. But on offer as it is, the HP Victus could make perfect sense if you're on a tight budget and only need something for entry-/mid-level gaming, especially if you're prepared to do a few upgrades.