The best cheap tablet on the market has just seen a price cut, so now's the time to pick one up.
The iPad 10.2-inch (64GB/2021) is $249 at Amazon right now. (Amazon lists the price as $279, with an additional $29 discount taken off at checkout.) This is the lowest price ever for this model, making it one of the best iPad deals I've ever seen.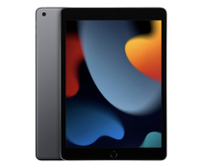 10.2" iPad (WiFi/64GB): was $329 now $249 @ Amazon
Lowest price! Apple's entry-level iPad features an A13 Bionic CPU, 10.2-inch (2160 x 1620) LCD, 8MP camera, 12MP front camera, and an epic battery life of nearly 13 hours. Currently, Amazon has has the 64GB model on sale for $249, which is the cheapest price yet.
The 10.2-inch iPad is the best cheap tablet you can buy. In our iPad 10.2-inch (2021) review, we praised this device for its great display, performance and value for money.
Running on the A13 Bionic chip, this tablet delivers strong performance for everyday tasks and gaming. Even when we were multitasking between multiple apps and tabs, the 2021 iPad ran like a charm. Video editors and hardcore gamers on the go should opt for the iPad Pro 2022 with its M2 chip for improved performance, but the iPad 2021 is perfect for casual users.
This iPad's 10.2-inch display produced bright, vibrant images. Paired with a set of decent speakers as well as a headphone jack, the iPad 2021 is ideal for watching shows and movies. And it has excellent battery life — we got 11 hours and 59 minutes of life out of our unit.
Plus, the iPad 2021 packs an 8MP back camera and a 12MP front camera, both of which take good shots. If you take a lot of video calls, Center Stage support will keep your face in frame if you move around the room.
There are some downsides to the 10.2-inch iPad — the design feels somewhat dated compared to newer tablets like the iPad 2022. We also wish this tablet supported the Magic Keyboard and the 2nd-Gen Apple Pencil. However, for most people the iPad 2021 offers an excellent package, and it's only gotten better now this tablet has hit $249. Stay tuned to our 4th July Apple sales page for more deals.