Students will return to the classroom in a matter of days. If you're looking for the best budget laptops out there, I've just spotted a killer deal on a machine that's bound to meet most student needs.
For a limited time, you can get the Gateway 14-inch Ultra Slime Notebook for just $399 at Walmart. This is one of the best back to school laptop deals I've seen all summer, especially if you're on a tight budget. While Gateway doesn't hold a spot in our best laptops guide, this machine packs a surprising amount of tech for its price.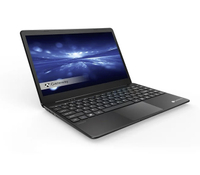 Gateway 14" Ultra Slim Laptop: was $479 now $399 @ Walmart
The Gateway Ultra Slim Notebook is a budget machine packed with mainstream specs. For $399, you get a 14-inch 1080p IPS display, Core i5-1135G7 CPU, 16GB of RAM, and a 512GB SSD. Budget laptops usually skimp on RAM or CPU power, but this machine is more than suitable for everything from homework to casual gaming.
Traditionally, laptops in the $399 range tend to skimp on RAM, storage, CPU power, or all of the above. The Gateway Ultra Slim Notebook doesn't. Instead you get a 14-inch 1080p IPS LCD, Core i5-1135G7 CPU, 16GB of RAM, and a 512GB SSD. The 16GB of RAM is especially surprising as it's extremely rare to find a Windows machine with that amount of RAM at this price point.
Another draw is that this laptop runs on Windows 11. The ChromeOS used by Chromebooks is fine, but everything is primarily based around the Chrome web browser, and support for non-Chrome apps is generally poor. If you're used to working on Microsoft apps like Word, Excel, and Outlook, you'll appreciate having them on your laptop.
You're also getting a laptop with a properly sized screen and keyboard. Smaller 11-inch Chromebooks can work well for younger users, which is probably part of the reason they're so popular for school. But if you have larger sized hands, you'll definitely get your money's worth if you opt for a laptop with a little more real estate.
This laptop also deserves a nod for its portability. They didn't call it Ultra Slim for nothing — this laptop measures just 0.75-inches thick. It also weighs just 4 lbs, so it's easy to take with you wherever you go.
Looking for more options? Check out our laptop deals coverage for the best sales.