I adore a certain moustached mascot… even if his plumbing credentials are questionable. So naturally, when his company announced the Nintendo Switch OLED Mario edition, I started frothing at the mouth like Bowser at an all-you-can-eat Toad buffet — but only briefly. Let me explain why.
I've been glued to my Nintendo Switch OLED recently, and I credit that largely to a cheap yet stylish dock that costs less than $30 / £25. It's the main reason I've cooled on the upcoming Mario-themed dock that will come packaged with the special edition handheld hybrid on October 6. Not that I'd rebuy the Switch just for a cool mascot-branded dock.
The SiWiQU Switch TV Dock Station costs $28 on Amazon, and it's one of the best peripherals I've bought for my little console. At time of writing, SiWiQU Switch TV Dock Station is on sale for £22 on Amazon UK, where it usually goes for £28.
Not only does the dock act as a 4K HDMI adapter, it's far lighter and costs less than half the price of the official Nintendo Switch Dock. For my money, it's also more elegantly designed than its first-party rival.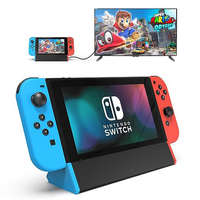 SiWiQU Switch TV Dock: $28 @ Amazon
This small and portable dock sports anti-slip mats to ensure it won't start sliding around if you plonk it on a table or TV cabinet. At the rear of the dock you'll find a single HDMI port, a USB-C slot and both USB 2.0 and USB 3.0 connections to let you charge the best Nintendo Switch controllers. There's also a slightly more expensive $34 version with an LAN port to help you download the best Switch games more quickly than over Wi-Fi.
Recently, I've gained a newfound enthusiasm for playing my Switch OLED through my TV… mainly because I just upgraded my television. Last week, I crippled my credit card by buying the astonishingly good LG G3 OLED TV.
Holy smokes, it's amazing.
By pairing the SiWiQU Switch Dock with the $100 / £100 Marseille mClassic 4K Upscaler, my favorite Nintendo games have never looked better in the console's Docked mode on what's perhaps the world's best OLED TV. That's partly because the mClassic does a commendable job of making even sub-1080p titles look presentable on some of the best 4K TVs.
How does it do this? By applying a layer of anti-aliasing to reduce in-game jaggies', then combining clever upscaling techniques to make the image both smoother and crisper.
With this knockout tag team of ace dock and surprisingly effective upscaler, games like the peerless Super Mario Odyssey have never looked better.
Docking off
Another reason I really dig SiWiQU's accessory dates back to previous bad experiences with the official dock. When I bought the original Nintendo Switch way back in 2017, I quickly discovered placing my handheld into the dock left hairlines scratches on the screen and bezel of my console because the fit was so snug. I've never used the official dock since.
That's obviously not an issue with SiWiQU's ultra portable dock, seeing as its base never actually comes into contact with my Switch's superb OLED screen.
I've gone through a few third-party docks over the years, but none have matched up to SiWiQU's effort. I don't always use it to play games through my new TV, either. Sometimes, I just take advantage of its USB-C port to charge my titles while I use the dock as a de facto stand when playing awesome triple-A efforts like Metroid Dread on my coffee table.
Whether The Big N's next console ends up being called Nintendo Switch 2 or it drops that iconic name and rebrands its rumored new machine as the 'Nintendo Focus', there's still some juice left in the OG Switch's tank. That's doubly true of the premium OLED model, which can still graphically impress in the likes of the recent Red Dead Redemption port.
Thanks to my new third-party dock, my passion for gaming on the Switch has been well and truly revitalized.
More from Tom's Guide