The Sony PSVR 2 has impressed us since its launch. The graphics are phenomenal thanks to the boost from the PS5 powering the headset and the new controllers are a massive upgrade over the PSVR move controllers. There's a reason it's high up on our list of the best VR headsets.
But here's the thing: you should probably wait to buy one.
According to a new report from Bloomberg, the latest VR headset from Sony has fallen short of expectations. The new PlayStation VR 2 is being tipped by the research firm IDC to sell just 270,000 units between when it launched on February 22, 2023, and the end of March 2023. This falls well short of matching the demand of Sony's reported goal of 2 million units produced in the PSVR 2's launch window.
In fact, IDC is projecting that things will get even worse for Sony. IDC Vice President of Data and Analytics, Francisco Jeronimo, suggests that "a price cut on the PSVR2 will be needed to avoid a complete disaster of their new product."
Below, I take a look at whether Jeronimo is onto something and you should wait to buy a PSVR 2, or if you need to take his words with a grain of salt.
The case for waiting on the PSVR 2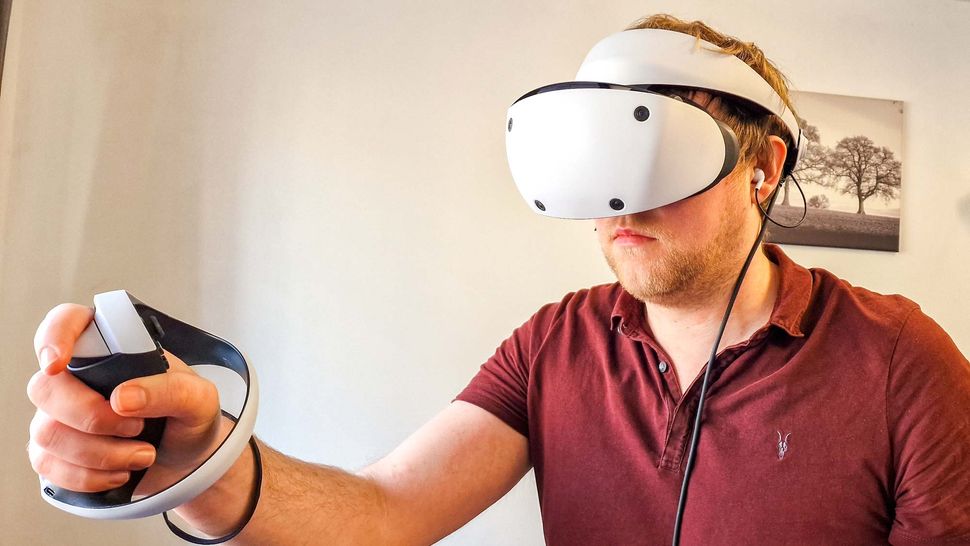 So first things first, the PSVR 2 will almost certainly get a markdown at some point, even if it is doing well. So, if you have a high tolerance for waiting to get the latest tech, you'll almost certainly be able to get it at a lower price — eventually — than the current $549 price tag.
Even the original PSVR went on sale after a bit less than a year on the market. The first-generation PlayStation VR launched back in October 2016 and was already getting slight discounts from Sony by August 2017. If IDC's projections are correct, then the PSVR 2 is selling around 45,000 units per week, which is about what the PSVR did between October 2016 and February 2017 according to Forbes. So there's nothing to suggest that the PSVR 2's sales numbers will prevent a price reduction from occurring.
Aside from the historical trends of its predecessor, recent trends from Sony's biggest competition suggests that a price hike could be necessary to keep the PSVR 2 alive. Meta raised the price of its Quest 2 headset by $100 right before it launched the premium Meta Quest Pro for $1,499 in October 2022. Now, you can get the Quest Pro at its lowest price ever ($500 off!) and a Quest 2 bundle for up to $70 off.
Basically, a combination of the economic climate and the lower demand for VR headsets forced Meta not only to (mostly) walk back a recent price hike but to drastically lower the price of its just months-old premium headset. While Sony has the PS5's dominance to cushion sales shortfalls, there's nothing to suggest that it can fully weather the same storm that caused Meta to panic.
So if the PSVR 2 is tipped for a price reduction by industry analysts, historical trends and the current VR market, is there even a case for getting one now?
The case for getting a PSVR 2 now
As bleak as things may seem for the PSVR 2 in this Bloomberg report, the numbers are only bad if you compare them against the high expectations for the new VR headset. Compared to the original PSVR, the napkin math suggests that both headsets have sold at similar rates at the beginning of their respective lifespans — around 45,000 a week.
Now, obviously, Sony would like its new headset to sell better than its first-generation offering and for financial reasons, it may need to. But it's tough to call the PSVR 2 a flop when it's performing as well in terms of sales numbers as the original PSVR.
Especially since the actual performance of the headset is leaps and bounds above its predecessor. The PSVR 2 uses the processing power of the PS5 to produce a VR gaming experience that can surpass even PC VR rigs and you don't even need one of the best gaming PCs to run it. If you want the best VR gaming experience, the PSVR 2 is the clear choice, and that likely won't change for a while.
Plus there are a ton of great games to experience — check out the full PSVR 2 games list to discover dozens of them.
One final note: Bloomberg may also be wrong. Back before the PSVR 2 launched, it was rumored that Sony cut shipments in half due to low demand. That reporting was done by Bloomberg, and Sony refuted it the next day. So while Bloomberg is a reputable outlet, there is no guarantee that its doomsday projections from IDC are accurate.
Verdict: The PSVR 2 price will almost certainly go down, but follow your heart
Personally, I expect that IDC's Jeronimo is correct. Even though I'm not sure that Sony's PSVR 2 should be declared a flop just yet, I fully expect market factors such as demand and competition to cause Sony to lower the price of the PSVR 2 this year. So if you're comfortable waiting, you should definitely hold off on buying a PSVR 2 for now.
However, if you want the best VR gaming experience right now, there's nothing wrong with just getting the PSVR 2 and having a great time. Our own Rory Mellon took a $599 gamble on the PSVR 2 and has no regrets about paying full price to get the next-generation headset. The price will also likely only go down by $100 at most (and probably not even that), so don't let the possibility of saving some money stop you from experiencing the peak of VR gaming if you can swing it. We don't think you'll regret it.
More from Tom's Guide