A new year means new laptops, and that's got me excited. We got a good idea of what to expect during CES 2023, with manufacturers like Dell, HP, Asus, MSI and more showing off their upcoming notebooks. Considering how most new laptops will sport the latest CPUs and GPUs, there's a lot to get excited about — especially here at Tom's Guide, where we get to do in-depth hands-on testing of every laptop we review.
I recently wrote about the 5 gaming laptops I can't wait to test in 2023, but I'd also like to discuss the productivity notebooks I'm eager to go hands-on with. Some of these were unveiled during CES, while others have yet to be officially announced. There will no doubt be other laptops I test that may end up on our best laptops list, but based on what I know so far, I have my eye on these specific devices.
These are the 5 laptops I can't wait to test in 2023 — so keep an eye out for our reviews later this year.
New MacBook Pros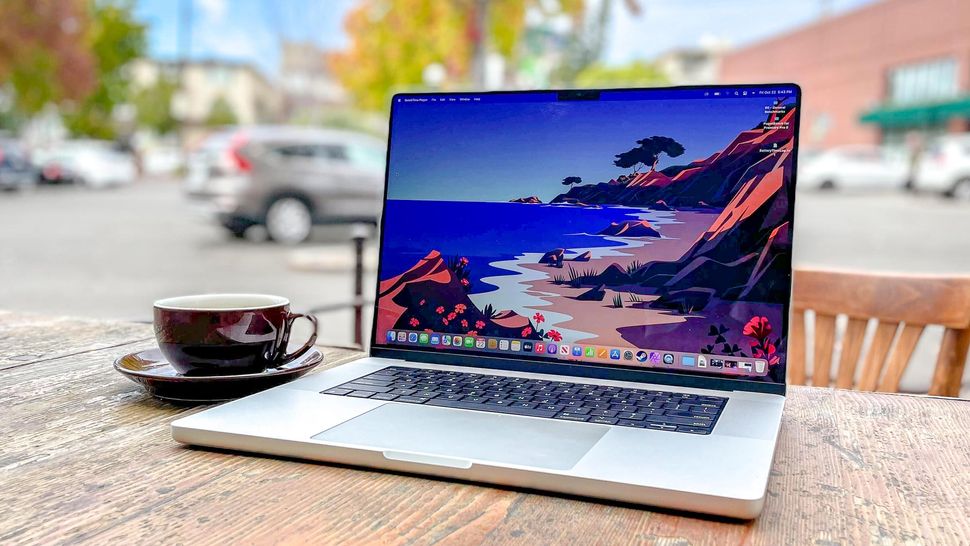 Apple hasn't officially announced new MacBook Pros with M2 Pro for 2023, but we've heard so many rumors from credible sources like Bloomberg's Mark Gurman and analyst Ming-Chi Kuo that it's all but assured we'll see these powerful new Apple laptops this year. Of course, when they'll arrive is still up in the air.
If rumors are accurate, it appears that the new MacBook Pro models won't be changing much. Gurman thinks that aside from silicon the new MacBook Pros will lack major upgrades. The new laptops are expected to build on the Apple M2 chip found in the MacBook Air M2, 13-inch MacBook Pro M2 and iPad Pro 2022 in the same way the current Apple M1 Pro and Apple M1 Max chips improve on the original Apple M1 chip, with greater power and speed but a similar level of power efficiency.
I currently use a MacBook Pro 16-inch with an M1 Max chip as my daily driver when I'm out and about. It's a powerful laptop, so the promise of an even beefier machine with the rumored M2 Max chip is exciting. I'm not upset that the MacBook Pros won't be redesigned. After all, the 2021 models look good and sport great features like MagSafe charging, an HDMI port and an SD card reader. Couple that with M2 Pro and M2 Max chips and the MacBook Pros could be monstrous laptops indeed.
Samsung Galaxy Book 3 Ultra
Samsung has confirmed it will showcase its new Galaxy Book 3 series of laptops at its upcoming Galaxy Unpacked event scheduled for February 1. While details remain slim, the Samsung Galaxy Book 3 Ultra has been tipped for an appearance by SamMobile. According to the website's sources, the Samsung Galaxy Book 3 Ultra will be lighter than the Dell XPS 15 and the latest MacBook Pro.
The Samsung Galaxy Book Ultra 3 laptop is expected to pack a full-sized keyboard with a number pad, which could make it a great machine for working on the move. It's also highly likely to be powered by a 13th Gen Intel processor. But keep in mind that these specs are currently just rumored and shouldn't be considered confirmed.
The Samsung Galaxy Book2 Pro 360 was my favorite laptop of 2022 because it was so thin and light, weighing 3.11 pounds. The Dell XPS 15 weighs between 4.2 and 4.6 pounds, depending on the configuration, whereas the Apple MacBook Pro 13-inch starts at 3 pounds. How light might a Galax3 Book 3 Ultra be?
HP Dragonfly Pro
The new HP Dragonfly Pro series of laptops were created specifically for freelancers and hybrid workers, so they're tailor-made to be easy to carry and last all day. HP currently plans to sell at least two variants of the Dragonfly Pro: A Windows 11 version packing an AMD CPU, and a Chromebook variant that runs on an older 12th Gen Intel CPU. Both weigh just over 3 pounds and sport 14-inch touchscreens, making them well-suited for getting work done on the go.
The Windows variant is configurable with more power (16-32 GB of RAM, 512GB-1TB of storage) but a lower-res 1,920 x 1,200 display, while the Chromebook variant has less power under the hood (16GB RAM, 256GB storage) but a higher-res 2,560 x 1,600 touchscreen. Both models offer USB-C ports, though only the Chromebook supports Thunderbolt 4 since it has an Intel CPU inside.
In my HP Dragonfly Pro hands-on preview, I was impressed by the elegant look and feel of these laptops, and with a promised battery life of 12+ hours (or "all-day" if you opt for the Chromebook) they should be safe to take to work without worrying about bringing a charger. These laptops also sport four dedicated hotkeys on the right-hand side (one of which is programmable) which let you do things like quickly adjust camera settings or contact HP's 24/7 live concierge tech support service.
Lenovo Yoga Book 9i
Lenovo's Yoga Book 9i was one of the most remarkable-looking laptops at CES 2023 thanks to its dual 13.3-inch 2K OLED touchscreens. If you'd rather not type on a touchscreen, the Yoga Book 9i also comes with a Bluetooth keyboard you can place in your lap, on top of the lower screen (when using the device like a traditional clamshell laptop), or wherever you find comfortable.
With a starting price of $2,099, this isn't a cheap laptop, but the plethora of ways in which you can use its two screens might make it the perfect device for some folks. The included kickstand gives you room to do wild things like stack the two screens on top of each other, or stand them up side-by-side when you need lots of screen real estate.
It should be more than powerful enough for day-to-day work thanks to its 13th Gen Intel Core i7 CPU and 16GB of RAM, and at just over 3 pounds heavy and 0.63 inches thin, it won't drag you down while you're running around. I'm eager to see how well this dual-screen laptop functions in everyday situations.
LG Gram Style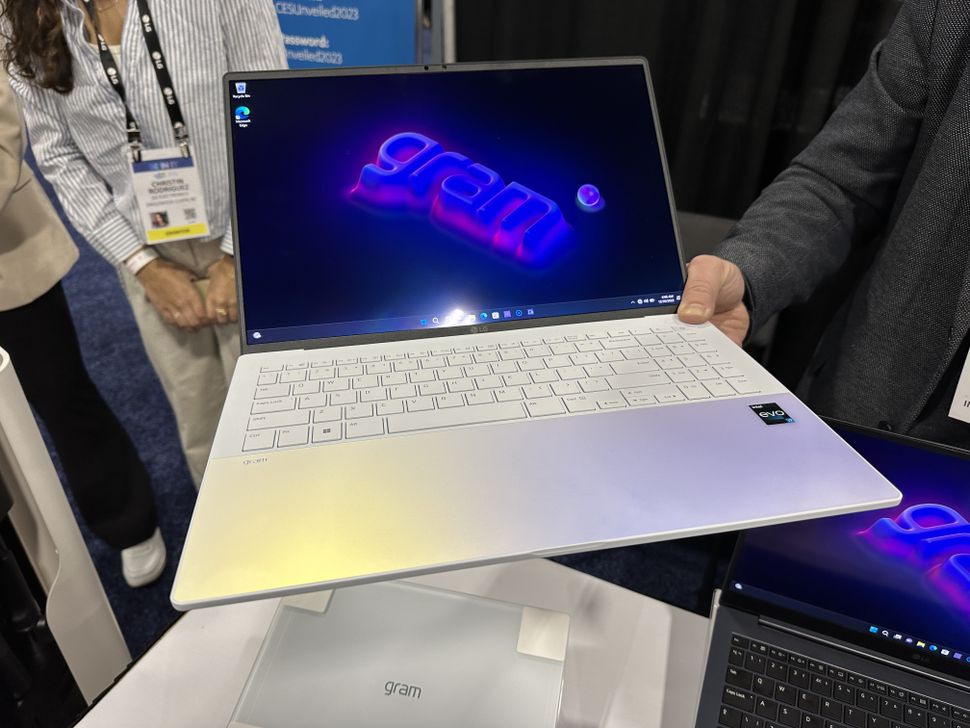 LG unveiled a few new additions to its Gram line of ultra-light laptops at CES 2023, including the appropriately-named LG Gram Ultrathin. But the most eye-catching new Gram is surely the LG Gram Style, a 2.7-pound 16-inch OLED ultraportable with a unique iridescent color scheme.
This causes the laptop to shimmer and change color as light moves across its Gorilla Glass 3 lid and deck, which will surely help it stand out from the pack at your local coffee shop. The laptop also sports an invisible haptic touchpad that lights up when you touch it — a cool feature that also feels like it could take some getting used to. Factor in the 16-inch 3.2K 120Hz OLED display and Intel 13th Gen Raptor Lake CPUs, and this is looking like one of the coolest-looking laptops of 2023.
Performance, battery life and portability are the main things we tend to focus on when considering buying a laptop. But there's something to be said about a notebook with an intriguing look. The LG Gram seems like it'll turn heads in 2023.
What about Dell XPS laptops?
Dell XPS laptops were noticeably missing from the company's CES 2023 lineup. This is strange considering the popularity of XPS notebooks. Perhaps Dell will announce fresh XPS laptops in the coming months, but right now, we can't say anything for certain. I'm eager to see new iterations of the Dell XPS 15 and Dell XPS 13 Plus OLED (Editor's Note: Maybe even, dare we dream, an XPS 17 OLED?) should they release this year.