Even if you pre-order the Google Pixel Fold it'll set you back a hefty $1,799, but there is a way to take the sting out of that price tag.
If you're willing to sign up for a 36-month-long payment plan with AT&T you can cut a massive 50% off the overall price of the Google Pixel Fold. By opting for monthly payments of $25 you can end up paying $900 over the course of the contract with AT&T.
Sure, committing to 36 months of payments is somewhat long; that's three years of paying for a phone. But this is an unbeatable price.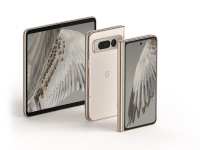 Google Pixel Fold: $900 with AT&T installment plan
If you sign up to pay $25 for 36 months, you can get the Google Pixel Fold for $900 from AT&T. That slices the foldable phone's price tag of $1,799 by a hefty 50%. While this deal requires a commitment of 3 years, it's also a saving that's pretty much unbeatable if you want Google's first foldable.
In our hands-on time with the Google Pixel Fold, we were rather impressed with the phone, appreciating the slim design, powerful cameras and a wide cover display letting you do more when the phone is folded. A fairly prominent crease and chunky bezels slightly mars the experience, but we'd need to see if that's a big deal through long-term use.
The real wrinkle for the Pixel Fold is likely to be the Samsung Galaxy Z Fold 5. Due to arrive in late July, Samsung is pretty much the leader in foldable phones and has yet to really make a foldable device that has let us down. The Z Fold 5 is tipped for a more powerful Snapdragon 8 Gen 2 chip and a new teardrop-style hinge that enable the phone to fold fully flat while adding durability.
However, Google could have the edge by offering better-optimized software and an idealized version of Android for foldable phones. There's also the Tensor G2 chip, which is an AI/machine learning-centric chipset that powers smart features and could enable Pixel Fold users to make more efficient use of apps that can take advantage of a foldable phone's larger display.
Just be aware that there could be a longer wait than expected for the Pixel Fold, as some people who've already scored pre-orders have reported the shipping date for the Pixel Fold has slipped from June 27 to between July 3 and July 7. Stay tuned for our full Pixel Fold rated review.
More from Tom's Guide