I review laptops, desktops, tablets and monitors here at Tom's Guide, so I spend a lot of the year looking at screens and telling you about them.
It can be a lot of fun, too, especially since I love to play games and watch old movies. Display tech has advanced to the point where I can watch some of my favorite flicks in ways I never imagined, in beautiful 4K resolution on a 65-inch LG C2 OLED TV that showcases fine details of light and shadow in ways I've never seen before.
I mention that so you know that when we throw around terms like 4K, OLED or HDR they're not just buzzwords — these technologies really do have a meaningful impact on your viewing experience. But they're also not the only things you should care about when shopping for a new display, a fact that was recently brought home to me while reviewing a 1080p office monitor from Dell.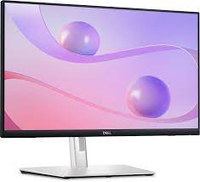 Dell 24" Touchscreen + USB hub monitor: was $519 now $419 @ Dell
This deal knocks $100 off the price of this great 24-inch 1080p touchscreen monitor, which has a built-in USB hub and an Ethernet port for wired Internet. Plus, its articulated stand and integrated cable routing allow you to pull, push, raise and lower it across a surprisingly wide range of motion—including all the way down to the desk.
I'm talking about the Dell P2424HT monitor, though its full name is the Dell 24 Touch USB-C Hub Monitor. It's a basic 24-inch 1080p touchscreen with a 60Hz refresh rate that doesn't support HDR, and I kind of love it.
Our testing reveals this monitor doesn't have the best color reproduction, and it doesn't get painfully bright either. But what it does do is move really well, thanks to its articulated stand. This thing lets you tilt, slant, swivel, raise and lower the display with remarkable freedom, to the point that you can lower it all the way down to your desk to have a giant 24-inch touchscreen resting at your fingertips.
The screen even has little cushions on the bottom so it can gently rest on your desk, ready for whatever tapping and swiping you need to do. I haven't seen many monitors which can offer this functionality, and I find it really useful for navigating Windows 11 or playing touch-friendly games since I can rest the display on my desk when I get tired of using the touchscreen at eye level.
And while the 1080p resolution means this display isn't going to showcase experiences like Cyberpunk 2077: Phantom Liberty to their full potential, that's not really how I like to use it. No, this monitor seems tailor-made for use with a laptop, and it's perfect for playing the kind of lightweight turn-based tactical games I can run on my Microsoft Surface Laptop Studio. And since it's just 1080p, I don't have to worry about the laptop struggling to maintain a decent framerate while gaming on this display.
And it seems like the perfect partner for a laptop, because the Dell P2424HT has a built-in USB hub and Ethernet jack. In fact, according to Dell it's "the world's first 23.8-inch touch monitor with RJ45 connectivity", so we're really living on the cutting edge out here.
At first I struggled to understand why I would care about having an RJ45 Ethernet jack on my monitor, but I immediately appreciated it when I saw how slowly games were downloading to my laptop via my middling Wi-Fi connection. With this monitor on my desk I know I can just plop down my laptop, plug into the display and I've basically got a hardwired Internet connection to speed across the web—and a bigger 24-inch touchscreen to navigate it.
Obviously the extra USB ports are nice to have as well. In addition to the common HDMI and DisplayPort options you also get one USB-C upstream port you can use to connect your laptop, so it charges the laptop while you're using the display.
You also get two USB-A ports on the back alongside an audio line out for connecting speakers, all nestled in a recessed port array that's covered by a removable black plastic panel. While I found this panel kind of a pain to remove and reattach, I have to give Dell credit for building cable routers into the port area and giving you a slot in the stand to thread them through. When set up correctly, you can pull the monitor down and toward you or swing it off the sides without worrying that the cables with get tangled or pulled out.
These little touches really endear me to this display and make me want to use it more, even though I have two higher-resolution monitors (one 1440p, one 4K) on my desk right now. While I don't think I'll be buying one to put on my main PC any time soon, I might pick one up when I decide to build a desk setup that revolves around my laptop instead of my desktop.
And of course, right now is a great time to get one given that the best Black Friday deals are in full swing and Dell has knocked $100 off the price of this display for a limited time. That brings the price down to $419, making it one of the better Black Friday monitor deals I've seen so far.
More from Tom's Guide