A robot vacuum is the perfect way to get the new year off to a cleaner start. And if you're looking for the best robot vacuum, we've found the deal for you.
The iRobot Roomba s9+ is $799 at Amazon right now. The retailer has slashed $200 off, bringing the Roomba s9+ to its lowest price ever. (And don't worry, there are more affordable options in the iRobot Roomba sale too.)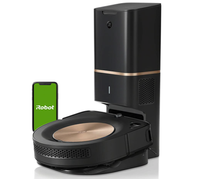 iRobot Roomba s9+: was $999 now $799
The Roomba s9+ is the best robot vacuum you can buy. Its seriously superior suction and corner-cleaning abilities come at a high price, which is why we're happy to note this $200 discount makes it more affordable.
The iRobot Roomba s9+ is pricey, but it does have everything you could ever want out of a robot vacuum. In our testing, it made short work of cleaning almost all kinds of debris, on both hardwood and carpet. Pet hair, cereal and kitty litter were no match for this vacuum.
This powerful robot vac also has some of the best smart features around. It can record and map multiple rooms of your house across multiple floors, clean specified rooms on specified days, and can be programmed to avoid certain areas.
Additionally, the Roomba s9+ has a self-emptying charging base. When the Roomba's on-board dustbin gets full, it will navigate to the charging base to empty waste. That means you just have to change the bin bag on the base around once a month, rather than constantly having to empty the dustbin on the Roomba itself.
The iRobot Roomba s9+ has one notable flaw: it's noisy. You probably won't want to be in the same room as the s9+ while it's cleaning. However, thanks to being able to set cleaning schedules in the iRobot app, you won't have to be.
The iRobot Roomba s9+ has hit its lowest price ever, so there's no better time to pick one up. But if you're looking for more options, check out our list of the best robot vacuums.