There are some absolutely stellar Super Bowl TV deals happening right now, but this has to be one of the best. LG's premium OLED TV has just crashed to a new all-time low price.
The 55-inch LG G2 OLED is $1,596 at Amazon right now. Amazon lists this as a $100 discount, but the truth is this TV cost over $2,000 at launch. It's incredible to see one of LG's best OLED TVs fall to this price.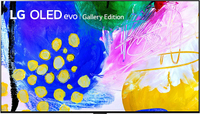 LG 55" G2 4K OLED TV: was $1,999 now $1,596 @ Amazon
The LG G2 OLED TV is LG'S brightest OLED TV yet and delivers an excellent, bright picture along with AI-boosted sound quality. It also has clever cord management and a handy 4 HDMI ports. We also really like the minimalistic silver frame, which makes for a bezel-less appearance. This sale brings this TV's price down to an all-time low. If Amazon runs out of stock, Best Buy has it for $1,599.
The LG G2 OLED is one of the best OLED TVs you can buy. The LG C2 OLED sits atop our ranking for its more affordable price, but if you want the best of the best, the LG G2 OLED is what you're looking for.
First off, the LG G2 OLED is LG's brightest OLED. It's the best picture quality you can get out of an LG TV, with a huge range of vibrant colors on display as well as rich, true blacks. Whatever you watch on the LG G2 OLED, it will look fantastic. However, due to this TV's outstanding brightness, you'll be able to watch it even in a bright living room.
The G2 OLED also packs some of the best audio we've ever heard in an OLED TV. The built-in speakers can easily fill a room, making your living space feel like a stadium concert.
Plus, if you want to play some of the best PS5 games or the best Xbox Games, the LG G2 OLED is an awesome TV to do it on. With 4 HDMI 2.1 ports, a 120Hz refresh rate, and incredibly low lag time, this is one of the best gaming TVs you can buy. The LG Game Optimizer menu is also a welcome addition.
We can't recommend the LG G2 OLED enough, especially now that it's fallen to this price. But if you're looking for more options, check out our Super Bowl TV deals coverage.