When it comes to streaming options, American viewers have it pretty good – but the sheer choice of streaming providers means that to get all the best content, you can't just stick to a single Netflix subscription.
Although the streaming giant still has a great selection, tons of our favorite titles are licensed for US distribution by other streaming sites like Hulu, Amazon Prime and HBO Max – but overseas they're still available on the 'Flix.
So, what's a TV fanatic to do? If you're not keen on doubling or tripling your monthly spend on streaming services just for a couple of exclusive shows, the easiest thing to do is bag yourself a Netflix VPN.
Watch Netflix abroad
ExpressVPN is our #1 recommendation for accessing exclusive Netflix content outside the US. With excellent speeds, unrivaled location spoofing power and easy-to-use apps, it's the perfect choice for watching Netflix anywhere. Plus, you can test out the service risk-free with its 30-day money-back guarantee.
Although working out which service is the best VPN and how to use it might sound complicated, the process is in fact incredibly simple. All you need to do is find out where a particular show is streaming (we'll do some of the legwork for you down below), and connect to a server in that country.
Doing that will virtually relocate you to, for example, the UK, and trick Netflix into showing you content that's exclusive to the region. That's it.
However, it's worth noting that this does contravene Netflix's Ts&Cs, and technically puts you at risk of having your account blocked, but the terms are vague and we've never heard of this actually happening – because, of course, Netflix wants to keep you as a customer.
So, if you're willing to take that minor risk, grab yourself a quality VPN like ExpressVPN and start accessing all the top shows Netflix won't let Americans watch – and you can find out exactly what'll be on offer down below...
The best shows Netflix won't let Americans watch
The Office
On Netflix in Brazil, Canada, France, Germany, Italy, Netherlands, Japan, Singapore, United Kingdom and more

The Office outgrew its humble origins as a remake of the BBC series of the same name and over nine seasons became one of the most beloved sitcoms of all time. In fact, it holds onto that reputation to this very day even a decade after airing its final episode. Simple in premise, it follows the everyday life of the workers at Dunder Mifflin, a mid-tier paper company in Scranton, Pennsylvania.
The show supercharged the career of Steve Carell, who played the boss Michael Scott. Alongside Scott, the show packs a sizeable cast of memorable characters from Dwight Schrute (Rainn Wilson) to Jim Halpert (John Krasinski) and Pam Beesly (Jenna Fischer), whose will-they-won't-they romance rivals even that of Ross and Rachel in Friends. Plus, the show has spawned dozens of internet memes that continue to circulate on social media to this very day. — Rory Mellon
Rick and Morty
On Netflix in the United Kingdom

An animated show that blends science-fiction with absurdist humor, Rick and Morty is almost as infamous as its beloved by fans. While the most recent seasons have been criticized for a drop in quality, the early episodes remain seriously funny. The high-concept show follows the misadventures of Rick Sanchez, a cynical mad scientist with a God complex, and his grandson Morty Smith, a well-meaning worrier that is dragged into various hijinks by Rick. The oddball series definitely has highs and lows but it's nevertheless one of the most influential TV shows of the last decade for good reason. — Rory Mellon
Brooklyn Nine-Nine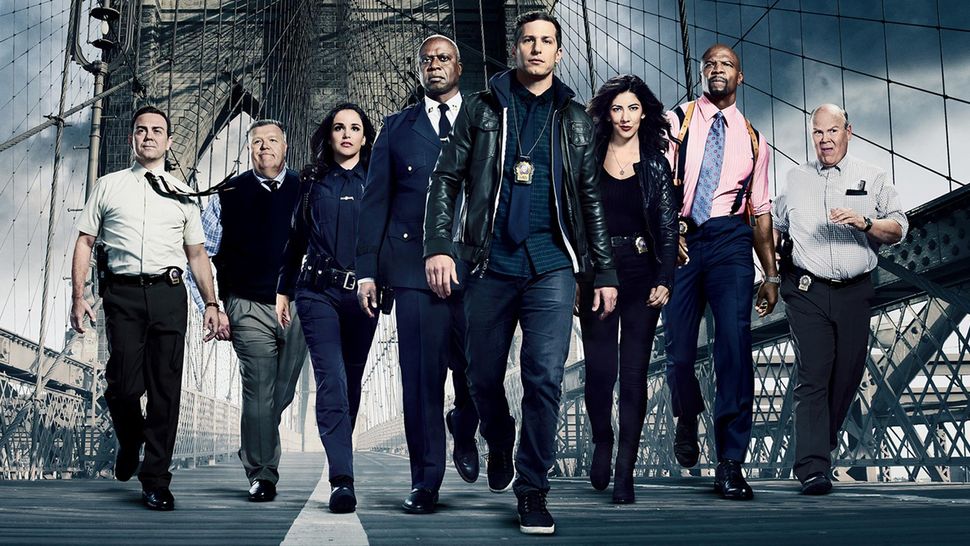 On Netflix in Argentina, Australia, Brazil, Canada, France, Germany, India, Italy, Japan, Singapore, United Kingdom and more
The cop comedy comes from Parks and Recreation creator Michael Schur and writer/producer Dan Goor, so it's got impressive bona fides. The show is set in Brooklyn's fictional 99th Precinct, which is overseen by the stern Captain Raymond Holt (Andre Braugher). His crew includes detectives like the immature but talented Jake Peralta (Andy Samberg), the organized and efficient Amy Santiago (Melissa Fumero) and BS-hating Rosa Diaz (Stephanie Beatriz) among others. They investigate cases, catch bad guys, compete in silly challenges and get on each other's nerves. Like many other workplaces, the Nine-Nine is really a family at the end of the day. — Kelly Woo
Big Bang Theory
On Netflix in Australia, France, Germany, India, Japan, Singapore, United Kingdom and more
The popular sitcom about a group of geeky (and not-so-geeky) friends came to an end in 2019, but continues to live on Netflix — at least for international viewers, as Americans can only find the series on HBO Max. The show, created by Chuck Lorre, follows roommates Leonard Hofstadter (Johnny Galecki) and Sheldon Cooper (Jim Parsons), both physicists at Caltech. They live across the hall from the very pretty Penny (Kaley Cuoco), who catches Leonard's eye. Despite his social awkwardness, he hopes to date her, which the wry Sheldon thinks is unlikely. Over the 12 seasons, their relationships grow and they add more members to their group. Call it a triumph of the nerds. — Kelly Woo
It's Always Sunny in Philadelphia
On Netflix in the United Kingdom
The longest-running live-action sitcom in history, It's Always Sunny in Philadelphia started out as a cult favorite before becoming a full-blown phenomenon. The show follows the exploits of a group of friends in Philadelphia who own an Irish bar. It just so happens that "The Gang" are just about the worst people you could ever have the misfortune of meeting regularly leaving a trail of destruction in their wake. If they're not planning ridiculous schemes to get rich, they're terrorizing each other out of sheer boredom. The killer cast includes Rob McElhenney, Genn Howerton, Charlie Day, Kaitlin Olson and Danny DeVito, in arguably his career-best role as Frank Reynolds. If you like your sitcoms with a bit of edge, look no further. — Rory Mellon
Snowpiercer
On Netflix in Brazil, Canada, France, Germany, Italy, Japan, Singapore, United Kingdom and more
Based on the 2013 movie of the same name (and the French graphical novel that inspired the film), Snowpiercer is set on a massive, perpetually moving train, that endlessly circles the globe carrying the last remnants of humanity several years after an apocalyptic event has made the planet uninhabitable. Even with its dystopian setting, the show tackles many real-world themes including class warfare and social injustice. It stars Jennifer Connelly as the ruthless Head of Hospitality alongside Daveed Diggs as a rebel helping coordinate a revolution against the oppressive First Class. Mickey Sumner also features as a member of the train's security force, with Sean Bean playing the train's genius inventor, Mr. Wilford. — Rory Mellon
Castle Rock
On Netflix in India, Singapore, Thailand and more
The anthology horror series is a Hulu exclusive in the US, but can be streamed on Netflix in several territories. The stories are inspired by the work of Stephen King (Castle Rock is a fictional town he created). Season 1 centers on Henry Matthew Deaver (Andre Holland), a criminal attorney who grew up in Castle Rock and returns upon a strange request. Season 2 shifts focus to a mentally ill nurse Annie Wilkes (Lizzy Caplan) who gets stuck in town. — Kelly Woo
Power
On Netflix in the United Kingdom
Created by Courtney A. Kemp (also known for The Good Wide) and co-executive produced by Curtis "50 Cent" Jackson, Power tells the story of James St. Patrick (Omari Hardwick), the successful owner of Manhattan's hottest new nightclub, Truth. But behind the scenes, St. Patrick is known by another name, Ghost, and under this alias, he operates as a smooth-talking but ruthless drug dealer selling only to the rich and influential. With his loyal sidekick Tommy (Joesph Sikora) in tow, St. Patrick tries to hold onto power in both his lives while shifting alliances, economic pressures and his crumbling marriage threat to bring his empire down. — Rory Mellon
Schitt's Creek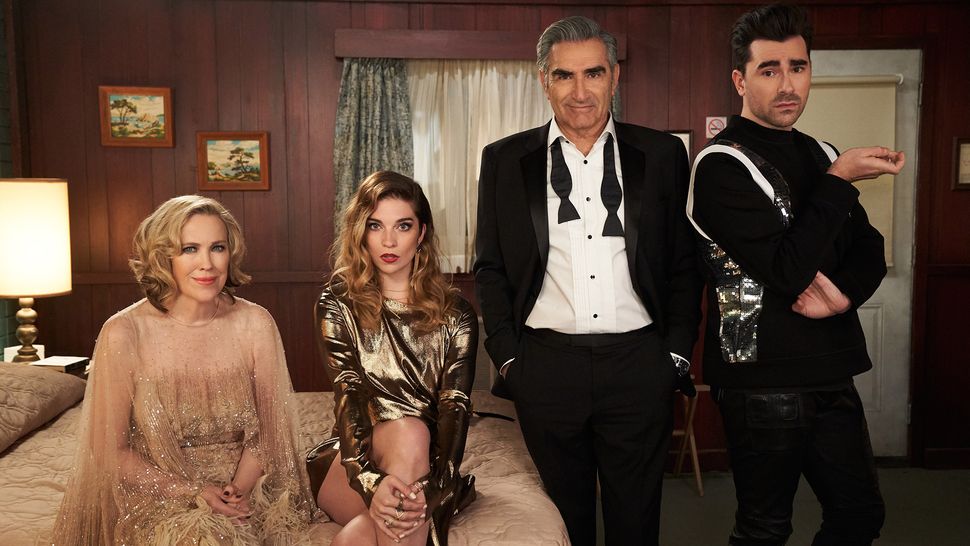 On Netflix in the United Kingdom
Schitt's Creek follows a wealthy family that goes from mega-rich to mega-poor overnight after being victims of fraud. Their lavish home and luxury items are reposed and the only asset they have left is the ownership of a small, rundown, town called Schitt's Creek. With little choice, the foursome relocates to a motel within the area and significant culture shock ensues. This easy-watching sitcom struggled to build a viewership at first but thanks to its appearance on Netflix its popularity grew and it's now become a critically-acclaimed series with a legion of passionate fans. — Rory Mellon