8 Reasons to Buy the Galaxy S9 (and 3 Reasons to Skip It)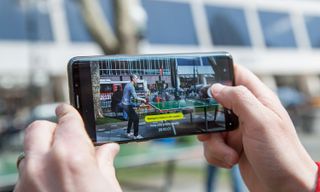 Galaxy S9 Pros and Cons
The Galaxy S9 and S9+ are smarter and faster than their predecessors, and they shoot better-looking photos, too. But that doesn't mean they're the right phones for you. Our Galaxy S9 review is now live, and there are some things we really like about Samsung's flagships and some that should make you think twice.
Here are the pros and cons of the Galaxy S9 and S9+ so far.
Credit: Tom's Guide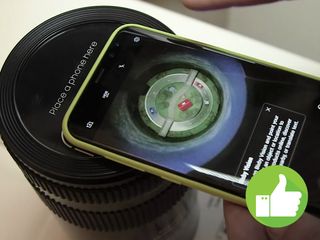 Better low-light photos
The "Super-Speed" dual-pixel camera in the Galaxy S9 and S9+ offers a variable aperture that opens as wide as f/1.5, which captures 28 percent more light. That means you'll get better-looking shots in dim conditions, such as at a restaurant, without using a flash. In addition, the camera has dedicated memory for improved noise reduction.
Credit: Tom's Guide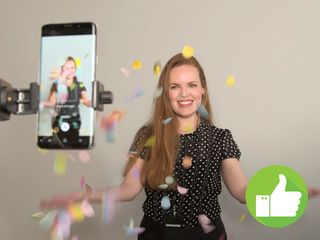 Super slow-mo video
Everything looks better in slow-mo, and the Galaxy S9 can shoot at up to 960 frames per second, producing dramatically awesome results. In our testing, we had a blast recording videos of a dog eating treats in slow-mo and a ping pong player executing a nasty slice. Plus, the S9 can sense motion automatically.
Credit: Tom's Guide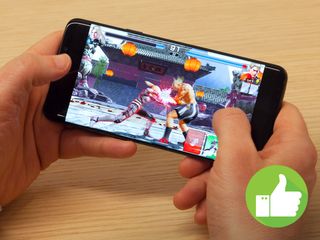 Fastest Android Phone Yet
Thanks to its Snapdgraon 845 processor, the Galaxy S9 is the speediest Android phone we've tested. For instance, on Geekbench 4, which measures overall performance, the S9+ notched a score of 8,295. That blows the doors off of the Snapdragon 835-powered Google Pixel 2 XL (6,282) and Samsung's own Galaxy Note 8 (6,564). You can see all of the S9 benchmarks here.The S9+ also made quick work of our video editing test, which involves transcoding a 4K video file. It took Samsung's handset 2 minutes and 32 seconds, which is about 30 seconds faster than the Pixel 2 XL and a minute and a half faster than the Galaxy S8. However, the iPhone X took only 42 seconds.
Credit: Tom's Guide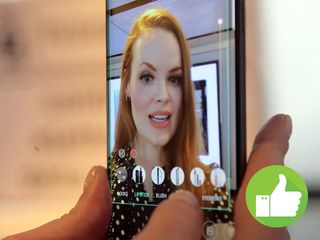 Cool AR tricks
Bixby Vision on the Galaxy S9 has a higher IQ than before, which enables all sorts of new capabilities. For instance, you can point the camera at a sign or menu in a foreign language, and it will be translated on-screen instantly (54 languages are supported). There's also a virtual-makeup feature that lets you try on lipstick and other items using augmented reality and the front camera; from there, you can buy what you like straight from Sephora.
However, the Places finder didn't work very well in our tests, and the Bixby Vision had trouble recognizing some products and food.
Credit: Tom's Guide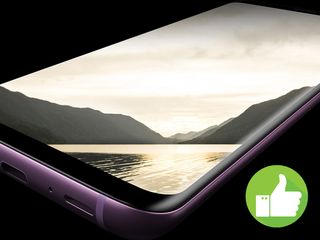 Even slimmer bezels, brighter screens
The Infinity Display on the Galaxy S8 and S8+ went nearly from edge to edge, and Samsung has trimmed those edges even more for the Galaxy S9 and S9+. This makes the handsets even easier to use with one hand. In addition, the Super AMOLED screens on these phones are brighter than they were on the Galaxy S8, and we prefer the color saturation on Samsung's panels.
Credit: Samsung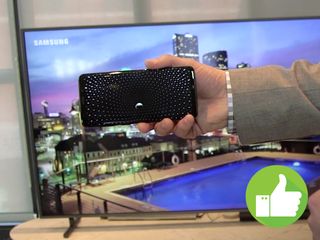 Stereo speakers
If you thought the sound coming from the Galaxy S8 and S8+ was weak, Samsung has heard your complaints. The stereo speakers on the S9 and S9+ are 1.4 times louder, and they're tuned by AKG for more robust audio. Plus, these speakers support Dolby Atmos, which delivers a 3D-like audio experience in content that supports the format.
Credit: Tom's Guide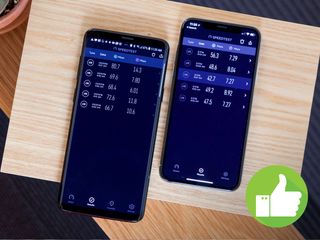 Blazing 4G LTE
We were floored when we saw how much faster the Galaxy S9 is than the iPhone X when comparing 4G LTE performance. On the Speedtest.net app over T-Mobile's network, the S9+ averaged 71.6 Mbps downloads and 10.1 Mbps uploads. The iPhone X averaged 48.8 Mbps down and 7.7 Mbps up. The S9+ was also faster when downloading videos and uploading photos.
Credit: Tom's Guide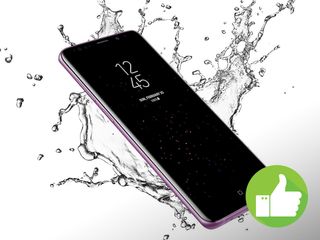 Cheaper than iPhone X
The Galaxy S9 and S9+ are considerably cheaper than Apple's flagship, especially if you go through T-Mobile or Samsung. We're talking just $720 for the S9 and $840 for the S9+, which adds a second telephoto lens on the back, more RAM and a beefier battery. The iPhone X costs a cool $999.
Credit: Tom's Guide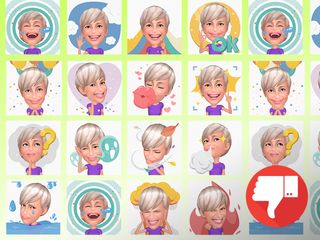 AR Emoji are creepy
I give Samsung credit for trying something different with AR Emoji on the Galaxy S9 and S9+, but the execution isn't great. Using the front camera, you can create a 3D avatar of yourself, along with GIFs you can insert in outgoing messages. The problem is that the AR Emoji aren't convincing, and there are not many choices for customizing with hair, clothes and so on. And when you go to record a video with your AR Emoji, it's painfully obvious that the S9's front camera isn't as sophisticated as the TrueDepth camera on the iPhone X.
Credit: Samsung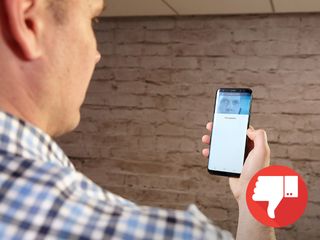 Not-So-Intelligent Scan
The Galaxy S9 and S9+ now let you log in via Intelligent Scan, which let you log in to the device using a combination of iris scanning and facial recognition. It works pretty well, but you have to make sure to hold the phone up high enough (something you don't need to do with the iPhone X's Face ID). In addition, Intelligent Scan simply isn't secure enough to support payments via Samsung Pay; you'll have to use your fingerprint for that.
Credit: Tom's Guide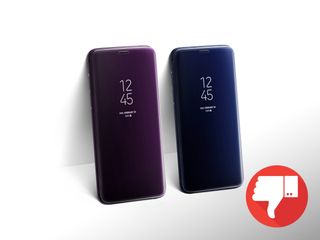 Samsung is slow to issue Android updates
It's been nearly a year, and only now are the Galaxy S8 and S8+ starting to get Android Oreo. That's way too long to wait to enjoy Google's latest features. Samsung is good about issuing regular security updates, but it should not be this far behind the Pixel 2 and Pixel 2 XL in running the latest software.
Credit: Samsung