You'll want to give the best Nintendo Switch Lite accessories and cases a look if you've got hold of the Switch Lite, the smallest of the Nintendo Switch family that's now made up of a trio of handheld consoles.
That's because the likes of screen protector, carry cases, extra controllers and headphones can really improve your overall Switch Lite experience, making it the device to grab when you head off on a commute or on a longer trip.
So here are Nintendo Switch Lite accessories and cases for getting the best experience out of Nintendo's smallest handheld console.
It might seem counter-intuitive to have a stand for the Nintendo Switch Lite given it is designed as a handled-only console. But there could be times when you just want to prop up the console and sit back, say on a long flight, and play the Switch Lite with an external controller. Or you might want to prop it up and use it for some split-screen gaming with a friend, providing you have a set of external controllers. It's here where the Hori Dual USB PlayStand comes in.
Not only does the stand prop up your Nintendo Switch Lite it also provides a pair of USB ports into which you can connect your Switch controllers of choice - see below for suggested controller accessories. And if you have your own AC adapter, you can charge the Switch Lite while it's on the stand. As an added bonus the Dual USB PlayStand also works with the standard Nintendo Switch as well. So you're getting an accessory that's handy for both Switch consoles if you're lucky enough to have both models of the Nintendo Switch.
As a console designed almost exclusively to be played on the go, the Nintendo Switch Lite comes with a battery life that measures in at 3 to 7 hours of gaming time. But games like The Legend of Zelda: Breath of the Wild take a long time to get through and if you're on a long journey your Switch Lite will need some extra electrical juice to keep it going.
That's where the Anker PowerCore 20100 comes in. It's a solid portable charger that offers 15 hours of extra battery life for the Switch Lite, while also providing 2.5 full charges form its single charge. Handily, it also charges up smartphones or tablets, as well as other USB devices, so it's useful for all manner of charging purposes.
The Nintendo Switch Lite is a hardy little handheld console but it's far from invulnerable. That's why you will want a proper protective case for it if you plan to take it on the road with you, whether that involves a daily commute or to places further afield. And that's why you'll want to check out the Orzly Carry Case for Nintendo Switch Lite.
It's one of the smarter yet functional cases we've seen for Nintendo Switch Lite, able to hold eight games and some accessories alongside the console itself. The use of optional cushioning helps really ensure your Switch Lite is ready to withstand all manner of knocks when in transit.
If you buy your games digitally, your Switch Lite's 32GB of internal storage is going to fill up fast with the wealth of the best Nintendo Switch games available on the eShop. Most microSD cards will work on the Switch Lite, but we recommend SanDisk's microSDXC series for getting the most storage for your buck. You can get 128GB of extra space for about $28, while a whopping 256GB card will run you only about $53. SanDisk's card even comes in a branded Nintendo variation sporting the iconic yellow Super Star.
Some of the best accessories are the most simplistic, which is why we like the Hori Duraflexi Protector. This TPU (thermoplastic polyurethane) case will protect your Switch Lite from dirt and drops alike. Yet as it's clear, it won't obscure the Switch Lite's bright pastel colors. So you get protection without needing to opt for an ugly case; that's a win in our book.
Blasting out the sound of Mario hopping and bouncing around the Mushroom Kingdom while on a crowded train is a bit antisocial. So that's why you'll really want a decent pair of headphones to go with your Nintendo Switch Lite. It's here that the SteelSeries Arctis 1 Wireless come to the rescue. The headphones do require you to plug in a USB-C dongle into the Switch Lite, as it has no Bluetooth audio support. But once done you'll get the Link's shouts, Mario's whu-hoos and the hum of karts pipped to your ears.
And you're in for a treat. At under $100 the SteelSeries Arctis 1 Wireless deliver impressive sound for both gaming and music, thanks to some advanced audio drivers, normally found in higher-end SteelSeries headsets. As well as a comfortable fit, which is ideal if you plan to play your Nintendo Switch Lite for hours at a time. The wireless headphones will keep going for a long time as well thanks to some 20 hours of battery life; they'll last longer than the Nintendo Switch Lite.
Given the Nintendo Switch Lite has been designed as a handheld console, it might seem odd to suggest getting an external controller for it. But then if you've bought a stand like the Hori Dual USB PlayStand mentioned above, an external controller will let you game while your Switch Lite charges up. It's also useful to have when you've got tired of holding your console up. It's here that the Nintendo Pro Controller comes in handy.
Working what both the normal Switch and the Switch Lite, the Pro controller has been designed for people who want some serious control over their Switch games. Looking a little like an Xbox One controller with its asymmetrical joysticks, button and D-pad configuration, the Nintendo Pro Controller is a very nice gamepad. It's comfortable, nicely laid out and well-made; the only slight gripe with it is its triggers have only a single movement mode - there's no analogue modulation like you'd find on the triggers of the Xbox Wireless Controller or the PS4 DualShock 4 controller. And with a long-lasting battery, the Nintendo Pro Controller will be ideal for you to take on long trips as a partner to your Switch Lite.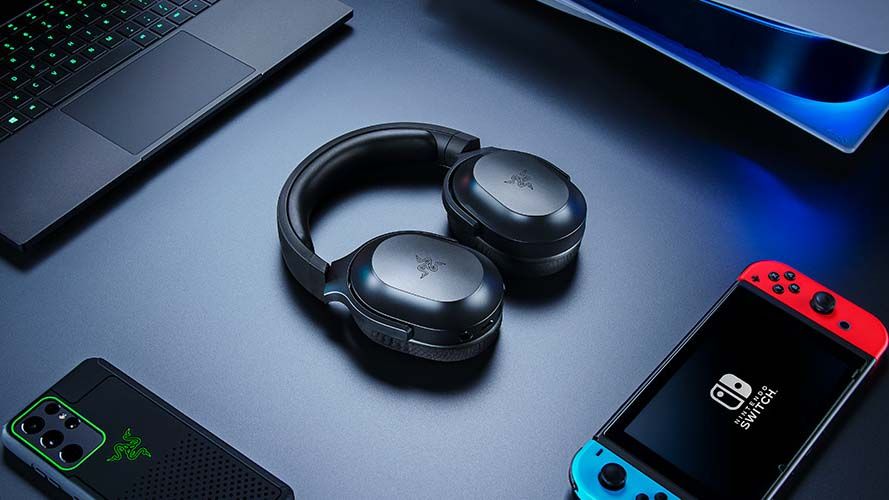 While we already have a pair of headphones for the Nintendo Switch Lite, the Razer Barracuda X are another pair of over-ear cans that can be connected to the Switch Lite wirelessly. While the sound may not be class leading, it's still solid and offers plenty of aural clout when on the move.
As a gaming headset, sound is very much geared towards gaming rather than music listening. But that's no bad thing as it helps pock out the sound effects from background music and voiceovers. The Razer Barracuda X offer some 20 hours of battery life an a removable mic lets you have a rather clean-looking headset when you just want to focus on some solo gaming. The headset works with PC, PS5 and Xbox Series X, so you're not just getting a Switch or Switch Lite headset for $100.
While the Nintendo Switch Lite might not switch, the PowerA Play & Protect Kit provided a form of stand for the Switch Lite that allows it to be used in a pseudo tablet mode like the normal Nintendo Switch. When propped up, you can connect the Switch Pro controller or Joy-Cons and then play local multiplayer games, like Super Smash Bros Ultimate or Mario Kart 8 Deluxe, on the smaller Switch consoles. There are three levels of adjustment so you can position the Switch Lite at the angle most suited for you.
Secured by magnets, the PowerA Play & Protect Kit also comes with a screen protector and effectively swaddled the Switch Lite in a protective case when not used in its stand configuration. There's also a bundled cleaning cloth to help wipe away any fingerprints from the Switch Lite's screen. We imagine the PowerA Play & Protect Kit would be ideal for people planning on taking their Switch Lite on a long plane or train journey. And at just over $5 the PowerA Play & Protect Kit is a rather affordable but neat looking accessory for the Nintendo Switch Lite.
Now that the Nintendo Switch Lite and the Nintendo Switch have been updated to support Bluetooth headphones, we'd recommend you get a pair of wireless earbuds to go with the Switch Lite or its larger sibling. And the earbuds to get are the Sony WF-1000XM4.
Not only do the earbuds feature on our picks for the best noise-cancelling earbuds, they deliver very strong overall sound. So you can enjoy all the audio effects of your Switch games while blocking out the noise of the surrounding world. Such earbuds can come in very handy when you're on a flight or train journey. And when you're done gaming, you can still sue the earbuds to connect to your smartphones and listen t o whatever music, audio books or movies take your fancy. The Sony WF-1000XM4 might be pricy but they are very much worth the money.
How to choose the best Nintendo Switch Lite accessories for you
Why you can trust Tom's Guide Our expert reviewers spend hours testing and comparing products and services so you can choose the best for you. Find out more about how we test.
You can't swing a virtual cat without hitting some form of Nintendo Switch or Nintendo Switch Lite accessory. And that's hardly surprising given how hugely popular both consoles have proved to be, despite not being traditional home gaming machines. So choosing the right accessories can be a bit tricky.
But with the Nintendo Switch Lite, you know you will be taking your console out and about or at least from room to room. So if you're inclined to clumsiness, then a screen protector is a must. And for people venturing out on commutes or lengthy trips, then a well-made case is very handy to have.
However, less obvious accessories like a charging pack, such as the above Anker PowerCore 20100, and an additional SSD card are also important extras, especially if you plan to go some in-depth Nintendo gaming while away from a power source. And we'd certainly advocate a solid pair of headphones to go with the Switch Lite as that way you can get more immersed in gameplay without worrying about disturbing those around you.
If you prefer to uses your Switch Lite from the comfort of your home, then something like a charging stand or the TiMOVO Grip listed above might be good for you. These accessories can make gaming on the Switch Lite that little bit more enjoyable without need to spend a fortune on them.
One other thing to look for is if the accessory you're after has the 'Official Nintendo Licenced Product' badge, as that's pretty much a guarantee that you have one of the best Nintendo Switch Lite accessories available.